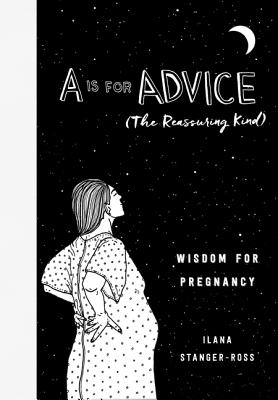 A Is for Advice (The Reassuring Kind)
Wisdom for Pregnancy
Hardcover

* Individual store prices may vary.
Other Editions of This Title:
Digital Audiobook (3/25/2019)
Compact Disc (3/26/2019)
MP3 CD (3/26/2019)
Compact Disc (3/26/2019)
Description
A small gifty package with beautful black-and-white illustrations by Iris Gottlieb, this is the ultimate babyshower gift for your best friend, sister, or daughter.
Practical, reassuring, and beautifully written, A is for Advice provides a brief and compelling reflection on pregnancy, birth, and the early postpartum period for expectant mothers of all kinds--whether you prefer a water birth at home or a scheduled C-section in a hospital, whether you believe in painkillers or an all-natural labor, breast milk or formula, this book speaks to you and your pregancy. Written in the approachable and friendly tone of a best-friend blogger but informed by the insight of a Registered Midwife, A is for Advice seeks to comfort and inspire, providing realistic and soothing advice at a time when most women desperately seek out information.
Through 26 lesson/letters of the alphabet (C is for Control; F is for Fear; W is for Water), A is for Advice offers practical and emotional insights into the often overwhelming transition to motherhood. Using a combination of humor, story-telling, research distillation, and personal reflection, A is for Advice speaks to concerns common to all women as they approach birth and motherhood. Eschewing the "birth wars" for a women-centered, feminist perspective, A is for Advice does not argue for any one type of birth experience, but rather empowers each woman to be her own advocate. If the book could be summed up in one line it would be, simply, "be gentle with yourself."  Read it cover-to-cover or in the short bursts available to an expecting mom (each letter stands alone), this book offers a compelling call for well-informed, judgment-free, and forgiving birthing and mothering.
Praise For A Is for Advice (The Reassuring Kind): Wisdom for Pregnancy…
"In this charming and inviting little book, midwife Ilana Stanger-Ross guides the reader through the multiple concerns and practical questions of pregnancy with eloquent simplicity, reassuring wisdom, clear vision and experience-based knowledge. I would happily give A Is For Advice to every expectant woman and couple." — Dr. Gabor Maté, author of Hold On To Your Kids: Why Parents Need to Matter More Than Peers
"A feminist guide to help new mothers (and fathers) truly enjoy the often overwhelming transition into parenthood." — Sarah Lux-Lee, Founder & CEO Mindr NYC
"This is a pregnancy book unlike any others…everything you actually want to know about pregnancy and birth and parenting that you haven't been able to find in the existing pregnancy books. I devoured it. Do yourself a favor and read this book!"  — — The Midwife is In
"A beautiful book that is informative while also being open minded and kind. This book shares experience and information in a way that I truly appreciate and admire." — Dr. Eva Zasloff, Director of Tova Health Fourth Trimester Care
"If I had read this book while pregnant or in those first hazy days of motherhood....I would have been a lot more okay. It's so beautiful." — Lauren Smith Brody, author of The Fifth Trimester
Morrow Gift, 9780062838780, 144pp.
Publication Date: March 26, 2019
About the Author
Ilana Stanger-Ross is a Registered Midwife and novelist based in Victoria, British Columbia, Canada. Originally from Brooklyn, New York, she received a BA at Barnard College, an MA in Fiction at Temple University, where she held their University Fellowship, and a Bachelors in Midwifery from the University of British Columbia in Vancouver. Her novel, SIMA'S UNDERGARMENTS FOR WOMEN, was published by Overlook Press in 2009.
or
Not Currently Available for Direct Purchase