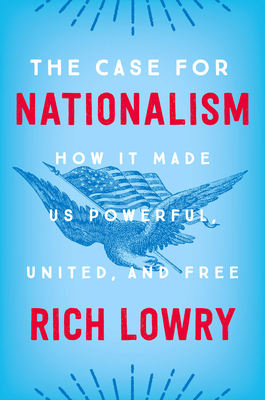 The Case for Nationalism
How It Made Us Powerful, United, and Free
Hardcover

* Individual store prices may vary.
Other Editions of This Title:
Digital Audiobook (11/4/2019)
MP3 CD (11/5/2019)
Compact Disc (11/5/2019)
Compact Disc (11/5/2019)
Description
It is one of our most honored clichés that America is an idea and not a nation. This is false. America is indisputably a nation, and one that desperately needs to protect its interests, its borders, and its identity.
The Brexit vote and the election of Donald Trump swept nationalism to the forefront of the political debate. This is a good thing. Nationalism is usually assumed to be a dirty word, but it is a foundation of democratic self-government and of international peace.
National Review editor Rich Lowry refutes critics on left and the right, reclaiming the term "nationalism" from those who equate it with racism, militarism and fascism. He explains how nationalism is an American tradition, a thread that runs through such diverse leaders as Alexander Hamilton, Teddy Roosevelt, Martin Luther King, Jr., and Ronald Reagan.
In The Case for Nationalism, Lowry explains how nationalism was central to the American Project. It fueled the American Revolution and the ratification of the Constitution. It preserved the country during the Civil War. It led to the expansion of the American nation's territory and power, and eventually to our invaluable contribution to creating an international system of self-governing nations.
It's time to recover a healthy American nationalism, and especially a cultural nationalism that insists on the assimilation of immigrants and that protects our history, civic rituals and traditions, which are under constant threat. At a time in which our nation is plagued by self-doubt and self-criticism, The Case for Nationalism offers a path for America to regain its national self-confidence and achieve continued greatness.
Praise For The Case for Nationalism: How It Made Us Powerful, United, and Free…
"Rich Lowry not only makes an original and compelling case for nationalism but also carefully demonstrates how throughout Western history and literature, enlightened nationhood was the glue that held diverse democratic societies together in peace and kept them safe in war. A fascinating, erudite—and much-needed—defense of a hallowed idea unfairly under current attack." — Victor Davis Hanson
"America is an idea, but it's not only an idea: America is also a nation with flesh-and-blood people, particular lands with real borders, and its own history and culture. Rich Lowry's learned and brisk The Case for Nationalism defends these unfashionable truths against transnational assault from both the left and the right while reminding us that nationalist sentiments are essential to self-government." — Tom Cotton
"Rich Lowry's The Case for Nationalism is a massively important exploration of what nationalism really means, how it has been radically misinterpreted, and why American nationalism, properly construed, is essential to the project of restoring unity and purpose in our country." — Ben Shapiro
"Anyone who loves freedom knows that nothing today is more tragically misunderstood than the vital subject of this important book. I thank God that someone of the caliber of my friend Rich Lowry has taken it on as he so brilliantly has!" — Eric Metaxas
Broadside Books, 9780062839640, 288pp.
Publication Date: November 5, 2019
About the Author
Rich Lowry was named editor of National Review in 1997 by the magazine's founder, William F. Buckley Jr. He writes a twice-weekly syndicated column and appears frequently as a political commentator on public-affairs programs. He is the author of Lincoln Unbound: How an Ambitious Young Railsplitter Saved the American Dream—and How We Can Do It Again and Legacy: Paying the Price for the Clinton Years, a New York Times bestseller. 
or
Not Currently Available for Direct Purchase