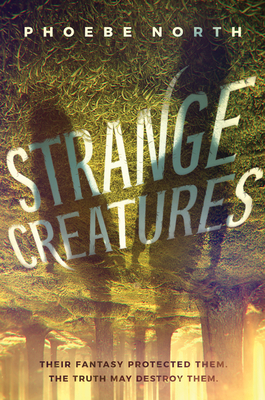 Strange Creatures
Hardcover

* Individual store prices may vary.
Other Editions of This Title:
Digital Audiobook (5/31/2021)
Compact Disc (6/1/2021)
MP3 CD (6/1/2021)
Description
From acclaimed author Phoebe North comes a riveting, unexpected, and beautiful contemporary novel about a girl whose brother mysteriously disappears, the family and friends he leaves behind, and the stories—real and imagined—that they tell themselves to fill the empty space.

From the moment that Annie was born, she and her older brother, Jamie, were inseparable. Alike in almost every way, they promised to always take care of each other while facing the challenges of growing up different in suburban America. And when life became too much for them, they created their own space in the woods behind their house: a fantasy world, called Gumlea, where no one else could find them.
And it was enough, for a while. But then came middle school, when Jamie grew dark and distant. He found new friends, a girlfriend, and a life away from Annie and Gumlea. Soon it was as if she hardly knew the brother who was her other half.
And then, one day, he disappears.
Annie, her family, and the entire community are devastated. And as the days turn into months turn into years, everyone begins to accept that Jamie is gone for good. Everyone, that is, except Annie, who believes that Jamie, somehow, has entered Gumlea, and who believes that she's the only one who can bring him back.
But as Annie searches for answers and finds a new relationship with a girl she did not expect, she makes startling discoveries about her brother's disappearance—and has to decide how much of herself she's willing to give up in order to keep hope alive.
Praise For Strange Creatures…
"A devastatingly tragic and deeply immersive masterpiece" — School Library Journal (starred review)
"layered, imaginative, and compelling."  — Booklist (starred review)
"Readers seeking a thoughtful, character-driven deep dive of a book will be right at home here." — Bulletin of the Center for Children's Books
"Haunting, heartbreaking, and beautifully crafted, Strange Creatures is a story woven with truth and myth, sorrow and loss, and the fundamental belief that we are all defined by the bonds we share with those who love us and the faith we hold in ourselves." — Stephanie Kuehn, author of the Morris-Award-winning Charm & Strange
"Strange Creatures is about the things that can save us—art, family, love—and the things we can lose ourselves in—art, family, love. A big, bright, North Star of a book." — Elana K. Arnold, Printz Honor-winning author of Damsel and Red Hood
"Heartbreaking, heart-mending, and unflinchingly true." — Rachel Hartman, New York Times bestselling author
Balzer + Bray, 9780062841155, 544pp.
Publication Date: June 1, 2021
About the Author
Phoebe North is the critically acclaimed author of the novels Starglass and Starbreak. They were a Sustainable Arts Foundation finalist, and their short fiction and critical work has appeared in Analog, Flash Fiction, the YA Review Network, Umbrella Journal, and Strange Horizons, among others. Phoebe lives in the Hudson Valley, where they enjoy gardening, spending time with their family, and listening to music on outdated audio formats. They can be found online at www.phoebenorth.com.