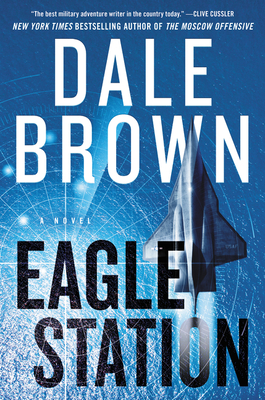 Eagle Station
A Novel (Brad McLanahan #6)
Hardcover

* Individual store prices may vary.
Other Editions of This Title:
Mass Market (2/23/2021)
Paperback, Large Print (5/26/2020)
Compact Disc (5/26/2020)
MP3 CD (5/26/2020)
Description
"Dale Brown is a superb storyteller."— W. E. B. Griffin
In this thrilling geopolitical adventure from New York Times bestselling legend Dale Brown, Brad McLanahan and the Space Force must fight to preserve America's freedom when ruthless enemies forge an unlikely alliance to control not only the earth, but the moon and beyond
Because its enemies never stop trying to undermine the security of the United States, the men and women who serve to protect America must always be vigilant. Few know this better than warriors Brad McLanahan and Nadia Rozek. Newly married, the two are just beginning to settle into their life together when they are called back into action.
Though the Russians were badly defeated by Brad and the Iron Wolf Squadron in their previous bid for world dominance, they are back and doubling down on their quest for control of outer space. In addition to their cutting-edge weaponry, they have a formidable new ally: China's energetic and ruthless leader, President Li Jun.
To protect America and the rest of the free world from the Russians and the Chinese, the Americans plan to mine the moon's helium-3 resources, which will allow them to fully exploit the revolutionary fusion power technology Brad and his team captured from the Russians aboard the Mars One weapons platform.
But Russia's minister of defense, Mikhail Leonov, and Li have devised a daring plan of their own. They are building a joint secret base on the moon's far side fortified with a powerful Russian plasma rail gun that can destroy any spacecraft entering lunar orbit. If the heavily armed base becomes operational, it will give America's enemies control over the world's economic and military future. 

As this latest skirmish in the war for space accelerates, Brad, Nadia, and their compatriots in the Space Force must use their cunning and skill—and America's own high-tech weaponry—to derail the Sino-Russian alliance and destroy their lunar site before it's too late for the United States . . . and the entire world.

Praise For Eagle Station: A Novel (Brad McLanahan #6)…
"The best military adventure writer in the country today."
— Clive Cussler

"Dale Brown is a superb storyteller."
— W. E. B. Griffin

"Brown's spectacular future space weapons systems are utterly convincing. Tom Clancy fans won't want to miss this one."
— Publishers Weekly

"Plenty of action-filled flying time described in the type of detail that will thrill most space junkies and fans of flight. A well-researched tale of technologically rich thrills."
— Kirkus Reviews

Praise for The Kremlin Strike: "Brown's look at the future of the military and potential conflicts with new technology and warfare continues to be engaging.… Fans who have grown fond of Patrick and his team will love this latest installment."
— Booklist

"This action-packed techno-thriller is filled with enough complex aerospace and aeronautical jargon to sizzle the senses.... A well-researched and fast-paced story that provides all the requisite sparks to keep the pages turning."
— Kirkus Reviews

Praise for The Moscow Offensive: "Brown has long been a master at high-tech thrillers… there is no denying that he knows his stuff… Even with a long-running series, he continues to find ways to keep the action lively and relevant. For the Tom Clancy crowd, Brown remains the go-to guy."
— Booklist

"Spectacular… The action builds to an exciting climactic battle... Brown shows once again why he stands out in the crowded military thriller genre."
— Publishers Weekly

"An off-the-books mercenary unit is the world's best bet against unchecked Russian aggression.… A fun read that really shines with the author's convincing knowledge of military aircraft."

— Kirkus Reviews

"The combat scenes stand out… Brown reinforces his position at the top of the military action genre."
— Publishers Weekly

A very smart, timely, and terrifying political thriller… Current, spot-on, and full of bone-crushing action, Dale Brown's The Moscow Offensive is one of his best novels to date, and a sure bet to please action junkies who also like heaping sides of politics and next-gen tech."
— TheRealBookSpy

"Strap in, for there are shootouts on every page plus a well-choreographed climactic raid. ... A compelling, fast-paced, and imaginative techno-thriller. ... There's so much action here it's a wonder there aren't bullet holes and bomb craters on every page."
— Kirkus Reviews on Price of Duty


"Masterly. ... Explosive."
— Publishers Weekly on Price of Duty

"Fans will find Brown in fine form here, and newcomers who enjoy top-notch military fiction will have no trouble diving into the deep end."
— Booklist on Price of Duty

"All too real and eerily authentic. One of the godfathers of techno-thrillers, Brown has saved some of his best and most creative story ideas for [Price of Duty]."
— TheRealBookSpy

"A tense, atmospheric thriller with a ripped from the headlines plot, PRICE OF DUTY moves at a breakneck pace. Highly readable, enormously entertaining, its twists and turns will keep you glued to the pages."
—  Karen Robards, New York Times Bestselling author

"A riveting powerhouse of a novel; action on top of action, fascinating and intricate details about the latest military technology and tactics and a forward-thinking geopolitical plot that yanks the reader along by the collar and takes them on a wild ride. Exciting and intelligent entertainment."
— Mark Greaney, #1 Bestselling Author of Gunmetal Gray
William Morrow, 9780062843081, 432pp.
Publication Date: May 26, 2020
About the Author
Dale Brown is the New York Times bestselling author of numerous books, from Flight of the Old Dog (1987) to, most recently, Eagle Station (2020). A former U.S. Air Force captain, he can often be found flying his own plane in the skies of the United States. He lives near Lake Tahoe, Nevada.