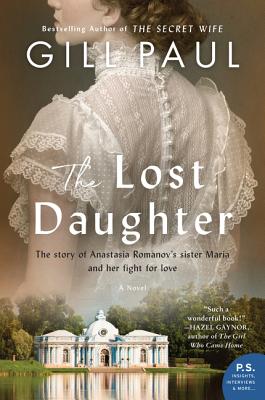 The Lost Daughter
A Novel
Paperback

* Individual store prices may vary.
Description
If you loved I Was Anastasia by Ariel Lawhon you won't want to miss this novel about her sister, Grand Duchess Maria. What really happened to this lost Romanov daughter? A new novel perfect for anyone curious about Anastasia, Maria, and the other lost Romanov daughters, by the author of The Secret Wife.
1918: Pretty, vivacious Grand Duchess Maria Romanov, the nineteen-year-old daughter of the fallen Tsar Nicholas II, lives with her family in suffocating isolation, a far cry from their once-glittering royal household. Her days are a combination of endless boredom and paralyzing fear; her only respite are clandestine flirtations with a few of the guards imprisoning the family—never realizing her innocent actions could mean the difference between life and death
1973: When Val Doyle hears her father's end-of-life confession, "I didn't want to kill her," she's stunned. So, she begins a search for the truth—about his words and her past. The clues she discovers are baffling—a jewel-encrusted box that won't open and a camera with its film intact. What she finds out pulls Val into one of the world's greatest mysteries—what truly happened to the Grand Duchess Maria?
Praise For The Lost Daughter: A Novel…
"In The Lost Daughter, [Gill Paul] has woven a heart-wrenching love story with a gripping historical mystery. This story is so real and compelling that you are there in the past and present all the way."
— Karen Harper, New York Times bestselling author of American Duchess

"Fascinating! Gill Paul captures this family and this period of history so vividly. Such a wonderful book!"
— Hazel Gaynor, author of The Girl Who Came Home and The Lighthouse Keeper's Daughter

"A remarkable novel...I loved Maria's courage in the face of revolution and war, and adored her fierce determination to protect her family. The history is fascinating, the love story passionate and the characters moving."
— Natasha Lester, international bestselling author of The Paris Seamstress

"Riveting...At once richly descriptive and mysterious, Gill Paul demonstrates her extraordinary talents in this deeply affecting tale of war, forgiveness, and family legacy."
— Heather Webb, internationally bestselling author of Meet Me in Monaco & Last Christmas in Paris

"Completely immersive. Gorgeous. Beautiful writing, great characters. I enjoyed it so, so much. Just brilliant!"
— Jenny Ashcroft, author of Last Letter to Bombay

"With The Lost Daughter, she has returned to the tragic Romanovs, creating another fascinating story that asks the haunting question: 'what if one of them escaped?' A pleasure to dive into."
— Kate Riordan, author of The Stranger and The Girl in the Photograph

"Another brilliant read from Gill Paul. Two gripping stories entwine and kept me captivated till the last page. Kept me looking forward to getting back to it each evening."
— Tracy Rees, author of The Hourglass and Darling Blue

"This epic story is so engrossing that readers will have difficulty putting it down."
— Publishers Weekly

"Bold and powerful, filled with emotion, tension and vivid characters in a setting that is rich in historical detail."
— Kate Furnivall, author of The Survivors
William Morrow Paperbacks, 9780062843272, 496pp.
Publication Date: August 27, 2019
About the Author
Gill Paul is an author of historical fiction, specialising in relatively recent history. She has written two novels about the last Russian royal family: The Secret Wife, published in 2016, which tells the story of cavalry officer Dmitri Malama and Grand Duchess Tatiana, the second daughter of Russia's last tsar; and The Lost Daughter, published in October 2018, that tells of the attachment Grand Duchess Maria formed with a guard in the house in Ekaterinburg where the family was held from April to July 1918.
Gill's other novels include Another Woman's Husband, about links you may not have been aware of between Wallis Simpson, later Duchess of Windsor, and Diana, Princess of Wales; Women and Children First, about a young steward who works on the Titanic; The Affair, set in Rome in 1961–62 as Elizabeth Taylor and Richard Burton fall in love while making Cleopatra; and No Place for a Lady, about two Victorian sisters who travel out to the Crimean War of 1854–56 and face challenges beyond anything they could have imagined.