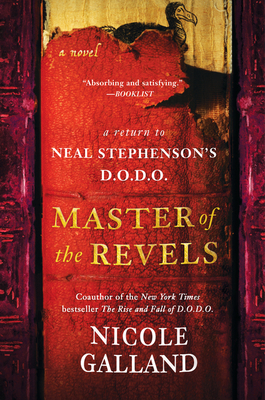 Master of the Revels
A Return to Neal Stephenson's D.O.D.O.
Paperback

* Individual store prices may vary.
Other Editions of This Title:
Digital Audiobook (2/22/2021)
Hardcover (2/23/2021)
Description
In this brilliant sequel to The Rise and Fall of D.O.D.O.—an enthralling, history-bending adventure traversing time and space, fact and fiction, magic and science co-written with #1 New York Times bestselling author Neal Stephenson—a daring young time traveler must return to Jacobean England to save the modern world.

This fast-paced sequel to the New York Times bestselling near-future adventure The Rise and Fall of D.O.D.O. picks up where the original left off, as Tristan Lyons, Mel Stokes, and their fellow outcasts from the Department of Diachronic Operations (D.O.D.O.) fight to stop the powerful Irish witch Gráinne from using time travel to reverse the evolution of all modern technology. 
Chief amongst Gráinne's plots: to encrypt cataclysmic spells into Shakespeare's "cursed" play, Macbeth. When her fellow rogue agents fall victim to Gráinne's schemes, Melisande Stokes is forced to send Tristan's untested, wayward sister Robin back in time to 1606 London, where Edmund Tilney, the king's Master of Revels, controls all staged performances in London.
And now Gráinne controls Tilney. 
While Robin poses as an apprentice in Shakespeare's Globe Theatre, Mel travels to the ancient Roman Empire and, with the help of double-agent Chira in Renaissance Florence, untangles the knotted threads of history while the diabolical Gráinne jumps from timeline to timeline, always staying frustratingly one stop ahead—or is it behind?
Historical objects disappear, cities literally rise and fall, and nothing less than the fate of humanity is at stake. As Gráinne sows chaos across time and space, the ragtag team of ex-D.O.D.O. agents must fix the past—in order to save the future.
Critically acclaimed author Nicole Galland brings her deep knowledge of history and signature wit to this gripping romantic adventure.
Praise For Master of the Revels: A Return to Neal Stephenson's D.O.D.O.…
"Galland's careful attention to everyday life in various time periods creates verisimilitude, as does the assortment of found documents through which the tale is presented. Fans of time-travel science fiction are sure to be engaged."  — Publishers Weekly
"Galland does a good job evoking the feel of each period from which the letters or other materials originate. . . for those who favor time-travel yarns, this will be an absorbing and satisfying experience." — Booklist
"For a second novel, Master of the Revels masterfully managed to create an entirely new story that breathed life into new potential mythos and fantasies, while still fleshing out the character arcs of Tristan and Mel in a satisfying, fast-paced way." — The Mary Sue
"The action plays out from ancient Rome to Renaissance Florence and will be delightful to true fans of both history and fantasy. The style is fast-paced and direct, as is necessary with so much complexity of plot and character. The characters are nuanced, and clever use of dialog in a variety of media (epistolary, oral and modern message boards) keeps the pages turning." — Historical Novel Society
William Morrow Paperbacks, 9780062844880, 560pp.
Publication Date: February 22, 2022
About the Author
Nicole Galland is the author of the historical novels Godiva; I, Iago; Crossed, Revenge of the Rose; and The Fool's Tale; as well as the contemporary romantic comedies On the Same Page and Stepdog, and the New York Times bestselling near-future thriller The Rise and Fall of D.O.D.O. (with Neal Stephenson).