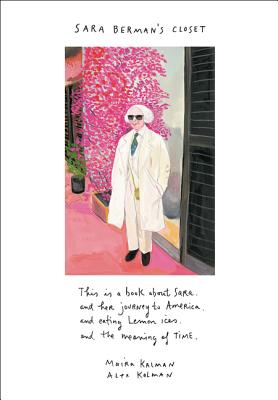 Sara Berman's Closet
Hardcover

* Individual store prices may vary.
Description
2018 National Jewish Book Award Finalist
Maira Kalman, the author of the bestsellers The Principles of Uncertainty and The Elements of Style, and Alex Kalman, the designer, curator, writer, and founder of Mmuseumm, combine their talents in this captivating family memoir, a creative blend of narrative and striking visuals that is a paean to an exceptional woman and a celebration of individuality, personal expression, and the art of living authentically.
In the early 1950s, Jewish émigré Sara Berman arrived in the Bronx with her husband and two young daughters When the children were grown, she and her husband returned to Israel, but Sara did not stay for long. In the late 1960s, at age sixty, she left her husband after thirty-eight years of marriage. One night, she packed a single suitcase and returned alone to New York City, moving intoa studio apartment in Greenwich Village near her family. In her new home, Sara began discovering new things and establishing new rituals, from watching Jeopardy each night at 7:00 to eating pizza at the Museum of Modern Art's cafeteria every Wednesday. She also began discarding the unnecessary, according to the Kalmans: "in a burst of personal expression, she decided to wear only white."
Sara kept her belongings in an extraordinarily clean and organized closet. Filled with elegant, minimalist, heavily starched, impeccably pressed and folded all-white clothing, including socks and undergarments, as well as carefully selected objects—from a potato grater to her signature perfume, Chanel No.19—the space was sublime. Upon her death in 2004, her family decided to preserve its pristine contents, hoping to find a way to exhibit them one day.
In 2015, the Mmuseumm, a new type of museum located in a series of unexpected locations founded and curated by Sara's grandson, Alex Kalman, recreated the space in a popular exhibit—Sara Berman's Closet—in Tribeca. The installation eventually moved to the Metropolitan Museum of Art. The show will run at the Skirball Center in Los Angeles from December 4, 2018 to March 10, 2019; it will open again about a month later at the National Museum of American Jewish History from April 5, 2019 to September 1, 2019.
Inspired by the exhibit, this spectacular illustrated memoir, packed with family photographs, exclusive images, and Maira Kalman's distinctive paintings, is an ode to Sara's life, freedom, and re-invention. Sara Berman's Closet is an indelible portrait of the human experience—overcoming hardship, taking risks, experiencing joy, enduring loss. It is also a reminder of the significance of the seemingly insignificant moments in our lives—the moments we take for granted that may turn out to be the sweetest. Filled with a daughter and grandson's wry and touching observations conveyed in Maira's signature script, Sara Berman's Closest is a beautiful, loving tribute to one woman's indomitable spirit.
Praise For Sara Berman's Closet…
"An illustrated tribute to Maira Kalman's late mother, this book deconstructs the life and spirit of Sara Berman through items in her meticulously kept closet." — Publishers Weekly
"The installation of her small closet—garments and linens folded with tender precision, a potato grater, a bottle of Chanel No. 19—is a shrine to humility and intention." — The New Yorker
"A reflection on her experiences and a study of the value (monetary and not) of the things we keep." — Vogue
"A new way of looking at rooms and possessions and women's history." — Amelia Peck, curator of American decorative arts at the Metropolitan Museum of Art
"Sara Berman's Closet" is like a living Maira Kalman painting: It's filled with poetic details and her signature elements of irreverent humor and warmth." — T Magazine
"An unexpected meditation on modern city life: a modest closet from a studio apartment in the West Village, filled with the curious, lovely and very particular personal effects of Sara Berman, a Belarussian and Israeli émigré who was the mother of Maira Kalman, the irreverent artist, book author and illustrator." — New York Times
Harper Design, 9780062846402, 128pp.
Publication Date: October 30, 2018
About the Author
Maira Kalman illustrated William Strunk Jr's classic The Elements of Style and is the author of My Favorite Things, Principles of Uncertainty, and And the Pursuit of Happiness. She is also the author/illustrator of numerous children's books, and her artwork has graced a dozen covers of The New Yorker. Her watches, clocks, accessories, and paperweights have been featured at the Museum of Modern Art store. She lives in New York City.
Alex Kalman is a designer, curator, writer, and creative director. The founder of What Studio?, he is the founder, director, and a chief curator of Mmuseumm, a new type of museum described as "curatorial genius" by The Atlantic and "one of the top twelve hidden art gems in the world" by the New York Times T magazine. The writer Rob Walker coined his unique curatorial style "Object Journalism." Alex also published the very first ever Op-Object column published in the New York Times. His artwork, films, installations, and exhibitions have been shown at the Museum of Modern Art, the Venice Architecture Biennale, and the Metropolitan Museum of Art. His most recent project, Future Aleppo, was exhibited at the Skirball Cultural Center in Los Angeles and the Victoria & Albert Museum in London. He lives in New York City.
Coverage from NPR