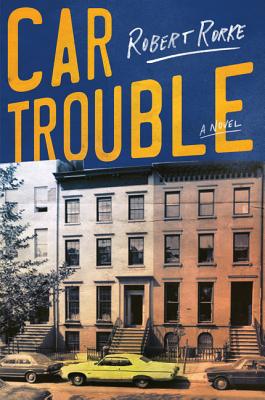 Car Trouble
A Novel
Paperback

* Individual store prices may vary.
Other Editions of This Title:
Digital Audiobook (9/10/2018)
Compact Disc (9/11/2018)
MP3 CD (9/11/2018)
Compact Disc (9/11/2018)
Description
From a bright new talent, a witty, moving, and inspirational coming-of-age debut novel set in 1970s Brooklyn about a teenager and his abusive father whose obsession with broken down vintage cars careens wildly out of control.
"Such a pleasure to read.... This is a coming of age story, but it is also so much more than that."—Dominic Smith, New York Times bestselling author of The Last Painting of Sara de Vos
Nicky Flynn is coming-of-age in 1970s Brooklyn, riding into his sophomore year at St. Michaels, the last hurrah of the Diocesan school system. A budding young actor, Nicky is at once sensitive, resilient, exasperated, and keenly observant—especially when it comes to his father, Patrick. Undeniably enigmatic, and coasting on vanity, charm, and desperation, "Himself" as Nicky calls his father, is given to picking up old car junkers, for cheap at NYPD auctions—each sputtering, tail-finned treasure subsidized by poker games.
To Patrick, these chrome glamour tanks are his obsessions, repairable reminders of the past when he was young, and everything seemed new and gleaming and possible—before he had a family. For Nicky, each one is a milestone. Whether it's a harrowing joy ride or a driving lesson, they're unforgettable markers on his path toward an unpredictable future. But as Patrick's compulsions slide into alcoholism and abuse, Nicky, his mother, and sisters brace themselves for an inevitable sharp turn in their addled lives.
Narrated with humor and a rueful awareness, Car Trouble is an exhilarating novel about acceptance, regret, compassion, and finding your authentic adult self amid the rubble and rumble of growing up.
Praise For Car Trouble: A Novel…
"Car Trouble was such a pleasure to read! [Rorke] has managed to create a character in Patrick Flynn who is nuanced and complicated, a man who is by turns savage and kind, vengeful and worried, vain and defeated but also striving and proud. Bravo! This is a coming of age story, but it is also so much more than that." — Dominic Smith, New York Times Bestselling author of The Last Painting of Sara de Vos 
"What readers learn in Rorke's moving, bittersweet story is that hard realizations are often necessary on the road to discovering one's true self." — Kirkus Reviews
"With a vividly realized setting—Brooklyn in the 1970s the story is sharply written, inviting deep empathy from readers, who will find universal truths in this compelling tale of a single family." — Booklist
"A poignant coming-of-age story….Much like Colm Tóibín's  Brooklyn, Car Trouble is an impressive novel that captures the essence of an era without fanfare or sacrificing the craftsmanship of a good story. It is refreshing, cathartic, and thoroughly readable." — Paperback Paris
"Longtime columnist for the New York Post, amongst other publications, Robert Rorke's first novel, Car Trouble, allows him ample space to display his strong skills as an author. The Brooklyn native pays tribute to his home borough's changing landscape, architecturally and racially, in this coming-of-age novel that is easily relatable to readers young and old." — Irish American Magazine
Harper Perennial, 9780062848499, 416pp.
Publication Date: September 11, 2018
About the Author
Robert Rorke was born and raised and lives in Brooklyn. He is a TV editor at the New York Post who has also previously written for Publishers Weekly, TV Guide, Los Angeles Times, and Seventeen. He received his MFA from Warren Wilson College and his MA in English from Stanford University.