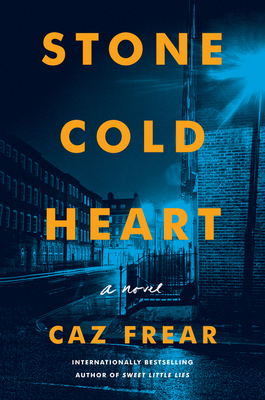 Stone Cold Heart
A Novel
Paperback

* Individual store prices may vary.
Other Editions of This Title:
Hardcover (7/2/2019)
Description
From the beloved and internationally bestselling author of Sweet Little Lies comes the second novel featuring DC Cat Kinsella—an investigator "on par with Susie Steiner's and Tana French's female detectives" (Kirkus Reviews).

After a brief stint in the Mayor's Office, Detective Constable Cat Kinsella is back at the London Metropolitan Police, wisecracking with her partner Luigi Parnell and trying to avoid the wrath of the boss, DI Kate Steele.
But for Cat and Parnell, it's serious business when a young Australian woman turns up dead after a party thrown by her new boss. The initial investigation of Naomi Petrovic's murder points to Joseph Madden, the owner of a coffee shop around the corner from police headquarters. Madden insists he's innocent, that he was home with his wife Rosa at the time of the murder. When police question her, Rosa contradicts his alibi, swearing that she was home alone.
While the team builds its case against Joseph, Cat is tasked with getting to the heart of the Maddens' marriage. Cat knows that one of them is lying—but the question of which one, and why, is far more complicated than she could have expected. As she tries to balance the demands of the investigation with a budding romance and unresolved family drama, Cat has to decide how far she'll go to keep her own past mistakes buried.
With her trademark wit and brilliant plotting, Caz Frear ratchets up the tension and keeps you guessing as she explores the secrets we keep from our loved ones—and the ones we'd kill to keep safe in the dark.
Praise For Stone Cold Heart: A Novel…
"Caz Frear has fashioned her second terrific crime thriller . . . a sumptuously unsettling mystery that lives up to all the hype. . . . This is the kind of mystery Agatha Christie would have penned these days if she were still alive, with the personal sharing equal billing with the professional. And Kinsella is the best female detective from across the pond since Detective Chief Inspector Jane Tennison of the brilliant 'Prime Suspect' series."
— Jon Land, Providence Journal

"Terrific writing and self-deprecating wit."
— Jersey's Best, "The 10 Best Books of 2019"

"Cat Kinsella seals her status as fiction's most irresistible cop."

— Sunday Express (UK)

"Engrossing. . . .Exceptional characters. . . . Frear caps a satisfying mystery with a fraught cliffhanger. Fans will clamor for more."

— Publishers Weekly

"How Frear brings all the complex plot points together makes the big reveal worth the journey. . . . [A] savvy novel."
— Shelf Awareness

"What drives STONE COLD HEART is precisely what made SWEET LITTLE LIES one of my favorite novels of 2018. That special something (or someone, I should say) is Cat Kinsella.  . . . Frear has created one of the most engaging characters in the mystery/thriller genre, and this series is already drawing comparisons to the works of Tana French, who may very well be the best in the business."
— Book Reporter

"The plotting is excellent, and the twisty ending reveals a very surprising murderer. . . .  And the ending promises another entry in this very fine series."
— Criminal Element

"Frear once again excels at creating memorable characters and realistic dialog. Cat's snarky attitude and youthful brashness are nicely balanced with her passion for justice and investigative skills. VERDICT:  Highly recommended for fans of police procedurals with compelling detectives."
— Library Journal

"The story, characters, and language here immerse readers in a twisty case that involves more than one dysfunctional family. Frear almost ties all these strands up neatly at the end, until Cat's past comes back to bite her again, leaving things ripe for book three. Frear's fans will enjoy the focus on grown-up Cat; Dervla McTiernan's readers are another likely audience."
— Booklist

"The characters' banter is a delight. Frear writes scenes of conversation between the detectives that make them all feel like familiar old friends—to each other but also to the reader."
— Kirkus Reviews

"I cannot think of a mystery protagonist who harbors more secrets or confronts more ethical challenges than Detective Catrina "Cat" Kinsella. . . . You will guess who did it, but you will be wrong."

— BookPage

"Stone Cold Heart confirms Caz Frear as a crime fiction force to be reckoned with. A gripping, layered story—and a last line that left me desperate to read the next Cat Kinsella adventure!"
— Erin Kelly, author of Broadchurch and Stone Mothers

"Kinsella is back, as complex, interesting and finely written as ever. A treat for all crime fans."
— Ann Cleeves, creator of the Vera and Shetland series

"An absolute knockout of a novel. Crime procedural at its best—tough, twisty, and uncompromising. Also, a brilliant tough female protagonist whom I loved."
— CJ Tudor, author of The Chalk Man and The Hiding Place
Harper Paperbacks, 9780062849908, 352pp.
Publication Date: July 28, 2020
About the Author
Caz Frear grew up in Coventry, England, and spent her teenage years dreaming of moving to London and writing a novel. After fulfilling her first dream, it wasn't until she moved back to Coventry thirteen years later that the second finally came true. She has a degree in History & Politics, and when she's not agonizing over snappy dialogue or incisive prose, she can be found shouting at Arsenal football matches or holding court in the pub on topics she knows nothing about. She is the author of three Cat Kinsella novels: Sweet Little Lies, Stone Cold Heart, and Shed No Tears.