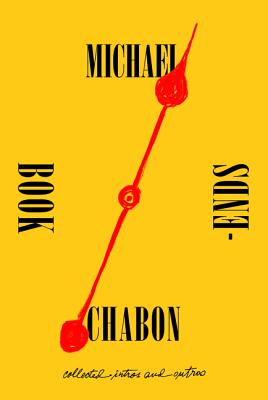 Bookends
Collected Intros and Outros
Paperback

* Individual store prices may vary.
Other Editions of This Title:
Digital Audiobook (1/21/2019)
Paperback, Large Print (1/22/2019)
MP3 CD (1/22/2019)
Compact Disc (1/22/2019)
Compact Disc (1/22/2019)
Description
A brilliant, idiosyncratic collection of introductions and afterwords (plus some liner notes) by New York Times bestselling and Pulitzer Prize winning author Michael Chabon—"one of contemporary literature's most gifted prose stylists" (Michiko Kakutani, New York Times).
In Bookends, Pulitzer Prize winning author Michael Chabon offers a compilation of pieces about literature—age-old classics as well as his own—that presents a unique look into his literary origins and influences, the books that shaped his taste and formed his ideas about writing and reading. 
Chabon asks why anyone would write an introduction, or for that matter, read one. His own daughter Rose prefers to skip them. Chabon's answer is simple and simultaneously profound: "a hope of bringing pleasure for the reader." Likewise, afterwords—they are all about shared pleasure, about the "pure love" of a work of art that has inspired, awakened, transformed the reader. Ultimately, this thought-provoking compendium is a series of love letters and thank-you notes, unified by the simple theme of the shared pleasure of discovery, whether it's the boyhood revelation of the most important story in Chabon's life (Ray Bradbury's "The Rocket Man"); a celebration of "the greatest literary cartographer of the planet Mars" (Edgar Rice Burroughs, with his character John Carter); a reintroduction to a forgotten master of ghost stories (M. R. James, ironically "the happiest of men"); the recognition that the worlds of Wes Anderson's films are reassembled scale models of our own broken reality (as is all art); Chabon's own rude awakening from the muse as he writes his debut novel, The Mysteries of Pittsburgh; or a playful parody of lyrical interpretation in the liner notes for Mark Ronson's Uptown Special, the true purpose of which, Chabon insists, is to "spread the gospel of sensible automotive safety and maintenance practices."
Galaxies away from academic or didactic, Bookends celebrates wonder—and like the copy of The Phantom Tollbooth handed to young Michael by a friend of his father he never saw again—it is a treasured gift.
Praise For Bookends: Collected Intros and Outros…
"A wander along the lost avenues and borderlands of the 20th century popular imagination ... Bookends celebrates the skill of artists and writers to conjure imaginary worlds.... Ultimately, the success of "Bookends" lies in the way it demonstrates a lifelong emotional engagement with the possibilities of art, and the texts that speak to us at important moments in our lives. It traces the strange spark that arises at 'the intersection of a wish and the tip of a pencil.' ... Entertaining, funny and eminently readable, Bookends restores the intrinsic and illuminating role that art can play in our lives." — San Francisco Chronicle
"The gleanings of an idiosyncratic, omnivorous human mind: a destination unto itself but also a gateway to the work of others." — Los Angeles Times
"A collection of wide-ranging, envy-making, page-turning criticism: what it is, how it is and why it matters. Above all else, it's an introduction to what criticism is for." — Paste
"An intellectually waggish labor of literary love.... The erudite author celebrates science fiction, fantasy, myths, comics, ghost stories, and more, distilling his wonder of the craft of storytellers that has captivated his heart since boyhood.... A wholehearted fandom of the written word." — Christian Science Monitor
"Insightful…intelligent and entertaining." — Publisher's Weekly
"Eclectic, exuberant." — Kirkus Reviews
"Chabon, the incandescently imaginative and artful author of a dozen works of fiction…offers fresh and illuminating analysis of the various styles and intentions of forewords, an often-dismissed literary form that he turns into scintillating hybrids of literary appreciation and memoir. Chabon devotees will relish his ensnaring essays for the insights they provide into his inspirations." — Booklist
Harper Perennial, 9780062851291, 192pp.
Publication Date: January 22, 2019
About the Author
Michael Chabon is the bestselling and Pulitzer Prize-winning author of Moonglow and The Amazing Adventures of Kavalier & Clay, among many others. He lives in Berkeley, California with his wife, the novelist Ayelet Waldman, and their children.