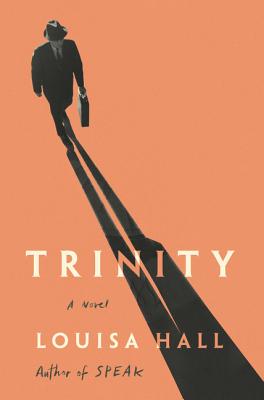 Trinity
A Novel
Hardcover

* Individual store prices may vary.
Other Editions of This Title:
Digital Audiobook (10/15/2018)
Paperback (8/27/2019)
Compact Disc (10/16/2018)
MP3 CD (10/16/2018)
Compact Disc (10/16/2018)
Description
From the acclaimed author of Speak comes a kaleidoscopic novel about Robert Oppenheimer—father of the atomic bomb—as told by seven fictional characters
J. Robert Oppenheimer was a brilliant scientist, a champion of liberal causes, and a complex and often contradictory character. He loyally protected his Communist friends, only to later betray them under questioning. He repeatedly lied about love affairs. And he defended the use of the atomic bomb he helped create, before ultimately lobbying against nuclear proliferation.
Through narratives that cross time and space, a set of characters bears witness to the life of Oppenheimer, from a secret service agent who tailed him in San Francisco, to the young lover of a colleague in Los Alamos, to a woman fleeing McCarthyism who knew him on St. John. As these men and women fall into the orbit of a brilliant but mercurial mind at work, all consider his complicated legacy while also uncovering deep and often unsettling truths about their own lives.
In this stunning, elliptical novel, Louisa Hall has crafted a breathtaking and explosive story about the ability of the human mind to believe what it wants, about public and private tragedy, and about power and guilt. Blending science with literature and fiction with biography, Trinity asks searing questions about what it means to truly know someone, and about the secrets we keep from the world and from ourselves.
Praise For Trinity: A Novel…
"Brilliant… Hall has shaped a richly imagined, tremendously moving fictional work. Its genius is not to explain but to embody the science and politics that shaped Oppenheimer's life…. The resulting quantum portrait feels both true and dazzlingly unfamiliar." — New York Times Book Review
"Triumphant.... Each of the anecdotes functions as a compelling story in its own right, and only becomes more powerful when taken together as a complete narrative. With beautiful specificity and nuance, Hall interrogates such major issues as ethics in scientific discovery and breaching the chasm between public and private selves." — Vanity Fair
"[Hall has] earned acclaim for her ability to wield language with unusual precision.... Trinity [is] a brilliant imagining of how the details omitted from one notorious man's story might define him more fully than the broad strokes we already know....Trinity sounds a wake-up call." — Time
"A startling novel that asks how well we can ever really know anyone else, no matter how much we scrutinize them.... Trinity is a dizzying, kaleidoscopic marvel of a book, and a beautiful reflection on the impossibility of creating a truly accurate narrative of any person's life." — Texas Observer
"Intelligent, elegant.... [Hall tells] his story through the eyes of seven fictional characters with whom [Oppenheimer] comes into tangential contact.... The emotional weight of their sections lies in their own hurts and betrayals, their own flailing attempts to understand how, precisely, their own lives have somehow come to this." — Washington Post
"A narrative exploration of the gap between public and private selves, as the novel makes plain that people are unreliable, and that betraying others is inextricably linked with betraying ourselves.... Hall's book ambitiously takes on far-reaching issues at Los Alamos in a passionate, personal way." — Santa Fe New Mexican
"Using real events to frame the narrative, Hall creates visceral vignettes using science, history, and biography to create three-dimensional characters pouring forth their own stories.... Highly recommended." — Library Journal (starred review)
"Ingeniously structured.... [Hall] excels at creating distinct characters whose voices illuminate their own lives and challenges, as well as the historical period that saw Oppenheimer's fall from grace." — Publishers Weekly
"[Hall] explores themes of guilt and betrayal as well as the fallout from lies and self-delusion—in the process bringing Oppenheimer, an often aloof, conflicted man, to vivid life.… Lushly written, this is an ambitious, unsettling novel that takes on big issues in a passionate, personal way." — Kirkus Reviews
"With war, McCarthyism, and nuclear proliferation as backdrop, Hall's observers paint a picture of not just one man but of humanity.... Each narrator has a unique and convincing voice in this compelling novel." — Booklist
"Louisa Hall's Trinity is an intelligent and sweeping account of the characters--some real, some fictional--swirling around the testing of the first atomic bomb. It is also an affecting meditation on the ways in which we betray others and, in the process, ourselves." — Karan Mahajan, author of The Association of Small Bombs
"[Hall] employs an ingenious and creative tactic to paint an image of J. Robert Oppenheimer, the "father of the atomic bomb".... In this staggeringly beautiful novel, he is fragmented, shown only through the eyes of people who are all struggling with their own existences.... Trinity is a masterpiece." — BookPage
Ecco, 9780062851963, 336pp.
Publication Date: October 16, 2018
About the Author
Louisa Hall grew up in Philadelphia.  She is the author of the novels Speak and The Carriage House, and her poems have been published in The New Republic, Southwest Review, and other journals.  She is a professor at the University of Iowa, and the Western Writer in Residence at Montana State University.
or
Not Currently Available for Direct Purchase