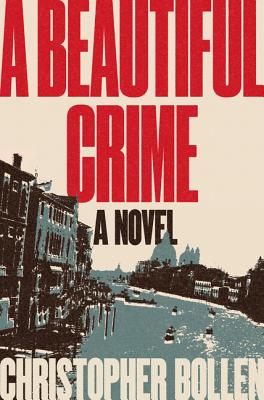 A Beautiful Crime
A Novel
Hardcover

* Individual store prices may vary.
Other Editions of This Title:
Digital Audiobook (1/27/2020)
Paperback (1/12/2021)
Compact Disc (1/28/2020)
MP3 CD (1/28/2020)
Description
An L.A. Times Book Prize Finalist | An O Magazine Best Book of the Year

"Stylish… a compelling take on the eternal question of how good people morph into criminals. Terrific."—People, Book of the Week
From the author of The Destroyers comes an "intricately plotted and elegantly structured" (Newsday) story of intrigue and deception, set in contemporary Venice and featuring a young American couple who have set their sights on a risky con.

When Nick Brink and his boyfriend Clay Guillory meet up on the Grand Canal in Venice, they have a plan in mind—and it doesn't involve a vacation. Nick and Clay are running away from their turbulent lives in New York City, each desperate for a happier, freer future someplace else. Their method of escape? Selling a collection of counterfeit antiques to a brash, unsuspecting American living out his retirement years in a grand palazzo. With Clay's smarts and Nick's charm, their scheme is sure to succeed.
As it turns out, tricking a millionaire out of money isn't as easy as it seems, especially when Clay and Nick let greed get the best of them. As Nick falls under the spell of the city's decrepit magic, Clay comes to terms with personal loss and the price of letting go of the past. Their future awaits, but it is built on disastrous deceits, and more than one life stands in the way of their dreams.
A Beautiful Crime is a twisty grifter novel with a thriller running through its veins. But it is also a meditation on love, class, race, sexuality, and the legacy of bohemian culture. Tacking between Venice's soaring aesthetic beauty and its imminent tourist-riddled collapse, Bollen delivers a "brilliantly conceived international crime story" (Good Morning America).
Praise For A Beautiful Crime: A Novel…
"Deliciously diabolical…What makes the crime in Bollen's stylish new novel so beautiful is that the perps' plan works out even better than they'd hoped—at least for a while…A skilled purveyor of suspense…Bollen's wit sparkles on almost every page." — Washington Post
"Bollen populates this utterly transporting novel with elegant, mysterious and complicated characters worthy of Patricia Highsmith, and he delivers hard-boiled film-noir moments amidst the sensual decadence of a Visconti film. But somehow, masterfully, while his sexy thrilling story pulls you ever forward, in the end it's Bollen's gorgeous writing that will leave you truly breathless. This is a first class trip to Venice with an insider at your side taking you far beyond the tourist destinations, but be careful who you're with when you wander alongside that narrow canal and down that charming alleyway." — Kevin Kwan, author of the Crazy Rich Asians trilogy and Sex and Vanity
"Elegant."  — New York Times Book Review
"Entrancing…. Patricia Highsmith by way of Alan Hollinghurst: morally gray, utterly mesmerizing, and intensely erotic. Beginning with his 2011 debut, Lightning People, Bollen has displayed a fascination with how power works in America; his newest is an astute meditation on the ways financial inequality and racism affect one's sense of identity and interactions with others—including romantic partners." — Alexander Chee, O: The Oprah Magazine
"A brilliantly conceived international crime story with two complex, queer characters at its center. If you never thought the world of counterfeit antiques could keep you on the edge of your seat, think again. It's as complex and engrossing as 'The Talented Mr. Ripley,' but don't be surprised when in the midst of the intrigue, the story breaks your heart. We wanted to follow these characters over and around the canals of Venice to see where they'd end up next." — Good Morning America
"Fantastic." — Zadie Smith
"Intricately plotted and elegantly structured…. Bollen captures Venice in all its decadence, art-rich history and ineluctable decay…. His language is simultaneously inviting and forbidding — accessible, playful, and then suddenly, shockingly brilliant.… What makes A Beautiful Crime work so well is how much empathy Bollen affords his characters."  — Newsday
"Fans of Patricia Highsmith's subtly insidious mysteries will find dark delight in this caper by the talented Mr. Bollen." — Oprah.com
"A smart, fast-paced, Highsmith-y novel full of con men, crumbling palazzos, and sentences so sharp they'll cut you. It made me want to pack a bag and flee to Venice, while looking over my shoulder the whole way." — David Ebershoff, author of The Danish Girl
"Like Venice itself, A Beautiful Crime is full of twists and shadows and intrigue – an irresistible and stylish novel in which I found myself thrillingly lost. A master of suspense, Bollen seduces the reader not with tricks, but with beguiling, multi-layered main characters whose flaws are as compelling and relatable as their virtues. I loved every moment in their company." — Christopher Castellani, author of Leading Men
"Extraordinary. A razor wrapped in silk, a cocktail spiked with poison — a novel both sophisticated and savage, inviting and dangerous. Death in Venice? You have no idea." — A.J. Finn, author of The Woman in the Window
"With its delicate plotting, its fast-moving and elegantly transparent prose-not to mention a setting that for once is not rendered with a litany of platitudes-A Beautiful Crime is a novel designed to activate the pleasure principle-and, as with Bollen's own erotically charged characters, it does so." — Lawrence Osborne
"André Aciman meets Patricia Highsmith in this satisfying exercise in literary crime… Fans of crime fiction will delight in this marriage of knowing aestheticism and old-fashioned mayhem." — Kirkus, starred review
"Stunning." — Publishers Weekly, starred review
"A thrilling story of passion and deception… Can two good people pull off a con full of deceit and fraud? It's a question that persists all the way to the book's end, maintaining an incessant, fearsome tension, like holding your breath underwater…. Like the city itself, A Beautiful Crime is worth losing yourself in." — Chika Gujarathi, Bookpage, starred review
"First-rate entertainment." — Library Journal
"Compelling... deftly paced and plotted with a beautifully realized setting that brings Venice to vivid life." — Booklist
"Haunting, atmospheric, and enigmatic." — Crimereads
Harper, 9780062853882, 400pp.
Publication Date: January 28, 2020
About the Author
CHRISTOPHER BOLLEN is the author of the critically acclaimed novels A Beautiful Crime, The Destroyers, Orient, and Lightning People. He is frequent contributor to a number of publications, including Vanity Fair, The New York Times, and Interview. He lives in New York City.
or
Not Currently Available for Direct Purchase