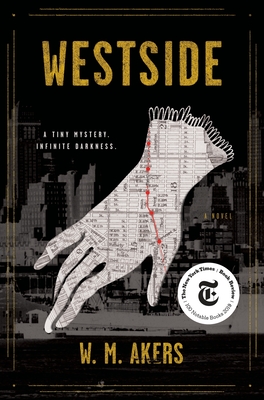 Westside
A Novel (A Gilda Carr Tiny Mystery)
Hardcover

* Individual store prices may vary.
Other Editions of This Title:
Digital Audiobook (5/6/2019)
Compact Disc (5/7/2019)
Paperback (2/18/2020)
MP3 CD (5/7/2019)
Compact Disc (5/7/2019)
Description
A New York Times Notable Book of the Year!
"The Alienist meets The City & The City in this brilliant debut that mixes fantasy and mystery. Gilda Carr's 'tiny mysteries' pack a giant punch." --David Morrell, New York Times bestselling author of Murder As a Fine Art
A young detective who specializes in "tiny mysteries" finds herself at the center of a massive conspiracy in this beguiling historical fantasy set on Manhattan's Westside—a peculiar and dangerous neighborhood home to strange magic and stranger residents—that blends the vivid atmosphere of Caleb Carr with the imaginative power of Neil Gaiman.
It's 1921, and a thirteen-mile fence running the length of Broadway splits the island of Manhattan, separating the prosperous Eastside from the Westside—an overgrown wasteland whose hostility to modern technology gives it the flavor of old New York. Thousands have disappeared here, and the respectable have fled, leaving behind the killers, thieves, poets, painters, drunks, and those too poor or desperate to leave.
It is a hellish landscape, and Gilda Carr proudly calls it home.
Slightly built, but with a will of iron, Gilda follows in the footsteps of her late father, a police detective turned private eye. Unlike that larger-than-life man, Gilda solves tiny mysteries: the impossible puzzles that keep us awake at night; the small riddles that destroy us; the questions that spoil marriages, ruin friendships, and curdle joy. Those tiny cases distract her from her grief, and the one impossible question she knows she can't answer: "How did my father die?"
Yet on Gilda's Westside, tiny mysteries end in blood—even the case of a missing white leather glove. Mrs. Copeland, a well-to-do Eastside housewife, hires Gilda to find it before her irascible merchant husband learns it is gone. When Gilda witnesses Mr. Copeland's murder at a Westside pier, she finds herself sinking into a mire of bootlegging, smuggling, corruption—and an evil too dark to face.
All she wants is to find one dainty ladies' glove. She doesn't want to know why this merchant was on the wrong side of town—or why he was murdered in cold blood. But as she begins to see the connection between his murder, her father's death, and the darkness plaguing the Westside, she faces the hard truth: she must save her city or die with it.
Introducing a truly remarkable female detective, Westside is a mystery steeped in the supernatural and shot through with gunfights, rotgut whiskey, and sizzling Dixieland jazz. Full of dazzling color, delightful twists, and truly thrilling action, it announces the arrival of a wonderful new talent.
Praise For Westside: A Novel (A Gilda Carr Tiny Mystery)…
"The Alienist meets The City & The City in this brilliant debut that mixes fantasy and mystery. Gilda Carr's 'tiny mysteries' pack a giant punch."


— David Morrell, New York Times bestselling author of Murder As a Fine Art

"[In] W.M. Akers's superb debut,"Westside,"…his research is excellent…his prose sharply crystalline." 
— New York Times

"A fascinating, delightfully twisty mystery. Westside crosses prohibition-era New York with the dark strangeness of Neverwhere. Fierce young detective Gilda Carr makes you believe that small mysteries hold the answers to everything."
— Erika Swyler, bestselling author of The Book of Speculation and Light from Other Stars

"Akers' debut novel is an addictively readable fusion of mystery, dark fantasy, alternate history, and existential horror...It's like a literary shot of Prohibition-era rotgut moonshine—bracing, quite possibly hallucination-inducing, and unlike anything you've ever experienced before...The illegitimate love child of Algernon Blackwood and Raymond Chandler."
— Kirkus Reviews (starred review)

"A cast of meticulously developed and memorable characters as well as strong worldbuilding and atmospherics…Fans of genre-bending fiction will relish this inventive mix of mystery and the paranormal."
— Publishers Weekly

"Full of action and colorful characters, this genre mash-up is expertly done and will be enjoyed by fans of mysteries and fantasy alike."
— Booklist (starred review)

"Akers' hugely enjoyable debut marries inventive alt-history with truly strange magic and a protagonist you won't soon forget."
— B&N Sci Fi & Fantasy Blog
Harper Voyager, 9780062853998, 304pp.
Publication Date: May 7, 2019
About the Author
W.M. Akers is a novelist, playwright, and game designer. He is the author of the mystery novels Critical Hit, Westside, and Westside Saints; the creator of the bestselling games Deadball: Baseball With Dice and Comrades: A Revolutionary RPG; and the curator of the history newsletter Strange Times. He lives in Philadelphia, but hasn't traded in his Mets cap yet. Learn more about his work at wmakers.net.
or
Not Currently Available for Direct Purchase