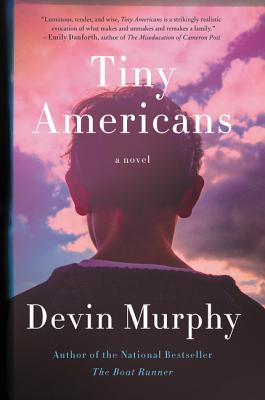 Tiny Americans
A Novel
Paperback

* Individual store prices may vary.
Other Editions of This Title:
Digital Audiobook (3/11/2019)
MP3 CD (3/12/2019)
Compact Disc (3/12/2019)
Compact Disc (3/12/2019)
Description
From the National Bestselling author of The Boat Runner comes a poignant, luminous novel that follows one family over decades and across the world—perfect for fans of the film Boyhood.
Western New York, 1978: Jamie, Lewis, and Connor Thurber watch their parents' destructive dance of loving, hating, and drinking. Terrance Thurber spends this year teaching his children about the natural world: they listen to the heartbeat of trees, track animal footprints, sleep under the star-filled sky. Despite these lessons, he doesn't show them how to survive without him. And when these seasons of trying and failing to quit booze and be a better man are over, Terrance is gone.
Alone with their artist mother, Catrin, the Thurber children are left to grapple with the anger they feel for the one parent who deserted them and a growing resentment for the one who didn't. As Catrin withdraws into her own world, Jamie throws herself into painting while her brothers smash out their rage in brutal, no-holds-barred football games with neighborhood kids. Once they can leave—Jamie for college, Lewis for the navy, and Connor for work—they don't look back.
But Terrance does. Crossing the country, sobering up, and starting over has left him with razor-sharp regret. Terrance doesn't know that Jamie, now an academic, inhabits an ever-shrinking circle of loneliness; that Lewis, a merchant marine, fears life on dry land; that Connor struggles to connect with the son he sees teetering on an all-too-familiar edge. He only knows that he has one last try to build a bridge, through the years, to his family.
Composed of a series of touchstone moments, Tiny Americans is a thrilling and bittersweet rendering of a family that, much like the tides, continues to come together and drift apart.
Praise For Tiny Americans: A Novel…
"Epic in scope, Tiny Americans is a poignant examination of the ties that bind a family, and how enduring those ties may be." — Kathleen Barber, author of Are You Sleeping
"Devin Murphy is a writer who can do it all. With Tiny Americans, he gives us the Thurbers, some of the most complicated, most endearing, and most memorable characters I've ever read. The smallest details of their lives are vested, effortlessly, with enormous power and exquisite prose. I turned the pages, breathless, and yet the scope of the novel is nothing short of epic. When people say fiction is true, this is the kind of story they mean—wherever you are and whenever you read it, you'll see that Tiny Americans is the thing that you needed." — Nicholas Mainieri, author of The Infinite
"Absorbing and affecting, Devin Murphy's Tiny Americans looks unflinchingly at a family's early unraveling and tracks how such sorrow reverberates over the years. But in moments large and small, we also glimpse the characters' great capacity for love and an aching hope for forgiveness and connection. A sweeping and powerful family novel." — Bryn Chancellor, author of Sycamore
"Luminous, tender, and wise, Tiny Americans is a strikingly realistic evocation of what makes and unmakes and remakes a family." — Emily Danforth, author of The Miseducation of Cameron Post
"A mesmerizing second novel [with] an emotional and beautifully rendered denouement that readers will long remember." — Booklist
"Though permeated with melancholy, the narrative is buoyed by exquisite details and the sense that forgiveness may be possible even if redemption is out of reach… A satisfying chronicle of fraught family dynamics." — Shelf Awareness
"An entrancing second novel from a bestselling writer building a well-deserved reputation for beautiful prose, emotional insight, and the moral complexity of his fiction. This novel is the perfect read for fans of the film Boyhood and readers of Willy Vlautin, Denis Johnson, Roddy Doyle, and Annie Proulx." — KFDS, Texoma's Homepage
"A complex and powerful story of family, forgiveness, and reconciliation... Moving and real." — Sarah, Parnassus Books (Nashville)
Harper Perennial, 9780062856074, 256pp.
Publication Date: March 12, 2019
About the Author
Devin Murphy is the nationally bestselling author of The Boat Runner. His fiction has appeared in more than sixty literary journals and anthologies, including The Missouri Review, Glimmer Train, and Confrontation. He is an Associate Professor at Bradley University and lives in Chicago with his wife and kids.
www.devinmurphyauthor.com
1. What are the central conflicts in the Thurber family and how do they influence the trajectory of each family member?
2. Which character became your favorite? Your least favorite? Was there a member of the Thurber family who resonated with you the most? How did your opinions of these people change through the book?
3. How has the notion of family changed for each of these characters? What does family mean to you?
4. How does the past play out in the lives of each of the Thurber children? Does this evoke a sense of the past as a living entity in your own life?
5. What kinds of love exist in the book and where? (e.g. romantic love, familial love, love of friends, for self, and love of the natural world)
6. How does the creative streak that runs through the Thurber family manifest itself? Is it a gift or a burden to have this need to create?
7. Why do you think the author chose to structure the book by jumping over large swaths of time to keep checking in on his characters as they evolve in their own lives? What was your favorite chapter?
8. This one family covers a lot of miles in their travels. Why do you think they feel the need to scatter? Lewis lives perhaps the most unconventional life working at sea. Why does he make this his career and what pitfalls and rewards come to him because of his profession?
9. How do the Thurber family dynamics evolve over the span of these characters lives? What events imprint themselves on these characters the most? Were any of the experiences the Thurber family members had to go through similar to your own life?
10. What role do secrets have in families? Do you feel that they are more likely to unite families or drive them apart? How does secret-keeping shape the Thurber family?
11. What might redemption look like for each of the members of the Thurber family?
12. Do you feel the title, Tiny Americans, accurately represents the novel? Why or Why not? Does the story of this one family say anything about America as a whole?