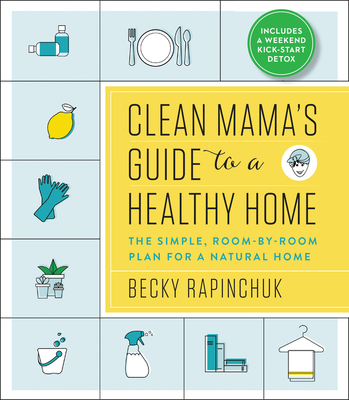 Clean Mama's Guide to a Healthy Home
The Simple, Room-by-Room Plan for a Natural Home
Paperback

* Individual store prices may vary.
Description
In Clean Mama's Guide to a Healthy Home, Becky Rapinchuk, author of Simply Clean and creator of the popular cleaning website Clean Mama, provides a step-by-step guide to take charge of your home's wellness with a comprehensive, all-natural cleaning system.
Scientific evidence points to a clear link between household chemicals and a number of diseases and chronic health issues. Drawing on this research, Rapinchuk's program delivers an organized, beautiful, toxic-free, environmental-friendly household by providing readers with:
A room-by-room guide to cleaning and removing harmful toxins in one's home
A Weekend Kick-Start Detox to ease readers into the program
Over 50 simple, organic DIY cleaning product recipes
Easy to digest research on common toxic products in the home, why they are dangerous to our health, and what to replace them with
Tips and tools from a trusted source to create cleaner, safer homes, resulting in healthier families
Cleanliness is about detoxing, embracing organic, all-natural methods and products, and protecting the environment. Moms look to Becky to guide them in the best cleaning practices for their home, and will welcome Clean Mama's Guide to a Healthy Home, which shows that going natural isn't just a better way to a cleaner home—it's vital to the health of our bodies, our families, and our planet.
Praise For Clean Mama's Guide to a Healthy Home: The Simple, Room-by-Room Plan for a Natural Home…
"Clean Mama's Guide to a Healthy Home is a fantastic resource, offering essential tips for a home that won't just look or smell like it's clean, but one that will actually be clean and safe for the people you care about most."
— Melissa Michaels, The Inspired Room blog and author of Dwelling and Simple Organizing

"Is there anything better than a clean house that's actually good for you? Becky teaches you how to clean thoroughly without harsh chemicals, and the sparkly goodness that results is not only all natural, it's easy on the ol' wallet. Win-win for sure."
— Sherry Petersik, New York Times bestselling author of Young House Love and Lovable Livable Home

"Becky makes the overwhelming task of detoxing the home approachable, simple, and cost-effective. Combining years of experience with research to educate readers on how to shop, interpret labels, and make educated decisions, this gives readers the confidence to clean with ease and keep households healthier, naturally."
— Melissa Maker, author of Clean My Space: The Secret To Cleaning Better, Faster and Loving Your Home Every Day

"A step-by-step guide to taking charge of your home's wellness with a comprehensive, all-natural cleaning system. The simple, room-by-room plan outlined in Rapinchuk's book gives mamas tips and tools to create cleaner, safer homes, resulting in healthier families."
— The Bump

"Rooted in concern for her family's health and well-being, Rapinchuk's recipes and methods are designed to set one's mind at ease…and can be used in whole or piecemeal, making this book useful for both enthusiasts and casual readers."
— Booklist
HarperOne, 9780062856319, 224pp.
Publication Date: March 5, 2019
About the Author
BECKY RAPINCHUK is the founder of Clean Mama, the most popular cleaning website in with world. The Clean Mama empire spans several highly successful businesses, including a membership-only monthly subscription, an organic cleaning line, a paper goods company, and an online community. Rapinchuk is the homecare expert for Scotch-Brite and has also worked with a variety of brands as an ambassador or brand affiliate, including Dyson, Home Depot, SC Johnson, Martha Stewart, Bissell, Casabella, Murchison-Hume, The Laundress, Aprilaire, and Neato Robotics. Rapinchuk is an online columnist for Better Homes & Gardens, the housekeeping expert on Answers.com, and a regular home expert for Real Simple, the New York Times, Bon Appetit, Better Homes & Gardens, HGTV Magazine, InStyle, Shape, Oprah.com, Houzz, Refinery29, and others.