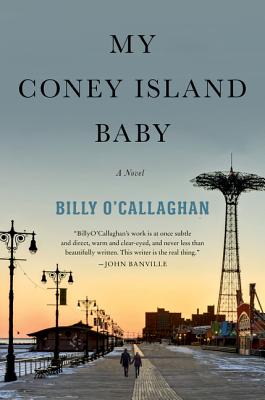 My Coney Island Baby
A Novel
Hardcover

* Individual store prices may vary.
Other Editions of This Title:
Paperback (4/7/2020)
Description
An exquisite, heart-breaking novel by an Irish discovery.
Radiant with beauty, longing, and desire, and deeply touching, this literary novel, reminiscent of the works of William Trevor and Colm Tóibín, evokes the long love affair between a man and a woman, each married to another, who meet every month in a decaying hotel in Coney Island, Brooklyn.

On a bitterly cold winter's afternoon, Michael and Caitlin, two middle-aged lovers, escape their unhappy marriages to keep an illicit date. Once a month for the past quarter of a century, Coney Island has been their haven, the place in which they have abandoned themselves to their love.
These beautiful, carefully-rationed days have long sustained Michael and Caitlin's love, and have helped help them survive the tedium of their lives separate from each other. But now, amid the howling winds whipping off the Atlantic, and a snow storm blackening the horizon, this nearly abandoned resort feels like the edge of the world. On this winter day, burrowed in their private cocoon, they will discover that their lives are on the brink of change.
Michael's wife is battling cancer, and Caitlin's husband is about to receive a major promotion, which will involve relocating to the Midwest. After half a lifetime together in their most intimate moments, certain long-denied facts must be faced, decisions made, consequences weighed and, maybe, just maybe, chances finally taken.
A quiet, intense depiction of love and intimacy, My Coney Island Baby reveals, within the course of a single day's passing, the histories, landscapes, tragedies and occasional moments of wonder that constitute the lives of two people who, although living worlds apart, have been inexorably drawn together. But even in this most private of retreats, a place seemingly built for romance, the most heartbreaking of realities loom.
Praise For My Coney Island Baby: A Novel…
"An illicit meeting between long-term lovers makes for a poignant, piercing meditation on middle age and the passing of time…In the closing pages, O'Callaghan's prose reaches a pitch of emotional intensity that ensures these characters will linger with you long after the book is closed."
— The Guardian

"This is not an epic novel. There are no heroes. It is the story of two ordinary people trapped in their ordinary lives. But in the hands of O'Callaghan it is magnified to the truly extraordinary. A great tragedy. I long thought Anita Brookner the high priestess when it comes to telling the tales of loneliness and defeat. But she's now got company."

— Sunday Independent


"Evoking William Trevor and Colm Toibin…This book is a quiet a taboo-breaker…In simple but elegant language, O'Callaghan presents an intricate look inside a relationship — and the moment when it all is about to change… Yes, they're adulterers and betrayers of those they've sworn to love, but from a novelistic point of view that only adds to the drama and tragedy of their lives — beautifully expressed by this fine chronicler of inner worlds."

— Irish Examiner USA

"Compellingly readable…An impressive work…Through one day in a years long extramarital affair, an Irish writer looks at intimacy and estrangement… The prose [is] exceptional, elegiac and eloquent, in conveying insight and sympathy for the small cast's two main players as they face an uncertain future… "
— Kirkus Reviews (starred review)

"An attentive portraitist, [O'Callaghan] writes beautifully, and at length, about gestures, glances and other fleeting moments… A small story told at close range, My Coney Island Baby is suffused with great, painful beauty."
— Minneapolis Star-Tribune

"I know of no writer on either side of the Atlantic who is better at exploring the human spirit under assault than Billy O'Callaghan."
— Robert Olen Butler

"…a welcome voice to the pantheon of new Irish writing"
— Edna O'Brien

"An illicit meeting between long-term lovers makes for a poignant, piercing meditation on middle age and the passing of time…In the closing pages, O'Callaghan's prose reaches a pitch of emotional intensity that ensures these characters will linger with you long after the book is closed."
— Happy Ever After blog, USA Today

"Vividly rendered… O'Callaghan excels at painting a portrait of physical and emotional isolation."
— Publishers Weekly

"O'Callaghan [has made a] significant achievement in this fine novel… Good books remind us of other good books and in its treatment of adultery this one calls to mind thematic ancestors such as Madame Bovary, Anna Karenina and The Scarlet Letter."
— Sunday Times

"Quiet, subtle and deeply moving … This is a fine novel, with elegance and wisdom lying beneath an unpretensious surface and O'Callaghan, a gifted writer, has managed to do that most difficult of things: take a quiet, almost everyday story and transform it into a thing of beauty."
— John Boyne, Irish Times

"A poignant, piercing meditation on middle age and the passing of time… these characters will linger with you long after the book is closed."
— Charles Kilroy, The Guardian

"With poeticism and aching sensitivity, O'Callaghan unknots the minute workings of these starved adulterous souls … images rendered here stick with you, such is the intensity that they shimmer with."
— Irish Independent

"Billy O'Callaghan's writing is a profound, uncommon blend of grit and beauty, with sentences that, like his characters, are simultaneously sparse and infinitely rich."
— Simon Van Booy

"My Coney Island Baby, a second novel by the accomplished short-story writer Billy O'Callaghan, offers an amicable and committed picture of heartbreak."
— Telegraph

"In some ways [the] book reads a little bit like a modern-day Lady Chatterley's Lover, with the lovers making their way to rendezvous at Coney Island rather than in a gamekeeper's hut...Overall, there is much to savor in the book."
— Tablet  
Harper, 9780062856562, 256pp.
Publication Date: April 9, 2019
About the Author
Billy O'Callaghan was born in Cork in 1974, and is the author of three short story collections: In Exile and In Too Deep(2008 and 2009 respectively, both published by Mercier Press), and The Things We Lose, The Things We Leave Behind'(2013, published by New Island Books), which was honoured with a Bord Gais Energy Irish Book Award and which has been selected as Cork's "One City, One Book" for 2017.
His first novel, really a ghost story entitled The Dead House, was published by a small Irish press (Brandon Books/O'Brien Press) in May 2017, and will be published in the U.S. by Arcade in May 2018.
A recipient of the 2013 Bord Gais Energy Irish Book Award for Short Story of the Year, and a 2010 Arts Council of Ireland Bursary Award for Literature, his story, "The Boatman" was recently shortlisted for the 2016 Costa Short Story Award. He has won and been shortlisted for numerous other honours, including the George A. Birmingham Award, the Lunch Hour Stories Prize, the Molly Keane Creative Writing Award, the Sean O'Faolain Award, the RTE Radio 1 Francis MacManus Award, the Faulkner/Wisdom Award, the Glimmer Train Prize and the Writing Spirit Award. He was also short-listed four times for the RTE Radio 1 P.J. O'Connor Award for Drama. He also served as the 2016 Writer-in-Residence for the Cork County Libraries.
http://billyocallaghan.ie/en/