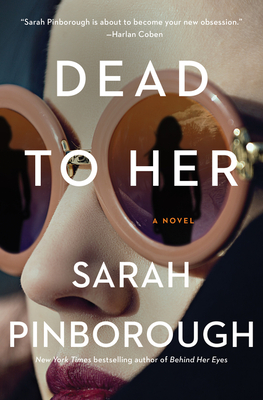 Dead to Her
A Novel
Hardcover

* Individual store prices may vary.
Other Editions of This Title:
Paperback (1/12/2021)
Paperback, Large Print (2/11/2020)
Compact Disc (2/11/2020)
MP3 CD (2/11/2020)
Description
From the author of Behind Her Eyes, Soon to be a Netflix Original Series

"'Big Little Lies' meets 'Rebecca' in Sarah Pinborough's 'Dead to Her,' a saucy novel about insecure second wives dragged down by secrets [and] jealousies…" —Washington Post
For fans of Liane Moriarty, Liv Constantine and Lisa Jewell, a twisty psychological thriller about a savvy second wife who will do almost anything to come out on top from the New York Times bestselling author of Behind Her Eyes.
Marriage can be murder…
SOMETHING OLD
Marcie's affair with Jason Maddox catapulted her into the world of the elite.
Old money, old ties, old secrets. Marcie may have married into this world—
but she'll never be part of it.
SOMETHING NEW
Then Jason's boss brings back a new wife from his trip to London.
Young, attractive, reckless—nobody can take their eyes off Keisha.
Including Marcie's husband.
SOMETHING YOU CAN NEVER, EVER UNDO…
Some people would kill for the life Marcie has—what will she do to keep it?
Praise For Dead to Her: A Novel…
"Possibly my favorite of Pinborough's yet, and that's saying something. It's an absolute rollercoaster of a ride: twist upon twist, expertly handled. I actually gasped out loud several times. So atmospheric and sexy… A triumph!"
— Lucy Foley, author of The Hunting Party

"The prolifically ingenious Sarah Pinborough, whose Behind Her Eyes chronicled a deranged love triangle with a rationality-defying last-minute surprise, has produced another twisty book about tricky characters behaving badly… There are shades of Rebecca and Body Heat."
— New York Times Book Review

"Within minutes of opening Dead to Her you will be unsettled, charmed, riled, empowered, and aroused.  Pinborough at the height of her powers."
— Josh Malerman, bestselling author of Bird Box

"Illicit love affairs, [and] tension as stifling as the Georgia summer heat… With Dead to Her, Pinborough plants her flag as the master of seductively sinister suspense. This absorbing tale will satisfy and even surprise fans of Jennifer McMahon and Gillian Flynn."
— Booklist (starred review)

"Roils with passion, rancor, and greed wrapped in Southern politesse... Pinbrough's intricately woven mystery will please fans of B.A. Paris and Paula Hawkins."
— Publishers Weekly

"'Big Little Lies' meets 'Rebecca' in Sarah Pinborough's 'Dead to Her,' a saucy novel about insecure second wives dragged down by secrets [and] jealousies… This may not be the most important novel you'll read this year, but it's definitely among the most delicious."
— Washington Post

"The story is well written and… the twists are surprising… A mix of steamy sex, lies, secrets, betrayals, murder, and a dash of voodoo, Pinborough's latest novel will keep readers guessing until the very last chapter. A twisty thriller for fans of Liane Moriarty… and Paula Hawkins."
— Library Journal

"Behind Her Eyes is a dark, electrifying page-turner with a corker of an ending. Sarah Pinborough is about to become your new obsession."
— Harlan Coben, #1 New York Times bestselling author of Fool Me Once

"You should read Behind Her Eyes…It's bloody brilliant." 
— Stephen King

"The amazing Sarah Pinborough has done it again with this brilliant, pacy story of lies and deceit."
— B.A. Paris, author of Behind Closed Doors, on Cross Her Heart

"Gloriously glamorous, and brilliantly plotted: Dead to Her is everything I love in a novel."
— Clare Mackintosh, author of I See You

"Some writers you drop everything for. You wait for their books because, in the best possible way, you just don't know what you're going to get. Pinborough is one of those writers. She crawls inside your head. And she does it with such grace, such sheer, savage skill." 
— Chris Whitaker, author of Tall Oaks

"Dead To Her is my favorite kind of novel: every time you think you've got it pinned down, it twists and bites you like a snake… The only thing you can be sure about is that you can't trust anyone or anything. I wolfed it down."
— Rod Reynolds, author of The Dark Inside

"Sarah Pinborough writes like a dream but plots like a demon. Read her." 
— Neil White, author of From the Shadows

"I LOVED Dead to Her! So deliciously dark and twisted, and that setting is just perfection." 
— Lisa Hall, bestselling author of The Party

"Dead to Her is set amid Savannah's elite: a lusty, greedy, exclusive society of old money where secrets are buried deep. Sarah Pinborough is always ahead of her reader, expertly weaving her killer plot. Thrilling, sexy and utterly unputdownable." 
— Beverly Vincent, Co-Editor (with Stephen King) of Flight or Fright

"Dark, hypnotic and immersive. Dead To Her is beautifully written and full of Pinborough's trademark twists - sultry and seductive as its Savannah setting. I loved it." 
— Harriet Tyce, Sunday Times Bestselling author of Blood Orange

"Swift and entertaining… When Pinborough unveils her first surprise about a third of the way in, it's a good one… Cross Her Heart has a welcome sisterhood-is-powerful vibe; it's a novel that defines women by their relationships with one another, even as their creator is ruthlessly shoving them into position for the next twist."?
— New York Times Book Review on Cross Her Heart

"[Pinborough's] work invariably possesses a surreal, dreamlike quality. . . . The juggling of multiple viewpoints shows great elan, and the author's storytelling is as sure-footed as ever."
— The Guardian on Cross Her Heart

"The past decade of crime fiction has been remarkable for the huge number of novels… featuring women... Some have been excellent, but most have been indistinguishable... Critics have spent much time searching for well-written, original examples. Sarah Pinborough passes the test. She… is adept at conjuring the unexpected."
— The Times (London) on Cross Her Heart

"[A] tension-driven page-turner… The anxiety builds relentlessly... Cross Her Heart is unapologetically feminist, driven by the strong relationships between women, for better or worse. This will be an easy sell for fans of all domestic suspense… especially fans of Liane Moriarty and Megan Abbott."
— Booklist on Cross Her Heart

"As the narrative weaves among these three… characters, readers are pulled deeper into their connected webs of secrets and lies… Fans of Pinborough's smash debut, Behind Her Eyes, won't be disappointed… [This is] a fast-paced, twisty thriller... Devotees of B.A. Paris and Ruth Ware will be fascinated."
— Library Journal (starred review) on Cross Her Heart

"A masterclass in artful misdirection . . . brilliantly rendered and utterly harrowing. To say any more would be to give Pinborough's high stakes game away: suffice to say those twists keep coming, each one a perfectly controlled explosion, right to the mesmerising final pages."
— Irish Times on Cross Her Heart

"An eerie thriller… [A] terrifying mind game."
— The New York Times Book Review on Behind Her Eyes

"A masterpiece of suspense...A rare joy...Creates a sense of disorientation and dread that is highly satisfying. But it is with the plot, so tight and yet also intricate, that Pinborough shines. No detail or character is extraneous."
— Booklist (starred review) on Behind Her Eyes

"The one element that sets Pinborough's novel apart from similar thrillers is the emphasis on female empowerment and the power of female relationships.… Fans of Gillian Flynn and Paula Hawkins will find this comfortingly familiar despite (or maybe because of?) the shocks and turns along the way."
— Kirkus Reviews

"The plotting in Cross Her Heart is calm, cool and beautifully orchestrated—until, WHAM, you marvel at what Pinborough has just tossed in your lap. There are plenty of I-can't-believe-she-just-did-that moments that will have you sitting straight up in your chair. What a terrific ride."
— Meg Gardiner, author of Unsub

"Pinborough shrewdly transforms a romantic suspense novel into an eerie thriller calculated to creep you out…Pinborough keeps us guessing about just who's manipulating whom – until the ending reveals that we've been wholly complicit in this terrifying mind game."
— New York Times Book Review on Behind Her Eyes

"The strongest, most unsettling thriller of the year, with a final twist destined to provoke arguments for years to come. Read it now before someone spoils the ending for you."
— John Connolly, #1 New York Times bestselling author of the Charlie Parker novels

"Behind Her Eyes is as twisty as a steep mountain road, and just as nerve-wracking. The shocks just keep coming around those blind curves."
— Charlaine Harris, #1 New York Times bestselling author of the Sookie Stackhouse series

"Twisty psychological thriller…Pinborough will keep even veteran genre readers guessing."
—  Publishers Weekly on Behind Her Eyes

William Morrow, 9780062856821, 400pp.
Publication Date: February 11, 2020
About the Author
Sarah Pinborough is the number one Sunday Times and New York Times bestselling author of the psychological thriller Behind Her Eyes, and more than twenty other novels and novellas, including The Death House and a young adult thriller, 13 Minutes. She has also written for the BBC. She lives in England. sarahpinborough.com