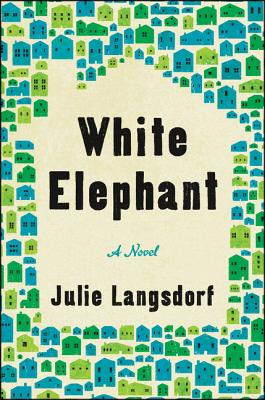 White Elephant
A Novel
Hardcover

* Individual store prices may vary.
Other Editions of This Title:
Digital Audiobook (3/25/2019)
Paperback, Large Print (3/26/2019)
Paperback (1/28/2020)
Description
A turf war between neighbors leads to a small-town crisis in this sharply observed debut novel perfect for fans of Tom Perrotta, Meg Wolitzer, and Celeste Ng.
The white elephant looms large over the town of Willard Park: a newly-constructed behemoth of a home, it towers over the quaint houses, including Allison and Ted Millers' tiny hundred year old home. When owner Nick Cox cuts down the Millers' precious red maple—in an effort to make his unsightly property more appealing to buyers—their once serene town becomes a battleground.
While tensions between Ted and Nick escalate, other dysfunctions abound: Allison finds herself compulsively drawn to the man who threatens to upend her quietly organized life. A lawyer with a pot habit and a serious mid-life crisis skirts his responsibilities. And in a quest for popularity, a teenage girl gets caught up in a not-so-harmless prank. Newcomers and longtime residents alike clash in conflicting pursuits of the American Dream, with trees mysteriously uprooted, fingers pointed, and lines drawn.
White Elephant is a tangled-web tale of a community on the verge and its all-too-human inhabitants, who long to connect but can't seem to find the words. It's a story about opposing sides struggling to find a middle ground—a parable for our times.
Praise For White Elephant: A Novel…
"White skewering its vacuity and vulgarity, Langsdorf captures the sensuous allure of confident, over-the-top American consumerism... Like Tom Perrotta's "Little Children" and Maria Semple's "Where'd You Go, Bernadette," "White Elephant" exposes middle-class domestic malaise with a light comedic touch." — New York Times Book Review
"An interloper's plans to build a McMansion amid the cozy bungalows leads to angry town halls, scandalous romantic dalliances and shady high jinks.... All smart, satiric fun, the kind of comic novel that helps us see our own foibles while we're laughing at those of others." — Washington Post
"The 'white elephant' in this darkly comic social satire is a gaudy new home constructed in a quaint Washington, D.C., suburb. Conflict over the home pits residents against each other and turns their town into a battleground." — USA Today
"If you've spent any time on the social media website Nextdoor, you know that neighborhoods are teeming with quiet (and sometimes not so quiet) resentments and bitter turf wars. The debut comic novel from Washington, D.C., author Langsdorf focuses on residents of a suburb locked in an angry fight." — Los Angeles Times
"When a huge, garish home called the White Elephant infiltrates Willard Park, a quiet suburb, the neighborhood falls into utter comedic chaos. In the shadow of the home, neighbors begin to fight, lives are upended, and their once-peaceful town becomes anything but." — The Millions
"Lively and entertaining.... This ambitious and intriguing work about the American suburbs is perfect for fans of Ann Patchett or Meg Wolitzer." — Publishers Weekly
"Julie Langsdorf's debut novel slams two conflicting ideas of the American Dream smack into each other with both wit and wisdom.... The dialogue is sharp and a mystery subplot adds a dash of suspense. Entertainment at its best, White Elephant earns a shiny, gold star." — Shelf Awareness
"Langsdorf gleefully skewers small-town stereotypes.... But beneath the caricatures are deeper truths about belonging, community, and relationships. In this smartly satirical novel, the raging feud reveals much about the residents' core values." — Booklist
"Julie Langsdorf mines wit from the ways that people manage (or don't) to live in close proximity. Her smart, enjoyable suburban comedy is observant and knowing about social selves and hidden selves, and the ways in which they are sometimes made to overlap." — Meg Wolitzer, author of The Female Persuasion
"A smart, riveting look at what happens to a community when competing visions of the American Dream collide and combust. Langsdorf is a keen observer of human frailty and desire and her characters are darkly funny, recognizably exasperating and deeply memorable." — Cynthia D'Aprix Sweeney, author of The Nest
"Writing with wonderful wit and precision, Langsdorf arranges her characters as thoughtfully as the tree-lined streets in their idyllic planned community.... White Elephant belongs on the bookshelf next to Rick Moody's The Ice Storm and Richard Yates' Revolutionary Road." — Ann Leary, author of The Good House
"Delightful.... Langsdorf lets us peek into the windows of these cookie cutter houses and eavesdrop on the residents of Willard Park as they gossip, seek revenge and struggle with what it means to be a good neighbor. This debut is an absolute pleasure to read." — Jennifer Close, author of Girls in White Dresses and The Hopefuls
"White Elephant is a terrific debut, brimming with wit, well-honed prose and sharp observations into human nature. It's the kind of book I want to press into the hands of friends, because I know how much they will enjoy it." — Cristina Alger, author of The Banker's Wife and The Darlings
Ecco, 9780062857750, 320pp.
Publication Date: March 26, 2019
About the Author
Julie Langsdorf's short stories and essays have appeared in Lit Hub and Electric Literature among other publications. She has two children and lives in Washington, D.C.
or
Not Currently Available for Direct Purchase