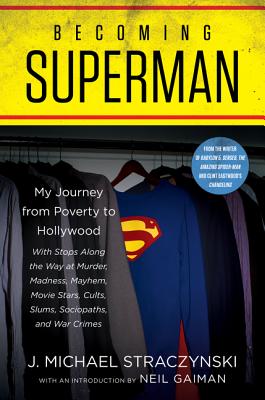 Becoming Superman
My Journey From Poverty to Hollywood
Hardcover

* Individual store prices may vary.
Other Editions of This Title:
Digital Audiobook (7/22/2019)
Paperback (6/23/2020)
MP3 CD (7/23/2019)
Compact Disc (7/23/2019)
Compact Disc (7/23/2019)
Description
A Hugo Award Nominee!
Featuring an introduction by Neil Gaiman!
"J. Michael Straczynski is, without question, one of the greatest science fiction minds of our time."   -- Max Brooks (World War Z)
For four decades, J. Michael Straczynski has been one of the most successful writers in Hollywood, one of the few to forge multiple careers in movies, television and comics.  Yet there's one story he's never told before: his own.
In this dazzling memoir, the acclaimed writer behind Babylon 5, Sense8, Clint Eastwood's Changeling and Marvel's Thor reveals how the power of creativity and imagination enabled him to overcome the horrors of his youth and a dysfunctional family haunted by madness, murder and a terrible secret.
Joe's early life nearly defies belief. Raised by damaged adults—a con-man grandfather and a manipulative grandmother, a violent, drunken father and a mother who was repeatedly institutionalized—Joe grew up in abject poverty, living in slums and projects when not on the road, crisscrossing the country in his father's desperate attempts to escape the consequences of his past. 
To survive his abusive environment Joe found refuge in his beloved comics and his dreams, immersing himself in imaginary worlds populated by superheroes whose amazing powers allowed them to overcome any adversity. The deeper he read, the more he came to realize that he, too, had a superpower: the ability to tell stories and make everything come out the way he wanted it. But even as he found success, he could not escape a dark and shocking secret that hung over his family's past, a violent truth that he uncovered over the course of decades involving mass murder.
Straczynski's personal history has always been shrouded in mystery. Becoming Superman lays bare the facts of his life: a story of creation and darkness, hope and success, a larger-than-life villain and a little boy who became the hero of his own life.  It is also a compelling behind-the-scenes look at some of the most successful TV series and movies recognized around the world.
Praise For Becoming Superman: My Journey From Poverty to Hollywood…
"J. Michael Straczynski is, without question, one of the greatest science fiction minds of our time."  — Max Brooks (World War Z)
"Everything I read made me want to stand up and salute. I can't stress enough how significant and moving (to say nothing of gripping and sometimes hilarious) this book is.  It's a magnificent piece of work that will stay with me for a long, long time." — Cory Doctorow, author of Radicalized and Walkaway
"Once I started, I couldn't put it down.  Straczynski embedded a mystery in an autobiography.  Has to be a first." — Dan DiDio, Editor in Chief, DC Comics
"Part Hollywood how-to, part Frank McCourt-style reflection on emotional neglect and poverty, "Becoming Superman" is an enveloping look back at a unique career." — Washington Post
"His ability to stay the course, to work hard at all times, and to keep writing were his salvation time and again. This book is a testament to that — and it is an inspiring, touching look at how someone born into darkness can find the light and go on to do great things." — NPR
"I just finished reading Becoming Superman and can, without a mote of hyperbole, state it is one of the most terrifying and inspirational, funny and empathic nonfiction books of our time. I'm too old to be currying favors. Just trust me. Buy it or die!" — Walter Koenig
"A fascinating journey through careers in three different professions—comic books, TV, and movies—from an accomplished master of each. Rare to have such detail and such access. A major literary autobiography!" — Bestselling author Greg Bear
"Straczynski [...] delivers a frank memoir that's equally harrowing and triumphant." — Publishers Weekly
"Becoming Superman is a valuable resource for those wishing to look behind the curtain to one of pop culture's most cherished and esteemed writers [...] It is an incredible story of familial abuse and its aftermath, of perseverance and fortitude, of endurance and determination. Highly recommended." — Fantasy Book Review
"Gripping. An amazing testament to the range of human durability and determination, overcoming our impossibly dark side with something even more unlikely and miraculous -- hope."
— Hugo and Nebula Award Winning Novelist David Brin
"A deeply moving testament to the power of storytelling, and a no-bullshit guide to becoming, if not Superman, a better person and writer." — Tor.com
"Straczynski's memoir more than lives up to the promises of its sub-subtitle…Joe never saves the world à la Superman, but pulls through with a heart, spine, and soul of steel. .." — AV Club
"Straczynski's life story is simultaneously horrifying and uplifting. He survives a childhood worse than almost anything you could imagine and ends up taking an unlikely path to Hollywood success. It's funny, sad, infuriating, and inspiring--often all at once." — Jason Snell, host of The Incomparable podcast
"His true life story turns out to be as gripping and inspiring as any of his fiction." — B&N Sci-Fi & Fantasy Blog
"I've rarely felt such pain while reading a memoir, or felt so satisfied at its conclusion. It's some kind of miracle that he's taken this lifelong experience, leavened it with perspective, and created something so universal. Powerful, powerful stuff." — Andy Ihnatko, Tech Author and Co-Host of The Material Podcast
Harper Voyager, 9780062857842, 480pp.
Publication Date: July 23, 2019
About the Author
J. Michael Straczynski has had one of the most varied careers of any American writer, penning hundreds of hours of television, comic books for Marvel and DC that have sold over 13 million copies, and movies that have grossed over a billion dollars.
Neil Gaiman is a #1 New York Times bestselling author of books for children and adults whose award-winning titles include Norse Mythology, American Gods, The Graveyard Book, Good Omens (with Terry Pratchett), Coraline, and The Sandman graphic novels. Neil Gaiman is a Goodwill Ambassador for UNHCR and Professor in the Arts at Bard College.
or
Not Currently Available for Direct Purchase