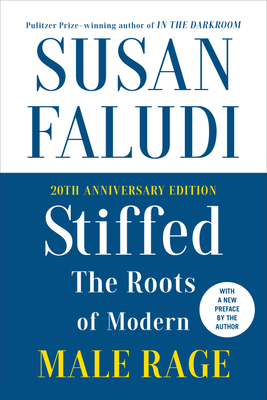 Stiffed 20th Anniversary Edition
The Roots of Modern Male Rage
Paperback

* Individual store prices may vary.
Other Editions of This Title:
Digital Audiobook (10/14/2019)
Compact Disc (10/15/2019)
Paperback (9/19/2000)
MP3 CD (10/15/2019)
Compact Disc (10/15/2019)
Description
This 20th-anniversary edition of the extraordinary New York Times bestseller features a new introduction from the author!
"Stiffed is a brilliant, important book.. Faludi's reportorial and literary skills unfold with breathtaking confidence and beauty... She goes a long way toward eliminating the black and white, good and evil, male and female polarities that have riven the sexes in the past three decades..." –Time
In 1991, internationally renowned feminist journalist Susan Faludi ignited a revival of the women's movement with her revelatory investigative reportage: Backlash was nothing less than a landmark, uncovering an "undeclared war" against women's equality in the media, advertising, Hollywood, the workplace, and government—a war that is still being fought today.
Stiffed may be even more essential than Backlash to understanding the cultural riptides that led to Trumpian America. Here, Faludi turns her attention to the so-called "Angry Male" politics plaguing the nation. Through deeply researched, nuanced, and empathetic character studies of distressed industrial workers, laid-off aerospace engineers, combat veterans, football fans, evangelical husbands, suburban and inner-city teenage boys, and Hollywood and porn actors, Stiffed goes beyond the easy explanations of male misbehavior—that it's driven by chromosomes or hormones—to lay bare the powerful social and economic forces that have shattered the postwar compact defining American manhood.  Faludi's vivid storytelling illuminates the historic and traumatic paradigm shift from a "utilitarian" manliness, grounded in civic and communal service, to an "ornamental" masculinity shaped by entertainment, marketing, and performance values.
Read in the light of Trumpian politics and the #MeToo movement, Faludi's analysis speaks acutely to our present crisis, and to a foreboding future. Stiffed delivers a searing portrait of modern-day male America, and traces the provenance of a gender war that continues to rage, unabated.
Praise For Stiffed 20th Anniversary Edition: The Roots of Modern Male Rage…
"A groundbreaking, 600 page treatise that shines feminism's insights into various corners of masculinity in a way that hasn't been done before . . . Stiffed is eye-opening enough to change the way we understand each day's news."
— Boston Sunday Globe

"Faludi masterfully weaves larger essays with case histories and personality profiles. She connects the general to the specific and enlivens her argument with a host of haunted voices."
— Washington Post Book World

"Susan Faludi's Backlash . . .[is] the most important book on women in recent decades . . . Stiffed is even better than Backlash. It is a significant and serious work."
— New York Review of Books

"The worst thing about Stiffed: The Betrayal of the American Man is that you immediately want to run around grabbing people by the lapels and beseeching them, "Read this book! Now! I've got to talk about it . . . "
— San Diego Union Tribune

"[Susan Faludi's] ear knows how to listen; her heart is made of sympathy; her mind is always changing... Brilliant book. "
— John Leonard, New York Newsday

"In this monumental and surprising book, sure to make a tremendous impact on thoughtful people, [Faludi] overlooks no part of the national landscape . . .  As in her Pulitzer-Prize-winning Backlash, Faludi accuses society, and documents her claims. Read Stiffed. You'll never forget it."
— Harriete Behringer

"[Stiffed] is the product of six years of aggressive reporting and an admirable knack for bringing the results to life. No one will ever put this book down for lack of vivid scene setting or compassionate observation."
— The New York Times Book Review

"[Stiffed is] a work of astonishing compassion . . . It issues a dare for both men and women who've long been dunned into passivity to do something significant to change their lives, to reject the values of a society that would prefer for them to seek easy answers."
— Seattle Weekly
William Morrow Paperbacks, 9780062858412, 672pp.
Publication Date: October 15, 2019
About the Author
Susan Faludi is a Pulitzer Prize-winning journalist and the author of Backlash: The Undeclared War Against American Women, which won the 1992 National Book Critics Circle Award for Nonfiction. A contributing editor for Newsweek and a former reporter for The Wall Street Journal, she has written for many magazines, including The New Yorker, The New York Times, Esquire, Double Take, and The Nation. She lives in Los Angeles.