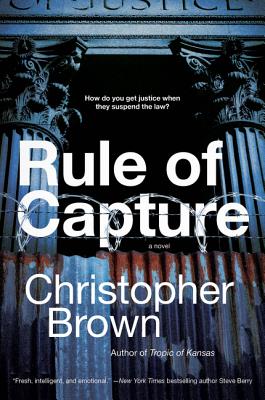 Rule of Capture
A Novel (Dystopian Lawyer #1)
Paperback

* Individual store prices may vary.
Other Editions of This Title:
Digital Audiobook (8/12/2019)
Description
"This one is fresh, intelligent, and emotional with a plot that envisions an alternate reality hard to dismiss as unreal.  It's a legal thriller, with a big twist, stirring and imaginative, brimming with skullduggery, that will have you asking: is this possible?"-- New York Times bestselling author Steve Berry
Better Call Saul meets Ben Winter's The Last Policeman in this first volume in an explosive legal thriller series set in the world of Tropic of Kansas—a finalist for the 2018 Campbell Award for best science fiction novel of the year.

Defeated in a devastating war with China and ravaged by climate change, America is on the brink of a bloody civil war. Seizing power after a controversial election, the ruling regime has begun cracking down on dissidents fighting the nation's slide toward dictatorship. For Donny Kimoe, chaos is good for business. He's a lawyer who makes his living defending enemies of the state.
His newest client, young filmmaker Xelina Rocafuerte, witnessed the murder of an opposition leader and is now accused of terrorism. To save her from the only sentence worse than death, Donny has to extract justice from a system that has abandoned the rule of law. That means breaking the rules—and risking the same fate as his clients.
When Donny bungles Xelina's initial hearing, he has only days to save the young woman from being transferred to a detention camp from which no one returns. His only chance of winning is to find the truth—a search that begins with the opposition leader's death and leads to a dark conspiracy reaching the highest echelons of power.
Now, Donny isn't just fighting for his client's life—he's battling for his own. But as the trial in the top secret court begins, Xelina's friends set into motion a revolutionary response that could destroy the case. And when another case unexpectedly collides with Xelina's, Donny uncovers even more devastating secrets, knowledge that will force him to choose between saving one client . . . or the future of the entire country.
Praise For Rule of Capture: A Novel (Dystopian Lawyer #1)…
"This one is fresh, intelligent, and emotional, with a plot that envisions an alternate reality hard to dismiss as unreal.  It's a legal thriller, with a big twist, stirring and imaginative, brimming with skullduggery, that will have you asking: is this possible?"
— New York Times bestselling author Steve Berry
"A kind of madcap Texas Gothic dark comedy, as the Houston good ole boy network is displayed like a courtroom scene in an unpublished Hunter S Thompson novel […] It moves rocketing along at a ferocious pace--and then it lingers, haunting you." — Cory Doctorow, for BoingBoing
"Christopher Brown looks to be cornering the market on future dystopias...'Rule of Capture' is not just sci-fi, it's also a legal thriller. Its author is himself a lawyer, just like John Grisham, and he has a grip on detail that full-time sci-fi authors can't match." — Wall Street Journal
"RULE OF CAPTURE is a taut, smart legal thriller set five minutes into the future in a dystopian post-war America that looks scarily plausible from the vantage point of 2019, and marks Brown as one of our most tuned-in science fiction writers." — Adrian McKinty, Edgar and Ned Kelly Award-winning author of THE CHAIN and RAIN DOGS
"Peel back the dystopian and science fiction layers of this fast moving and entertaining story, and what remains is a smart, taut legal thriller bound to keep readers turning pages deep into the night."   — Robert Bailey, bestselling author of the McMurtrie & Drake legal thriller series
"Interpersonal drama fuels the story as much as legal maneuvering, and Brown keeps tight control of his narrative even as this alternate America slips its gears." — Publishers Weekly (starred review)
"This dark, dystopian story will appeal equally to readers of John Grisham and Cory Doctorow." — Booklist
"[P]ut this one on the shelf next to Orwell." — Locus Magazine
"An exhilarating, all too real journey into a scary place, where the fall of democracy is sure to be streamlined: the courts. Chris Brown's frenetic prose will keep you turning the pages, make you laugh, and fill you with horror—it's the long awaited, judicial dystopian thriller for our times." — Fernando Flores, author of Tears of the Trufflepig
"Compelling, timely, and disturbing, Brown's expertly crafted legal drama asks a number of tough questions: when the collapse comes, what role will you play? Will you be complicit? Will you stand and fight? Or will you carry on, business as usual? And perhaps more urgently: has that collapse already started?" — Tim Maughan, author of Infinite Detail
"If this first installment is any indication, I will buy the others the day they appear on shelves, mute my phone, and cancel all appointments for the next couple of days." — Lone Star Literary
"A sharp, no-holds-barred view into a desperate future that is terrifyingly close to our present. This is the stuff of which today's nightmares are made." — Eileen Gunn, author of Questionable Practices
"RULE OF CAPTURE is a smart and stirring political thriller set in a dystopian America that feels like an unsettling version of our own waiting in the shadows. Brown's world is deeply immersive, his concepts richly realized, his themes sweeping but centering on the imperative and cost of resisting tyranny." — Craig DiLouie, author of Our War 
"[A] captivating page turner ripped from tomorrow's headlines." — Gavin J. Grant, Stoker Award-winning author and editor
"Magnificent."   — Jack Womack, author of Random Acts of SenselessViolence and Ambient 
"Read this! A dark, funny novel of homegrown revolution, constitutional crisis, & edgelands biology [deponent affirms he could not stop reading]" — Endless Bookshelf
"I can't remember a legal thriller having made me cry before—though I suppose terrifyingly near-future compassionate dystopian SF is another story. Rule of Capture is both." — The Mossy Skull
Harper Voyager, 9780062859099, 400pp.
Publication Date: August 13, 2019
About the Author
Christopher Brown's debut novel Tropic of Kansas was a finalist for the Campbell Award for best science fiction novel of 2018, and he was a World Fantasy Award nominee for the anthology Three Messages and a Warning. His short fiction and criticism has appeared in a variety of magazines and anthologies, including MIT Technology Review, LitHub, Tor.com and The Baffler. He lives in Austin, Texas, where he also practices law.