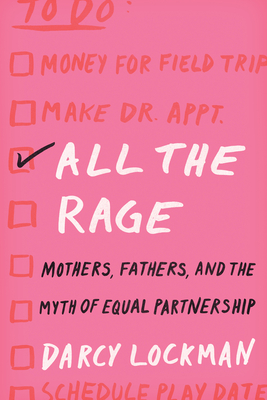 All the Rage
Mothers, Fathers, and the Myth of Equal Partnership
Hardcover

* Individual store prices may vary.
Other Editions of This Title:
Digital Audiobook (5/6/2019)
Paperback (5/19/2020)
Description
Why do men do so little at home? Why do women do so much? Why don't our egalitarian values match our lived experiences?
Journalist-turned-psychologist Darcy Lockman offers a clear-eyed look at the most pernicious problem facing modern parents—how progressive relationships become traditional ones when children are introduced into the household.
In an era of seemingly unprecedented feminist activism, enlightenment, and change, data shows that one area of gender inequality stubbornly persists: the disproportionate amount of parental work that falls to women, no matter their background, class, or professional status. All the Rage investigates the cause of this pervasive inequity to answer why, in households where both parents work full-time and agree that tasks should be equally shared, mothers' household management, mental labor, and childcare contributions still outweigh fathers'. 
How, in a culture that pays lip service to women's equality and lauds the benefits of father involvement—benefits that extend far beyond the well-being of the kids themselves—can a commitment to fairness in marriage melt away upon the arrival of children?
Counting on male partners who will share the burden, women today have been left with what political scientists call unfulfilled, rising expectations. Historically these unmet expectations lie at the heart of revolutions, insurgencies, and civil unrest. If so many couples are living this way, and so many women are angered or just exhausted by it, why do we remain so stuck? Where is our revolution, our insurgency, our civil unrest?
Darcy Lockman drills deep to find answers, exploring how the feminist promise of true domestic partnership almost never, in fact, comes to pass. Starting with her own marriage as a ground zero case study, she moves outward, chronicling the experiences of a diverse cross-section of women raising children with men; visiting new mothers' groups and pioneering co-parenting specialists; and interviewing experts across academic fields, from gender studies professors and anthropologists to neuroscientists and primatologists. Lockman identifies three tenets that have upheld the cultural gender division of labor and peels back the ways in which both men and women unintentionally perpetuate old norms.
If we can all agree that equal pay for equal work should be a given, can the same apply to unpaid work? Can justice finally come home?
Praise For All the Rage: Mothers, Fathers, and the Myth of Equal Partnership…
"The only way All the Rage could be a better Mother's Day gift would be for partners to actually read it before giving it. Darcy Lockman does an expert job of excavating and examining all the complaints we have and injustices we feel, and then putting them into a context that feels completely fresh. She makes the case for talking about parenting and division of labor well before you begin raising children—and if you're already a parent, it would be impossible not to recognize yourself in these pages." — Kimberly Harrington, author of Amateur Hour
"How far we have not come! By saying what too often goes unsaid, Darcy Lockman delivers a thoughtful, timely, and bracing analysis of unfairness on the home front that is a boon to those whose dreams of an equal partnership have been dashed on the rocks of night feedings and mothers-only PTAs." — Ada Calhoun, author of Wedding Toasts I'll Never Give
"Darcy Lockman delves into the baffling inequity of domestic life in this well-researched and deeply personal book. Crucially, she doesn't just ask, 'How did we get here?' but goes even further with 'What can we do about it?' Lockman calls on both men and women to question gender entitlements, actively negotiate family life, and commit to fairness. Thoughtful and thought-provoking . . . there were many times when I was reading this book that I found myself nodding and saying 'Yes.' A worthy addition to a long-overdue conversation." — Jancee Dunn, author of How Not to Hate Your Husband After Kids
Harper, 9780062861443, 352pp.
Publication Date: May 7, 2019
About the Author
Darcy Lockman is a former journalist turned psychologist. Her first book, Brooklyn Zoo, chronicled the year she spent working in a city hospital's psychiatric ward. Her writing has also appeared in The New York Times and the Washington Post, among others. She lives with her husband and daughters in Queens.
Coverage from NPR