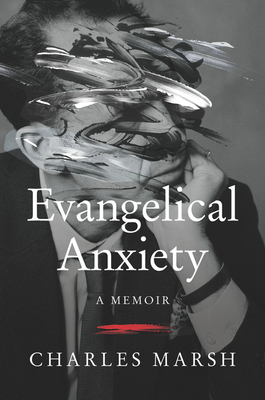 Evangelical Anxiety
A Memoir
Hardcover

* Individual store prices may vary.
Other Editions of This Title:
Digital Audiobook (6/13/2022)
Paperback (7/15/2026)
MP3 CD (6/14/2022)
Compact Disc (6/14/2022)
Description
In this riveting spiritual memoir, the writer, scholar, and commentator tells the story of his struggles with mental illness, explores the void between the Christian faith and scientific treatment, and forges a path toward reconciling these divergent worlds.
For years, Charles Marsh suffered panic attacks and debilitating anxiety. As an Evangelical Christian, he was taught to trust in the power of God and His will. While his Christian community resisted therapy and personal introspection, Marsh eventually knew he needed help. To alleviate his suffering, he made the bold decision to seek medical treatment and underwent years of psychoanalysis. 
In this riveting spiritual memoir, Marsh tells the story of his struggle to find peace and the dramatic, inspiring transformation that redefined his life and his faith. He examines the tensions between faith and science and reflects on how his own experiences offer hope for bridging the gap between the two. Honest and revealing, Marsh traces the roots of shame, examines Christian notions of sex, faith, and mental illness and their genesis, and chronicles how he redefined his beliefs and rebuilt his relationship with his community. 
A poignant and vital story of deep soul work, Evangelical Anxiety helps us look beyond the stigma that leaves too many people in pain and offers people of faith a way forward to find the help they need while remaining true to their beliefs. 
Praise For Evangelical Anxiety: A Memoir…
"Examines Christianity's fraught relationship to the erotic, and how Marsh suffered under religion's often impossible precepts. From the kudzu-strangled landscapes of his Deep South childhood to the spiritual salve of literary novels to the theological integrity of psychoanalysis, Evangelical Anxiety is as transgressive as it is vibrant."   — Darcey Steinke, author of Flash Count Diary
"In this beautifully choreographed memoir, Charles Marsh's lyrical prose dances as he recounts a tormenting anxiety disorder. Eventually he finds solace through years of a masterfully-described psychoanalysis (later supplemented with a bit of Prozac). Evangelical Anxiety is a courageous memoir where Christianity and psychoanalysis --worlds that rarely converge—interweave."   — Dinah Miller MD, assistant professor of Psychiatry and Behavior Sciences at Johns Hopkins University School of Medicine and author of Shrink Rap: Psychiatrists Explain Their Work
"Marsh challenges the church to reckon with the mental health of the faithful, to be more open and accepting of how many of us struggle. Through gripping and honest storytelling, Marsh reveals the ways in which therapy can be a form of prayer." — W. Ralph Eubanks, author of A Place Like Mississippi
"This is a bold, beautiful memoir, at once transgressive and faithful. Marsh embodies a theology with the courage to tackle the taboo, including depression and desire, in prose that is evocative and seductive. In the end, we learn that the most astounding grace is found in the God we can tell our secrets." — James K.A. Smith, Calvin University, editor in chief, Image, author of You Are What You Love and On the Road with Saint Augustine
"A faith memoir that proves religion is not the business of pious devotion but unbridled desire. Marsh stalks this unruly passion to the knife's edge of mental exhaustion and breakdown. A harrowing book but, weirdly and wonderfully, also a hoot. I kept laughing aloud—and then sighing. A remarkable achievement." — Patricia Hampl, author of The Art of the Wasted Day and The Florist's Daughter
"An erudite glimpse into the psychology of white evangelicalism and how the current proliferation of white Christian nationalism could spring from the religious imperatives Marsh details." — Rolling Stone
"This reads like balm. Marsh seamlessly twines profound theological insights with his own story of mental breakdown and psychotherapy, which he comes to see as an incarnational practice: word-made-flesh as a trajectory to wholeness. An achingly intelligent, beautifully written memoir, essential reading for anyone wrestling with the specious sacred/secular divide."   — Jamie Quatro, author of Fire Sermon and I Want To Show You More
"Marsh probes the realms of piety and mental health with engrossing prose and naked honesty, showing us how the sacred can be found in literature and on the therapist's couch. Anyone curious about a better way to navigate mental health and belief will find hope and inspiration in this book."  — Jemar Tisby, PhD, New York Times bestselling author of The Color of Compromise and How to Fight Racism 
"Dark and sometimes bawdy humor enlivens the proceedings, making for an endearing and rewardingly unusual account of mental illness and faith. This candid and funny volume hits the mark." — Publishers Weekly
" Riveting . . . a poignant and vital story of deep soul work, Evangelical Anxiety helps us look beyond the stigma that leaves too many people in pain and offers people of faith a way forward." — Englewood Review of Books (starred review)
"An illuminating journey, often sad and disturbing, sometimes funny and endearing, and ultimately uplifting. In our skeptical world where psychiatrists are so are often undone, it is refreshing to read a memoir where the psychiatrist is the good guy and the patient emerges healed and whole." — Medscape 
"A staggering memoir--one part religion, one part mental health, strained through introspection and garnished with vulnerability. It's surprising and courageous, with notes of redemption. . . . Marsh narrates this story beautifully." — Mere Orthodoxy
"Not every book that is written with literary verve and gorgeous prose is, frankly, still that interesting. This, though, a memoir of a journey in and coming out of a southern sort of fundamentalism, and finding a way through the hurts and hang-ups of that milieu, is a page-turner."  — Bryon Borger, Hearts and Minds
HarperOne, 9780062862730, 256pp.
Publication Date: June 14, 2022
About the Author
Charles Marsh is a professor of religious studies at the University of Virginia and director of the Project on Lived Theology. He is the author of seven previous books, including God's Long Summer: Stories of Faith and Civil Rights, which won the 1998 Grawemeyer Award in Religion. Marsh was a recipient of a Guggenheim fellowship in 2009 and the 2010 Ellen Maria Gorrissen Berlin Prize fellowship at the American Academy in Berlin. He lives in Charlottesville, Virginia.