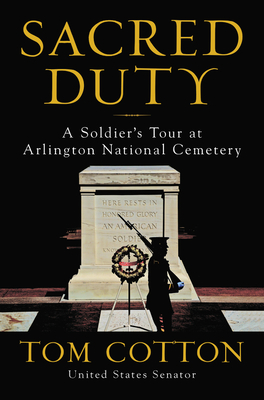 Sacred Duty
A Soldier's Tour at Arlington National Cemetery
Hardcover

* Individual store prices may vary.
Other Editions of This Title:
Paperback (5/19/2020)
Paperback, Large Print (5/14/2019)
Compact Disc (5/14/2019)
Compact Disc (5/14/2019)
MP3 CD (5/14/2019)
Description
NEW YORK TIMES BESTSELLER
"An ode to excellence. An inspiring read for every American." —Robert M. Gates
An extraordinary journey behind the scenes of Arlington National Cemetery, Senator Tom Cotton's Sacred Duty offers an intimate and inspiring portrait of "The Old Guard," the revered U.S. Army unit whose mission is to honor our country's fallen heroes on the most hallowed ground in America.
Cotton was a platoon leader with the storied 3rd U.S. Infantry Regiment—The Old Guard—between combat tours in Iraq and Afghanistan. At the height of the Iraq Surge, he carried the flag-draped remains of his fallen comrades off of airplanes at Dover Air Force Base, and he laid them to rest in Arlington's famed Section 60, "the saddest acre in America."  He also performed hundreds of funerals for veterans of the Greatest Generation, as well as the Korean and Vietnam Wars.
The Old Guard has embodied the ideals of honor and sacrifice across our nation's history. America's oldest active-duty regiment, dating back to 1784, The Old Guard conducts daily military-honor funerals on the 624 rolling acres of Arlington, where generations of American heroes rest. Its soldiers hold themselves to the standard of perfection in sweltering heat, frigid cold, and driving rain. Every funeral is a no-fail, zero-defect mission, whether honoring a legendary general or a humble private.
In researching and writing the book, Cotton returned to Arlington and shadowed the regiment's soldiers, from daily funerals to the state funeral of President George H. W. Bush to the Tomb of the Unknown Soldier, reliving the honor—and the challenges—of duty at the nation's "most sacred shrine."
Part history of The Old Guard, part memoir of Cotton's time at Arlington, part intimate profile of the today's soldiers, Sacred Duty is an unforgettable testament to the timeless power of service and sacrifice to our nation.
Praise For Sacred Duty: A Soldier's Tour at Arlington National Cemetery…
"A moving, reverent history--a tribute, really--to 'The Old Guard' … An ode to excellence and caring in service to the nation. It is an inspiring read for every American."
— ROBERT M. GATES, former U.S. Secretary of Defense

"A wonderful book about Arlington National Cemetery and the men and women who serve with such love and devotion."
— DONALD J. TRUMP, President of the United States

"Sacred Duty deserves a wide readership. ... Well-crafted. ... Reveals the ethos that connects warriors to one another and to the citizens in whose name they fight."
— H.R . McMASTER, former National Security Advisor

"A must-read. ... Sure to appeal to patriotic Americans of all stripes."
— Kirkus Reviews

"In this meticulous history, Arkansas senator Cotton explains the role and duties of the Third Infantry Regiment, aka the Old Guard, at Arlington National Cemetery. ... This reverent account will please readers."
— Publishers Weekly

"Poignant. … An encomium to the martial virtues as embodied by [Cotton's] former unit, the storied 3rd U.S. Infantry Regiment—the Old Guard. … Cotton's account of the noble regiment established at the dawn of our nation and still standing sentry over those who gave 'the last, full measure of devotion' to the republic is a welcome reminder that those virtues still exist somewhere in America."
— Commentary

"Sacred Duty is an important and often moving book for soldiers, those who have been soldiers, and those who know and love soldiers. Indeed, it offers a unique insight into that ephemeral thing, the soul of the Army."
— Army magazine

"Fascinating. ... [An] inspiring, much-needed book."
— Claremont Review of Books
William Morrow, 9780062863157, 320pp.
Publication Date: May 14, 2019
About the Author
Tom Cotton is a United States Senator from Arkansas. He served in Iraq with the 101st Airborne Division and in Afghanistan with a Provincial Reconstruction Team. Between combat tours, he served with the United States Army's 3rd Infantry Regiment ("The Old Guard") at Arlington National Cemetery. His military decorations include the Bronze Star, the Combat Infantryman Badge, and the Ranger Tab. He served one term in the House of Representatives before election to the Senate. A graduate of Harvard College and Harvard Law School, Tom is married to Anna and they have two sons, Gabriel and Daniel.