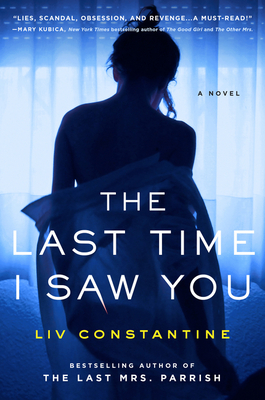 The Last Time I Saw You
A Novel
Paperback

* Individual store prices may vary.
Other Editions of This Title:
Digital Audiobook (5/6/2019)
Paperback, Large Print (5/7/2019)
Hardcover (5/7/2019)
Description
The internationally bestselling author of The Last Mrs. Parrish follows that success with an addictive thriller filled with shocking twists about the aftermath of a brutal high-society murder.

In a world of wealth and privilege, a killer is hiding . . .

Dr. Kate English has it all. Not only is she the heiress to a large fortune; she has a gorgeous husband and daughter, a high-flying career, and a beautiful home anyone would envy.
But all that changes the night Kate's mother, Lily, is found dead, brutally murdered in her own home. Heartbroken and distraught, Kate reaches out to her estranged best friend, Blaire Barrington, who rushes to her side for the funeral, where the years of distance between them are forgotten in a moment.
That evening, Kate's grief turns to horror when she receives an anonymous text: You think you're sad now, just wait. By the time I'm finished with you, you'll wish you had been buried today. More than ever, Kate needs her old friend's help.
Once Blaire decides to take the investigation into her own hands, it becomes clear that all is not as it seems in Baltimore high society. As infidelity, lies, and betrayals come to light, and tensions rise to a boiling point, she begins to alienate Kate's friends and relatives with her relentless, accusatory questions, as she tries to find Lily's killer. The murderer could be anyone—friend, neighbor, loved one. But whoever it is, it's clear that Kate is next on their list. . .
In The Last Time I Saw You, Liv Constantine takes the lightning pace of The Last Mrs. Parrish and raises the stakes, creating an exquisitely tension-filled and absorbing tale of psychological suspense in which innocent lives—and one woman's sanity—hang in the balance.
Praise For The Last Time I Saw You: A Novel…
"Murder, threats and forgotten friendships come together in this thriller, from the author of the 2018 hit book The Last Mrs. Parrish." — Newsweek, "Best Books of 2019 So Far"
Praise for The Last Time I Saw You: "From murder and madness to secrets and fraught family relationships, the non-stop glitz gives this tale soapy sheen that makes for perfect escapist summer reading." — New York Journal of Books
"Elegantly constructed. . . . [A] terrific tale of brooding noir that echoes Patricia Highsmith and her classic Ripley series, as complex as it is ambitious." — Providence Journal
"Another clever whodunit jam-packed with enough twists, turns, and secrets to keep avid thriller readers second-guessing until the bitter end." — Library Journal (starred review)
"Increasingly ingenious twists. . . expertly ratchets up the tension." — Publishers Weekly
"An absorbing tale . ..  fans of Gone Girl and its successors will appreciate an ending that puts a pricey shoe on one foot and then changes it again . . . and again." — Booklist
"A transfixing novel full of twists and turns that will leave you breathless." — Westport Magazine
"Satisfying entertainment. . .. .Constantine, the pen name of a two-sister writing team, follow up their début, "The Last Mrs. Parrish," with another stand-alone novel that successfully synthesizes whodunit and thriller.  Elevating the tension and providing transparent but easily missed clues, the sisters concoct a seamless story of lies, secrets, infidelity and the ghosts of the past, which lead readers to multiple suspicions before concluding with a double twist." — The Free-Lance Star (Fredericksburg, VA)
"The Last Time I Saw You is a thrilling murder mystery rife with lies, scandal, obsession, and revenge.  With unreliable characters, a sinister storyline, and a handful of twists to boot, Liv Constantine raises the bar high.  A must-read!" — Mary Kubica, New York Times bestselling author of The Good Girl and When the Lights Go Out
"Liv Constantine delivers the goods with this cat-and-mouse thrill ride! As characters unravel and new suspects are revealed, Constantine keeps us guessing until the final, shocking twist. Masterful plotting, skillful character development, and a plot that pulls at the heartstrings—THE LAST TIME I SAW YOU has it all." — Wendy Walker, author of Emma in the Night and All Is Not Forgotten
"Obsessions, secrets, decades-long grudges—THE LAST TIME I SAW YOU packs all of these into a read reminiscent of the great Bette Davis/Joan Crawford thrillers. I couldn't put it down." — Joseph Finder, New York Times bestselling author of Judgment
"The Last Time I Saw You is exactly what a good thriller should be—dazzling plot, haunting characters, wonderfully paced. Once again, Liv Constantine reaches deep into the psychic wounds of her heroine creating a deliciously satisfying, and utterly compelling, murder mystery." — Aimee Molloy, bestselling author of The Perfect Mother
Harper Paperbacks, 9780062868824, 336pp.
Publication Date: May 5, 2020
About the Author
Liv Constantine is the pen name of sisters Lynne Constantine and Valerie Constantine. Together, they are the bestselling author of the Reese Witherspoon Book Club pick The Last Mrs. Parrish, The Last Time I Saw You, The Wife Stalker, and The Stranger in the Mirror. Their books have been praised by USA Today, The Sunday Times, People Magazine, and Good Morning America, among many others. Lynne and Valerie are national and international bestselling authors and their books have been translated into 27 languages, are available in 32 countries and are in development for television and film.  Lynne lives in Milford, Connecticut; Valerie in Annapolis, Maryland.
or
Not Currently Available for Direct Purchase