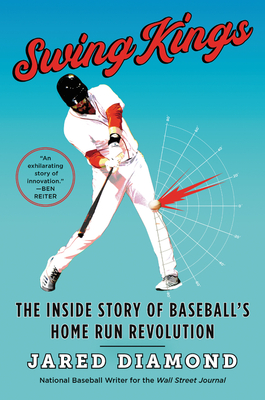 Swing Kings
The Inside Story of Baseball's Home Run Revolution
Paperback

* Individual store prices may vary.
Other Editions of This Title:
Digital Audiobook (3/30/2020)
Hardcover (3/31/2020)
Compact Disc (3/31/2020)
MP3 CD (3/31/2020)
Description
"The best baseball book I've read in years." — Sam Walker • "An exhilarating story of innovation."  — Ben Reiter • "Swing Kings feels like a spiritual successor to Moneyball." — Baseball Prospectus

From the Wall Street Journal's national baseball writer, the captivating story of the home run boom, following a group of players who rose from obscurity to stardom and the rogue swing coaches who helped them usher the game into a new age.
We are in a historic era for the home run. The 2019 season saw the most homers ever, obliterating a record set just two years before. It is a shift that has transformed the way the game is played, contributing to more strikeouts, longer games, and what feels like the logical conclusion of the analytics era. In Swing Kings, Wall Street Journal national baseball writer Jared Diamond reveals that the secret behind this unprecedented shift isn't steroids or the stitching of the baseballs, it's the most elemental explanation of all: the swing. In this lively narrative romp, he tracks a group of baseball's biggest stars—including Aaron Judge, J.D. Martinez, and Justin Turner—who remade their swings under the tutelage of a band of renegade coaches, and remade the game in the process. 
These coaches, many of them baseball washouts who have reinvented themselves as swing gurus, for years were one of the game's best-kept secrets. Among their ranks are a swimming pool contractor, the owner of a billiards hall, and an ex-hippie whose swing insights draw from surfing and the technique of Japanese samurai. Now, as Diamond artfully charts, this motley cast has moved from the baseball margins to its center of power. They are changing the way hitting is taught to players of all ages, and major league clubs are scrambling for their services, hiring them in record numbers as coaches and consultants. And Diamond himself, whose baseball career ended in high school, enlists the tutelage of each swing coach he profiles, with an aim toward starring in the annual Boston-New York media game at Yankee Stadium.
Swing Kings is both a rollicking history of baseball's recent past and a deeply reported, character-driven account of a battle between opponents as old as time: old and new, change and stasis, the establishment and those who break from it. Jared Diamond has written a masterful chronicle of America's pastime at the crossroads.

Praise For Swing Kings: The Inside Story of Baseball's Home Run Revolution…
"They were baseball's dissidents, outcasts whispering their heretical theories in secret meetings in far-flung basements and warehouses.  Now, they're the sport's royalty.  Swing Kings is, above all, an exhilarating story of innovation; of how an alchemy of talent, technology, faith, and desperation upended seemingly inviolable truths, and expanded the limits of human performance.  With Swing Kings, Jared Diamond has blasted an uppercut drive out of the ballpark." — Ben Reiter, New York Times bestselling author of Astroball
"This is the best baseball book I've read in years. Jared Diamond has ripped the cover off an untold chapter in modern baseball history: how a stubborn group of castoffs and outsiders revived the art of power hitting by challenging 100 years of baseball orthodoxy. Swing Kings is a love letter to small people with big ideas." — Sam Walker, author of The Captain Class
"A rollicking account of the recent shift in that most joyous and elemental moment in sports: the home run. … This breezy and engaging history will be a hit with baseball aficionados and casual fans alike." — Publishers Weekly
"Jared Diamond has written a fantastic book. It takes us beneath the surface of a fast-changing sport, grabs ahold of a hazy concept like "launch angle" and turns it into a super-entertaining tale of real human beings – people who went searching for the hidden secrets to a better swing and a better future…and found exactly what they were looking for." — JAYSON STARK, senior baseball writer, The Athletic
"With Swing Kings, Jared Diamond offers a remarkable primer on the innovators and innovations that upended modern baseball offensive philosophies and reshaped the game in recent years. Yet the characters who are illuminated by this tremendously reported book also speak to something more far-reaching, namely why and how outsiders typically lead direction-changing breakthroughs in sports and industries." — ALEX SPEIER, author of Homegrown: How the Red Sox Built a Champion from the Ground Up
"Introduces a cast of characters worthy of a Hollywood blockbuster. ... Baseball fans who enjoyed Michael Lewis's Moneyball will embrace Diamond's account." — Library Journal
"Swing Kings is a fantastic read, a wonderful look at the colorful and outright strange characters whose work on the fringes helped redefine the mainstream. ... It captures beautifully the foundational divide within the sport – inertia versus innovation. ... Smart and narratively compelling with just the right amount of wonkiness, Swing Kings is – apologies for the cliché – an absolute home run." — The Maine Edge
"Goes deep into the finer details of hitting. ... Like the intricacies of the swings, it is custom-made for a certain type of baseball reader." — New York Post
"Tells the fascinating story of [the] struggle between the establishment and the innovators. A great way for fans to kick off the new decade." — Booklist
"Swing Kings is a compelling read, shedding light on today's home run craze through the eyes of rebel coaches and curious ballplayers turned converts." — Cardinals Magazine
"You will become a smarter baseball fan after reading Swing Kings." — Utica Observer-Dispatch
William Morrow Paperbacks, 9780062872111, 336pp.
Publication Date: March 23, 2021
About the Author
JARED DIAMOND has been the national baseball writer for the Wall Street Journal since 2017. Prior to that, he spent a season as the Journal's Yankees beat writer and three seasons as their Mets beat writer. In his current role, he leads the newspaper's baseball coverage. This is his first book.
or
Not Currently Available for Direct Purchase