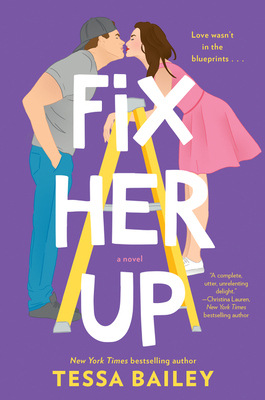 Fix Her Up
A Novel
Paperback

* Individual store prices may vary.
Other Editions of This Title:
Compact Disc (6/11/2019)
MP3 CD (6/11/2019)
Compact Disc (6/11/2019)
Description
"Fix Her Up ticks all my romance boxes. Not only is it hilarious, it's sweet, endearing, heartwarming and downright sexy. It's a recipe for the perfect love story." – Helena Hunting, New York Times bestselling author of Meet Cute
A steamy, hilarious new romantic comedy from New York Times bestselling author Tessa Bailey, perfect for fans of Christina Lauren and Sally Thorne!
Georgette Castle's family runs the best home renovation business in town, but she picked balloons instead of blueprints and they haven't taken her seriously since.  Frankly, she's over it. Georgie loves planning children's birthday parties and making people laugh, just not at her own expense. She's determined to fix herself up into a Woman of the World... whatever that means.
Phase one: new framework for her business (a website from this decade, perhaps?)
Phase two: a gut-reno on her wardrobe (fyi, leggings are pants.)
Phase three: updates to her exterior (do people still wax?)
Phase four: put herself on the market (and stop crushing on Travis Ford!)
Living her best life means facing the truth: Georgie hasn't been on a date since, well, ever. Nobody's asking the town clown out for a night of hot sex, that's for sure. Maybe if people think she's having a steamy love affair, they'll acknowledge she's not just the "little sister" who paints faces for a living. And who better to help demolish that image than the resident sports star and tabloid favorite?
Travis Ford was major league baseball's hottest rookie when an injury ended his career. Now he's flipping houses to keep busy and trying to forget his glory days. But he can't even cross the street without someone recapping his greatest hits. Or making a joke about his… bat. And then there's Georgie, his best friend's sister, who is not a kid anymore. When she proposes a wild scheme—that they pretend to date, to shock her family and help him land a new job—he agrees. What's the harm? It's not like it's real. But the girl Travis used to tease is now a funny, full-of-life woman and there's nothing fake about how much he wants her...
"Her voice feels as fresh and contemporary as a Netflix rom-com." —Entertainment Weekly

Praise For Fix Her Up: A Novel…
"Bailey writes banter and rom-com scenarios with aplomb, but for those who like their romance on the spicier side, she's also the Michelangelo of dirty talk. She wields filth like Da Vinci does a paintbrush, and there's a lot to be said for an author who can fill such exchanges with all the requisite heat, enthusiastic consent, and yes, even humor, of such a scenario without veering into corny territory... Bailey ties all of these elements—the perfectly calibrated tropes, sizzling dirty talk, and envy-inducing ladies' nights—together with a super-charged ribbon of emotion... a swoon-inducing ending any reader will fall head over heels for."
— Entertainment Weekly

"I could not stop smiling. Romantic comedy perfection."
— Lauren Layne, New York Times bestselling author

"Fix Her Up was a complete, utter, unrelenting delight."
— Christina Lauren, New York Times bestselling author

"Tessa does it again. I laughed, swooned and had to look over my shoulder to make sure no one was reading the sexy scenes with me. Well-written, with great pacing and lovable characters, I absolutely loved everything about Fix Her Up."
— Mariana Zapata, New York Times and USA Today bestselling author

"Small-town atmosphere permeates bestseller Bailey's comedic contemporary... Delightfully intense and creative sex scenes and potent emotions will reward both fans and new readers alike."
— Publishers Weekly (starred review)

"a lovable cast of meddling secondary characters... a charming subplot...  The sexual relationship between Travis and Georgie is sizzling, but the emotional journey from fake relationship to true love is just as compelling. Don't let the cover fool you: This romance is as steamy as it self-empowering."
— Kirkus Reviews

"A super delightful rom com that has the heat turned up to 11...I LOVED IT!"
— Lauren Morrill, author of Meant to Be

"A lovely book... I'm here for ALL OF IT. Books by Tessa Bailey are an insta-buy for me."
— Sally Thorne, USA Today bestselling author of The Hating Game and 99 Percent Mine

"FIX HER UP ticks all my romance boxes. Not only is it hilarious, it's sweet, endearing, heartwarming and downright sexy. It's a recipe for the perfect love story."
— Helena Hunting, New York Times bestselling author of Meet Cute

"Funny, and SUPER hot, and also full of sooooo much heart... I AM SO EXCITED there will be more books in the series!"
— Rachel Hawkins, New York Times bestselling author

"Bailey creates fireworks in this steamy novel as Georgie and Travis quickly break their own rules about their fake relationship. The story moves fluidly from one situation to the next, with lots of hot sex in between, and Bailey will keep readers on their toes as the "couple" starts to realize this might be the real thing. Perfect for fans of Christina Lauren and Helena Hunting."
— Booklist

"Fix Her Up is (so far) my favorite romance of 2019. The novel features well-drawn protagonists, who are as incredibly likable as they are lovable, and endearing secondary characters that jump off the page and into your heart... an authentic romance with humor, heart, incredible sex, and a refreshing depiction of female friendship. This is a must-read for all romance fans." 
— All About Romance (Desert Isle Keeper)

"I love Tessa Bailey's contemporary romances... the books are super sexy, but also deliver on an emotional level, and provide a lot of re-read romantic moments."
— Lucy Parker, author of Act Like It and The Austen Playbook

"It had the perfect amount of quirky humor with steamy romance. Bailey hits so many of my favorite romance tropes with the book and she executes them all so well... If you need a fun rom-com to take the beach this summer, then Fix Her Up is a great choice."
— Bookish

"If you adore romance and HGTV, this is just the book for you."
— Oprahmag.com
Avon, 9780062872838, 400pp.
Publication Date: June 11, 2019
About the Author
New York Times bestselling author Tessa Bailey aspires to three things. Writing hot and unforgettable, character-driven romance, being a good mother and eventually sneaking onto the judging panel on a reality show baking competition. She lives on Long Island, New York with her husband and daughter, writing all day and rewarding herself with a cheese plate and Netflix binges in the evening. If you want sexy, heartfelt, humorous romance with a guaranteed happy ending, you've come to the right place.