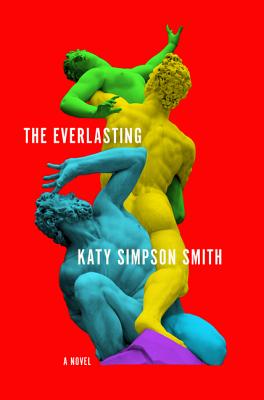 The Everlasting
A Novel
Hardcover

* Individual store prices may vary.
Other Editions of This Title:
Digital Audiobook (3/23/2020)
Paperback (3/23/2021)
MP3 CD (3/24/2020)
Compact Disc (3/24/2020)
Description
"Only Katy Simpson Smith could have written a novel of such elegance, emotional power, and grace. The Everlasting, a quadruple love story spanning two millennia, is no less than the story of love itself—its frustrations and thrills, its blunders and transcendent glories. Meraviglioso."—Nathaniel Rich, author of King Zeno
From a supremely talented author comes this brilliant and inventive novel, set in Rome in four different centuries, that explores love in all its various incarnations and ponders elemental questions of good and evil, obedience and free will that connect four unforgettable lives.

Spanning two thousand years, The Everlasting follows four characters whose struggles resonate across the centuries: an early Christian child martyr; a medieval monk on crypt duty in a church; a Medici princess of Moorish descent; and a contemporary field biologist conducting an illicit affair.
Outsiders to a city layered and dense with history, this quartet separated by time grapple with the physicality of bodies, the necessity for sacrifice, and the power of love to sustain and challenge faith. Their small rebellions are witnessed and provoked by an omniscient, time-traveling Satan who, though incorporeal, nonetheless suffers from a heart in search of repair.
As their dramas unfold amid the brick, marble, and ghosts of Rome, they each must decide what it means to be good. Twelve-year old Prisca defiles the scrolls of her father's library. Felix, a holy man, watches his friend's body decay and is reminded of the first boy he loved passionately. Giulia de' Medici, a beauty with dark skin and limitless wealth, wants to deliver herself from her unborn child. Tom, an American biologist studying the lives of the smallest creatures, cannot pinpoint when his own marriage began to die. As each of these conflicted people struggles with forces they cannot control, their circumstances raise a profound and timeless question at the heart of faith: What is our duty to each other, and what will God forgive?
Praise For The Everlasting: A Novel…
"The Everlasting explores large moral questions: How much do we owe to those we love? To ourselves? What does it mean to lead a good life? Can you do that without being religious? Smith's eloquent storytelling shows us glimpses of certain answers, sometimes serious but just as often comic. It's fitting that the latter tend to be provided by a fifth major character who interjects barbed commentary throughout: the Devil."                                                   — New York Times Book Review
"The Everlasting takes place over the course of two millennia and follows the lives of four people pondering life's greatest question. It engages with history and humanity on a grand cosmic scale." — Entertainment Weekly
"Smith has accomplished a spectacular feat in harnessing the emotional thrust of a sweeping epic within the space of the average novel. The Everlasting spans two millennia with such strong assurance, the narrative never falters, even when it ascends to the eternal plane… This novel is a wonder, building sensual prose toward a stirring inevitability." — Shelf Awareness
"A sparkling historical novel. Smith bounds through 2,000 years of history, following four indelible characters as they grapple with questions of faith, freedom, and transgressive love…Perhaps Smith's most appealing character is Satan, whose weary, ironic comments punctuate a narrative that shines with lyrical, translucent prose. A compelling, beautifully rendered tale of passion and pain." — Kirkus Reviews, Starred Review
"In this symphonic novel, Smith composes delicate variations on faith, love, and human transience in the eternal city…The further Smith digs into Rome's layered past, the more captivating the story becomes. This is an ambitious novel whose characters must choose between sensual or spiritual love, gratification or self-abnegation, principled martyrdom or survival." — Publishers Weekly
"A rare book whose ambition is matched by its craft and emotional weight…Combining the gravity of history with the tribulations of faith and the wit and wisdom of Satan himself…An exquisite tapestry of history, religion and heartbreak that's perfect for historical fiction and fabulism fans alike." — BookPage
"Smith ingeniously hooks these narratives together with a relic that morphs over time, so The Everlasting becomes a symphonic and timeless story."   — National Book Review
  "A lush, intellectually challenging, and sensuous pleasure…Through the pen of Smith it is engrossing. The characters are deep and full, suspense builds across every page, and most importantly, we care about what happens to each of them." — Mississippi Clarion Ledger
"Only Katy Simpson Smith could have written a novel of such elegance, emotional power, and grace. The Everlasting, a quadruple love story spanning two millennia, is no less than the story of love itself—its frustrations and thrills, its blunders and transcendent glories. Meraviglioso." — Nathaniel Rich, author of King Zeno
"It is so very rare to find a writer whose blistering ambition when it comes to bringing history alive on the page is matched by an equal ability to build and break sentences in beautiful ways. Katy Simpson Smith is that writer, and The Everlasting -- a bold and ingenious novel spanning multiple time periods and characters with the ease of David Mitchell's Cloud Atlas—is full of rich and brilliant ideas about Rome, home, free will, sin, sensation, and civilization. It's an incredible achievement." — Jonathan Lee, author of High Dive
"The Everlasting is, quite simply, a wonder: a mesmerizing quartet of stories rendered in lucid, accessible prose. This is a thrillingly modern narrative that, shifting effortlessly from voice to voice, feels like a good old-fashioned story, the story of a city, one of the world's oldest, wildest, sexiest (and, incidentally, my favorite on earth): Rome."                                                                                                                                                                                                                                                                                                                                                                                                                                                                                          — Taiye Selasi, author of Ghana Must Go
"In The Everlasting Katy Simpson Smith has magnificently re-imagined what a historical novel might be, and what our near-now might look like if we could only properly see.  A child, a princess, a monk, a father—each storyline feels charged, accurate, uncanny and yet also touched by love. A distinctive and unostentatiously brilliant book." — Rivka Galchen, author of Little Labors and Atmospheric Disturbances
"In a rare display of lyrical erudition, Katy Simpson Smith's gorgeous novel lets us feel the depth and density of history by showing us how every life is both an echo of the past and a relic of the future." — Hernan Diaz, author of In the Distance
"Following her wonderful and wonderfully ambitious Free Men, Katy Simpson Smith tops herself with The Everlasting, exploring the mysteries of faith displacing fear, grace given to the undeserving, and the eternal question of forgiveness. She is at the forefront of the best young American writers working today." — Mark Richard, author of The Ice at the Bottom of the World
Harper, 9780062873644, 352pp.
Publication Date: March 24, 2020
About the Author
Katy Simpson Smith is the author of a study of early American motherhood, We Have Raised All of You: Motherhood in the South, 1750-1835, and a novel, The Story of Land and Sea. She lives in New Orleans.
or
Not Currently Available for Direct Purchase