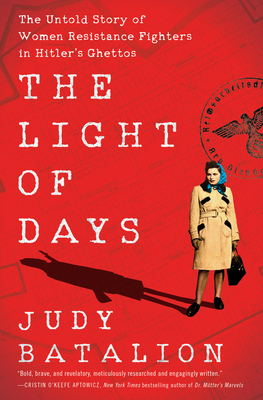 The Light of Days
The Untold Story of Women Resistance Fighters in Hitler's Ghettos
Hardcover

* Individual store prices may vary.
Other Editions of This Title:
Paperback, Large Print (4/6/2021)
Paperback (3/15/2022)
MP3 CD (4/6/2021)
Compact Disc (4/6/2021)
Description
THE INSTANT NEW YORK TIMES BESTSELLER!
Also on the USA Today, Washington Post, Boston Globe, Globe and Mail, Publishers Weekly, and Indie bestseller lists.
One of the most important stories of World War II, already optioned by Steven Spielberg for a major motion picture: a spectacular, searing history that brings to light the extraordinary accomplishments of brave Jewish women who became resistance fighters—a group of unknown heroes whose exploits have never been chronicled in full, until now.
Witnesses to the brutal murder of their families and neighbors and the violent destruction of their communities, a cadre of Jewish women in Poland—some still in their teens—helped transform the Jewish youth groups into resistance cells to fight the Nazis. With courage, guile, and nerves of steel, these "ghetto girls" paid off Gestapo guards, hid revolvers in loaves of bread and jars of marmalade, and helped build systems of underground bunkers. They flirted with German soldiers, bribed them with wine, whiskey, and home cooking, used their Aryan looks to seduce them, and shot and killed them. They bombed German train lines and blew up a town's water supply. They also nursed the sick, taught children, and hid families.
Yet the exploits of these courageous resistance fighters have remained virtually unknown.
As propulsive and thrilling as Hidden Figures, In the Garden of Beasts, and Band of Brothers, The Light of Days at last tells the true story of these incredible women whose courageous yet little-known feats have been eclipsed by time. Judy Batalion—the granddaughter of Polish Holocaust survivors—takes us back to 1939 and introduces us to Renia Kukielka, a weapons smuggler and messenger who risked death traveling across occupied Poland on foot and by train. Joining Renia are other women who served as couriers, armed fighters, intelligence agents, and saboteurs, all who put their lives in mortal danger to carry out their missions. Batalion follows these women through the savage destruction of the ghettos, arrest and internment in Gestapo prisons and concentration camps, and for a lucky few—like Renia, who orchestrated her own audacious escape from a brutal Nazi jail—into the late 20th century and beyond.
Powerful and inspiring, featuring twenty black-and-white photographs, The Light of Days is an unforgettable true tale of war, the fight for freedom, exceptional bravery, female friendship, and survival in the face of staggering odds.  
Praise For The Light of Days: The Untold Story of Women Resistance Fighters in Hitler's Ghettos…
"Well-researched and riveting."
— Wall Street Journal

"Amazing…both a profoundly moving and breathtaking read." 
— Haaretz

"Pulses with pride and rage."
— New York Times Book Review

"Thrilling, devastating... tells of an underground network of young Jewish women in Poland who resisted the Nazis by engaging in smuggling, sabotage, and even armed defense. Their courageous deeds, largely forgotten until now, are astounding."
— Christian Science Monitor

"Hard to put down…The Light of Days is not a story but a multi-layered epic, one that rewrites the Holocaust. Drama abounds and the characters are deeply engaging. Required reading."
— The Jerusalem Post 

"Written with passion…Batalion's research is prodigious, and her dedication to her story obvious and moving."
— Boston Globe

"Bold, brave and revelatory, meticulously researched and engagingly written, Batalion transports readers into the harrowing World War II era, where a generation of young, Jewish women banded together to fight an almost unimaginable evil."

— Cristin O'Keefe Aptowicz, New York Times bestselling author of Dr. Mutter's Marvels

"Gripping, haunting and superbly told...Judy Batalion brings to light half-forgotten tales of astounding courage." 
— The Economist

"Be not afraid. Judy Batalion brings to life the story of young women who had mindboggling valor. Super heroes. They fought the Nazis. With nerves of steel. You don't have to fight the Nazis (we hope). But you do have to be courageous and honorable. (Well, most of the time).  And you will be. There are inspirational books that change your life. And this is one of them."
— Maira Kalman, author of And the Pursuit of Happiness

"This is a powerful and necessary book. I'm so grateful to Judy Batalion for bringing us these women in all their fierce intelligence and courage. It's astonishing that their stories haven't been widely heard until now—but Batalion's rare combination of skills has brought them to vibrant life. This is history we've needed to hear."
— Rachel Kadish, author of The Weight of Ink

"Judy Batalion has told the largely forgotten stories of the girl couriers, smugglers and fighters who formed the nerve center of Jewish resistance in occupied Poland. A breathtaking, dazzling work of historical resurrection"
— Molly Crabapple, author of Drawing Blood and Brothers of the Gun (with Marwan Hisham)

"Resounding history of Jewish women who fought the German invaders in World War II. In a vigorous narrative that draws on interviews, diaries, and other sources, Batalion delivers an objective view of past events that are too quickly being forgotten—and a story much in need of telling."

— Kirkus (Starred Review) 

"A remarkable portrait of young Jewish women who fought in the Polish resistance during WWII. . . pays vivid tribute to `the breadth and scope of female courage.'"
— Publishers Weekly
William Morrow, 9780062874214, 576pp.
Publication Date: April 6, 2021
About the Author
Judy Batalion is the author of White Walls: A Memoir About Motherhood, Daughterhood and the Mess in Between. She has written for the New York Times, Vogue, the Washington Post and many other publications. Prior to her writing career, she was an academic and is fluent in both Yiddish and Hebrew. Born and raised in Montreal, she now lives in New York with her husband and children.