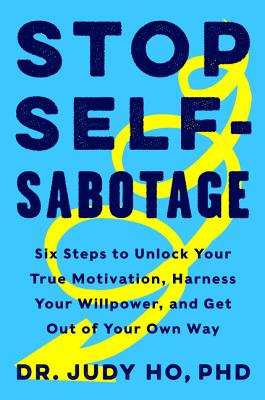 Stop Self-Sabotage
Six Steps to Unlock Your True Motivation, Harness Your Willpower, and Get Out of Your Own Way
Hardcover

* Individual store prices may vary.
Other Editions of This Title:
Digital Audiobook (8/19/2019)
Description
Award-winning clinical psychologist and TV personality Dr. Judy Ho helps you stop the cycle of self-sabotage, clear a path to lasting happiness, and start living your best life in this a must-have guide perfect for fans of You Are a Badass, Unf*ck Yourself, and How to Stop Feeling Like Sh*t.
Have you ever had a deadline for a big work project, only to find yourself down to the wire because you spent too much time on social media? Or gotten excited about meeting someone new, only to convince yourself he isn't really interested? How many Januarys have you resolved that this is the year you're finally going to lose the weight, only to abandon your diet in just a few weeks? If these scenarios sound familiar, you are stuck in a cycle of self-sabotage.
At one point or another, we've all done something that undermines our best interests and intentions. Even the most successful people get in their own way—often without realizing it.  In Stop Self-Sabotage, licensed clinical psychologist, tenured professor, and television personality Dr. Judy Ho takes a fresh look at self-sabotage to help us answer two vital questions: Why do we do it? How do we stop?
Combining therapeutically proven strategies with practical tools and self-assessments, Dr. Judy teaches you how to identify your triggers, modify your thoughts and behaviors, find your true motivation, and unlock your willpower to stop this vicious cycle in its tracks. Practical and transformative, Stop Self-Sabotage is your ultimate guide to jumpstart lasting, positive change and start living the life you want.
Praise For Stop Self-Sabotage: Six Steps to Unlock Your True Motivation, Harness Your Willpower, and Get Out of Your Own Way…
"People always wonder how and why they find themselves in the same situations over and over again; repetitive difficulties and bad decisions plague their lives, and self-sabotage is the most common reason people get stuck.  Judy Ho provides an analysis of the sources of our sabotage and then offers practical and proven exercises for breaking this pattern.  If you are interested in changing this is a must read." — Dr. Drew Pinsky
"There are few things that make you feel worse than self-sabotaging your success and happiness, but few things will make you feel better than stopping it and Stop Self-Sabotage is just the right guide to help you do that." — Mark Goulston, author of Get Out of Your Own Way and "Just Listen"

"Stop Self-Sabotage is the playbook for eliminating behaviors that interfere with the life that you deserve. Dr. Judy Ho guides the reader with practical action-oriented guidance that lead to long lasting fulfillment and happiness. This book is essential to those who desire lasting change" — Mike Bayer, life coach and New York Times bestselling author of Best Self
"Dr. Judy Ho has written the most amazing tool to help you on your journey to "Live Your Best Life." This book is a must read for anyone looking to do a self-audit to dispel the things that are not working! Enjoy dawlings!" — Vivica A. Fox
"Everyday I see people stuck in negative behavior loops. In Stop Self-Sabotage, Dr. Judy Ho gives you the tools to intervene in your own life. Life is short, and everybody deserves their own intervention! Get busy getting better, with her easy to use six-step program for more meaning, purpose, and joy." — Brad Lamm, CIP, teacher, interventionist, and author of How to Help the One You Love
 "Stop Self-Sabotage is a power-packed guide for those who get tied up with self-defeating thoughts or actions.  Dr. Ho uses her many years of clinical experience, research, and teaching to provide the reader with an engaging roadmap toward greater happiness and fulfillment.  Applying the practical steps in this easy to read book can help transform your thinking from self sabotage to self motivation." — Thema Bryant-Davis, PhD, Professor of Psychology at Pepperdine University and author of  Thriving in the Wake of Trauma
"Motivating, empowering...Stop Self-Sabotage will provide support and guidance to readers looking to overcome self-destructive habits." — Publishers Weekly
"The rabbit hole of self-sabotage is treacherous...Stop Self-Sabotage provides a winning blend of insight, compassion, and practical advice. Ho's writing is lively and compelling, and loaded with useful techniques. This is without a doubt the finest book on self-sabotage in the field!" — Dr. David A. Levy, Professor of Psychology and Author of Life Is a 4-Letter Word
Harper Wave, 9780062874344, 304pp.
Publication Date: August 20, 2019
About the Author
Dr. Judy Ho, PhD, ABPP, ABPdN, is a tenured associate professor of psychology at Pepperdine University and a triple board-certified and licensed clinical and forensic neuropsychologist. She is a two-time recipient of the National Institute of Mental Health Services Research Award and completed a three-year National Institute of Mental Health–sponsored postdoctoral fellowship at the University of California Los Angeles Neuropsychiatric (Semel) Institute. She maintains a private practice in Manhattan Beach, hosts an active clinical research program, and regularly appears as an expert psychologist on television, including The Doctors, Crime Watch Daily, CNN Newsroom, and HLN's Dr. Drew. She is currently a cohost on CBS's Face the Truth.