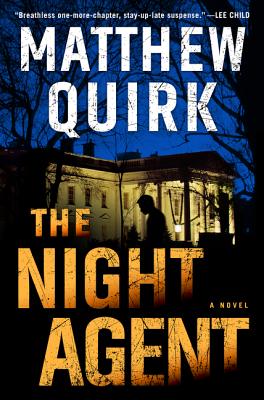 The Night Agent
A Novel
Hardcover

* Individual store prices may vary.
Other Editions of This Title:
Digital Audiobook (1/14/2019)
Paperback (5/10/2022)
Mass Market (9/17/2019)
Paperback, Large Print (1/15/2019)
MP3 CD (1/15/2019)
Compact Disc (1/15/2019)
Compact Disc (1/15/2019)
Description
Soon to be a Netflix original series!
"Plenty of breathless one-more-chapter, stay-up-late suspense wrapped around a meaty and timely story... irresistible."
   — Lee Child
To find a Russian mole in the White House, an FBI agent must question everything. . . and trust no one
To save America from a catastrophic betrayal, an idealistic young FBI agent must stop a Russian mole in the White House in this exhilarating political thriller reminiscent of the early novels of John Grisham and David Baldacci.
No one was more surprised than FBI Agent Peter Sutherland when he's tapped to work in the White House Situation Room. From his earliest days as a surveillance specialist, Peter has scrupulously done everything by the book, hoping his record will help him escape the taint of his past. When Peter was a boy, his father, a section chief in FBI counterintelligence, was suspected of selling secrets to the Russians—a catastrophic breach that had cost him his career, his reputation, and eventually his life.
Peter knows intimately how one broken rule can cost lives. Nowhere is he more vigilant than in this room, the sanctum of America's secrets. Staffing the night action desk, his job is monitoring an emergency line for a call that has not—and might never—come.
Until tonight.
At 1:05 a.m. the phone rings. A terrified young woman named Rose tells Peter that her aunt and uncle have just been murdered and that the killer is still in the house with her. Before their deaths, they gave her this phone number with urgent instructions: "Tell them OSPREY was right. It's happening. . . "
The call thrusts Peter into the heart of a conspiracy years in the making, involving a Russian mole at the highest levels of the government. Anyone in the White House could be the traitor. Anyone could be corrupted. To save the nation, Peter must take the rules into his own hands and do the right thing, no matter the cost. He plunges into a desperate hunt for the traitor—a treacherous odyssey that pits him and Rose against some of Russia's most skilled and ruthless operatives and the full force of the FBI itself.
Peter knows that the wider a secret is broadcast, the more dangerous it gets for the people at the center. With the fate of the country on the line, he and Rose must evade seasoned assassins and maneuver past jolting betrayals to find the shocking truth—and stop the threat from inside before it's too late.
Praise For The Night Agent: A Novel…
"The Night Agent is a whirlwind of a book, a captivating narrative that takes us inside the White House's inner sanctum and the shadowy machinations surrounding it. A powerful and taut thriller."   — Mark Greaney #1 bestselling author of Mission Critical
"This story is impossible to put out of mind.... Relevant and revealing, this is one of the best thrillers to come along in years." — Michael Connelly
"Strap in for one hell of a ride. The Night Agent is full of twists and surprises you'll never see coming." — Ben Coes, New York Times bestselling author of Bloody Sunday
"Matthew Quirk moves into David Baldacci and John Grisham territory with The Night Agent, a paranoid, pulse-pounding thriller that could not be more prescient. If you're wondering where the best of the next generation of suspense talent is headed, look no further." — Joseph Finder
"Matthew Quirk is rapidly proving himself to be among our finest thriller writers, and The Night Agent is the latest undeniable evidence. Quirk writes rapid-fire, page-turning action with unusual grace and intelligence, and his latest American nightmare is guaranteed to keep readers up late." — Michael Koryta, New York Times bestselling author of How It Happened
"Baldacci's debut [Absolute Power] kept me awake half the night. I'm still a fan… I had the same reaction when I picked up The Night Agent… Best to start this at the beginning of a weekend, as you'll be burning the midnight oil 'til you're finished." — Newark Star Ledger
"Plenty of breathless one-more-chapter, stay-up-late suspense wrapped around a meaty and timely story ... irresistible." — Lee Child
"Quirk's chilling and modern scenario of foreign influence reaching into the highest reaches of government will be thoroughly enjoyed by political thriller junkies." — Library Journal (starred review)
"Quirk returns to the thriller scene with a thundering bang… Quirk's latest feels like he's been churning out political thrillers for decades, hitting on a timely plot that starts out fast and only speeds up as the story unfolds… [A] high-stakes, nail-biting political thriller." — TheRealBookSpy.com
"Lots of good, tense plotting… A real pleasure of espionage fiction is tradecraft secrets, and Quirk doesn't disappoint." — Booklist
"The Night Agent is a compelling high-stakes thriller, lightning fast, relentlessly suspenseful and unsettlingly realistic." — Hank Phillippi Ryan, bestselling author of Trust Me
Praise for the earlier novels: "A thundering David-and-Goliath tale of corruption… A real page turner, with high stakes action that doesn't stop." — Booklist (starred review) on The 500
"The Firm goes to Washington, only with a whole lot more action." — James Patterson on The 500
"Sophisticated storytelling [and] whiplash pacing . . . Clever twists and startling surprises." — Washington Post on Cold Barrel Zero
"The action dazzles. The characters feel authentic and fully fleshed. The threats seem all too real." — Los Angeles Review of Books on Cold Barrel Zero
"The story is expertly stripped down, the action relentless, and the characters multilayered. A lethal game of cat and mouse." — Kirkus Reviews on Cold Barrel Zero
"A tour de force. Dead Man Switch turns the intelligence community's 'wilderness of mirrors' into a high-speed racetrack, delivering twist after twist toward a literally explosive conclusion… Quirk shows us the human cost of living—and dying—on the gray edges of national security." — Joseph Finder
"This is a nonstop, heart-pounding ride in which moral blacks and whites turn gray in "the efficient alignment of power and interests" that is big-time politics. Quirk has another high-powered hit on his hands." — Booklist (starred review) on The Directive
"The Directive does for the Fed what… Aaron Sorkin did for the White House in "The West Wing", and what Beau Willimon is doing with "House of Cards"… Drips with the kind of eye for the telling detail that only a canny reporter, detective or spy possesses." — Forbes
"A plot that twists like a cobra in a sack, a whip-crack pace and engaging characters make The Night Agent a very classy thriller." — Financial Times
"This is David Baldacci territory, but done with a refreshing vigour by… Quirk who is making a name for himself as a thriller writer to watch." — Daily Mail (London)
William Morrow, 9780062875464, 432pp.
Publication Date: January 15, 2019
About the Author
Matthew Quirk is the New York Times bestselling author of Hour of the Assassin, The Night Agent, The 500, The Directive, Cold Barrel Zero, and Dead Man Switch. He spent five years at The Atlantic reporting on crime, private military contractors, terrorism prosecutions, and international gangs. He lives in San Diego, California.
or
Not Currently Available for Direct Purchase