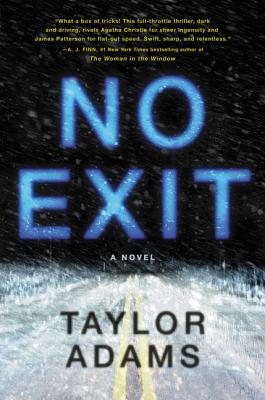 No Exit (Hardcover)
A Novel
William Morrow, 9780062875655, 352pp.
Publication Date: January 15, 2019
Other Editions of This Title:
Mass Market (11/26/2019)
Compact Disc (2/20/2018)
Paperback, Large Print (1/15/2019)
Paperback, Korean (11/14/2019)
MP3 CD (2/20/2018)
* Individual store prices may vary.
Description
"What a box of tricks! This full-throttle thriller, dark and driving, rivals Agatha Christie for sheer ingenuity and James Patterson for flat-out speed. Swift, sharp, and relentless."  — A. J. Finn, #1 New York Times bestselling author of The Woman in the Window

A brilliant, edgy thriller about four strangers, a blizzard, a kidnapped child, and a determined young woman desperate to unmask and outwit a vicious psychopath.

A kidnapped little girl locked in a stranger's van. No help for miles. What would you do?
On her way to Utah to see her dying mother, college student Darby Thorne gets caught in a fierce blizzard in the mountains of Colorado. With the roads impassable, she's forced to wait out the storm at a remote highway rest stop. Inside are some vending machines, a coffee maker, and four complete strangers.
Desperate to find a signal to call home, Darby goes back out into the storm . . . and makes a horrifying discovery. In the back of the van parked next to her car, a little girl is locked in an animal crate.
Who is the child? Why has she been taken? And how can Darby save her?
There is no cell phone reception, no telephone, and no way out. One of her fellow travelers is a kidnapper. But which one?
Trapped in an increasingly dangerous situation, with a child's life and her own on the line, Darby must find a way to break the girl out of the van and escape.
But who can she trust?
With exquisitely controlled pacing, Taylor Adams diabolically ratchets up the tension with every page. Full of terrifying twists and hairpin turns, No Exit will have you on the edge of your seat and leave you breathless.
About the Author
Taylor Adams graduated from Eastern Washington University with the prestigious Edmund G. Yarwood Award. His directorial work has screened at the Seattle True Independent Film Festival and he is an avid fan of suspenseful fiction and film. He lives in Washington state.
Praise For No Exit: A Novel…
"What a box of tricks! This full-throttle thriller, dark and driving, rivals Agatha Christie for sheer ingenuity and James Patterson for flat-out speed. Swift, sharp, and relentless."

— A. J. Finn, #1 New York Times bestselling author of The Woman in the Window

"No Exit is everything I want in a thriller: ingeniously crafted, unapologetically relentless, and shamelessly suspenseful. The twists go off like a series of expertly planted detonations and the tension never lets up. I was blown away. No Exit is a damn good time."

— Joe Hill, #1 New York Times bestselling author of The Fireman

"No Exit opens with an ingenious, chilling setup and then delivers a wicked ride of psychological tension. Taylor Adams is a master of suspense. I'm already impatient to see what he does next."

— Michael Koryta, New York Times bestselling author of How It Happened

"[A]n intense, brutal, no-holds-barred thriller dripping with adrenaline; a heart-pounding story of courage and sacrifice featuring a heroine unlike any you've ever seen. Don't start unless you're prepared to read straight through, because I guarantee you will not be able to stop turning the pages."
— Karen Dionne, author of the international bestseller The Marsh King's Daughter

"[A]n enthralling tale that features a wonderfully relatable and gutsy heroine. Give it to readers looking for a female-led drama in the mode of The Girl with the Dragon Tattoo and its sibling works."
— Booklist

"The carefully layered drawing-room psychology of Agatha Christie cross-pollinated with the pure squishy terror of Stephen King . . . . [Taylor Adams] nails his setup and builds some truly distinctive characters."
— Entertainment Weekly

"[A] nail-biting thriller. . . . The action drives to a climactic and emotionally charged ending."
— Publishers Weekly

"This well-written, fast-paced thriller . . . has enough twists to ensure an enjoyable read for even the most seasoned suspense fans."
— Library Journal

"If you love a good twist ending, you'll love this psychological thriller that's snapping up comparisons to suspense masters from Agatha Christie and Stephen King."
— Parade

"This gripping thriller with a young, witty female protagonist will keep even the most experienced readers guessing until the end."
— Shelf Awareness

"There's a cinematic propulsion to "No Exit" that commands the reader's attention, and Mr. Adams times his shocks with a sure hand."
— Wall Street Journal

"One of the year's most unforgettable reads. . . . Adams does for highway rest stops what Stephen King did for shuttered resort hotels, psychotic nurses and clowns under bridges."  
— Bookreporter.com

"This nail-biting thriller will have you guessing at each twist of the
surprising and complicated plot as its smart and gutsy protagonist fights to outwit a psychopath, rescue a girl, and make it home alive."
— Mystery Scene

"A tight and rapid fire novel . . . Sit up and read from midnight till dawn. You won't miss the sleep."
— Florida Times-Union