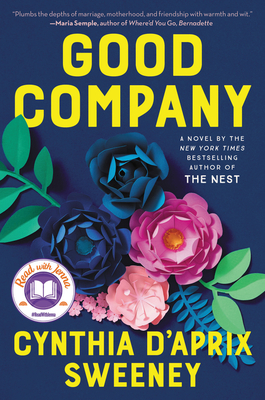 Good Company
A Novel
Hardcover

* Individual store prices may vary.
Other Editions of This Title:
Digital Audiobook (4/5/2021)
Paperback (3/29/2022)
Paperback, Large Print (4/6/2021)
Description
AN INSTANT NEW YORK TIMES BESTSELLER
A Read with Jenna Today Show Book Club Pick!
"Plumbs the depths of marriage, motherhood and friendship with warmth and wit. I devoured it in one gulp!" —Maria Semple
A warm, incisive new novel about the enduring bonds of marriage and friendship from Cynthia D'Aprix Sweeney, author of the instant New York Times bestseller The Nest
Flora Mancini has been happily married for more than twenty years. But everything she thought she knew about herself, her marriage, and her relationship with her best friend, Margot, is upended when she stumbles upon an envelope containing her husband's wedding ring—the one he claimed he lost one summer when their daughter, Ruby, was five.
Flora and Julian struggled for years, scraping together just enough acting work to raise Ruby in Manhattan and keep Julian's small theater company—Good Company—afloat. A move to Los Angeles brought their first real career successes, a chance to breathe easier, and a reunion with Margot, now a bona fide television star. But has their new life been built on lies? What happened that summer all those years ago? And what happens now? 
With Cynthia D'Aprix Sweeney's signature tenderness, humor, and insight, Good Company tells a bighearted story of the lifelong relationships that both wound and heal us. 
A Most Anticipated Book From: OprahMag.com * Refinery29 * Houston Chronicle * The Millions * Elle * Buzzfeed
Praise For Good Company: A Novel…
"[T]errific wit and inventiveness…Now that's entertainment." — Wall Street Journal
"Sweeney's effectiveness as a novelist stems from her protean sympathy, her ability to move among these characters and capture each one's feelings without judgment. As we see some of the same events from various points of view, we don't learn who was right — who could ever be right, after all? — but we get a poignant, sometimes comic sense of the way we each experience the same events, the same decisions, the same mistakes. In Sweeney's hands, that's not a recipe for endless conflict, but a road to understanding and — maybe — forgiveness." — Washington Post
"Sweeney's warm, witty novel plumbs the depths of two marriages. Secrets and resentments abound, but loyalty and abiding affection carry this bicoastal tale of actors finding their way in real life." — New York Times Book Review, Editor's Choice
"In Good Company, Cynthia D'Aprix Sweeney's follow-up to her best-selling 'The Nest,' she deftly and empathetically charts the nuanced rhythms of friendships, particularly those that, under certain circumstances, take on the role of a close-knit family circle." — Boston Globe
"The vivacious and tender second novel by the bestselling author of The Nest  is an absorbing, wise, and tender tale of a marriage in mid-life." — O, the Oprah Magazine
"Cynthia D'Aprix Sweeney's Good Company is a smart and nuanced examination of the growing pains of long relationships, sure to spark great conversations about marriage, friendship, and parenthood." — Real Simple
"This novel considers how much the bonds of friendship and marriage can withstand in a tale that has as much heart as it does intrigue." — Good Housekeeping
"You don't need to be a fan of Cynthia D'Aprix Sweeney's bestseller The Nest to appreciate the high stakes, sly class commentary, and masterful storytelling of Good Company—but it wouldn't hurt. — Town & Country
"[T]ender and absorbing tale….Filled with humor and insight, Good Company is a warm and incisive novel about loyalty and the bonds of marriage and friendship." — BookRiot
"This effervescent, tender second novel by the bestselling author of The Nest is an enthralling saga of a marriage in midlife and the secrets that threaten to upend it." — Oprah Daily
"[P]ropulsive, character-steeped story of two best friends." — Vanity Fair
"If I could "go long" on a book the way it works with stocks, I would "go long" on Good Company. (Book Stock Exchange, anyone?) This will absolutely hit the lists due to its combination of approachable, skilled prose from the author of bestseller "The Nest," the fantastic characters, and the universally shared desire to figure out who we really are." — Zibby Owens, GMA.com
"There are few writers who explore the depths of family and friendship with as much care and nuance as Cynthia D'Aprix Sweeney, whose new novel is a generous, empathetic portrayal of a marriage and friendship thrown into disarray by an accidental discovery. . . . D'Aprix Sweeney interrogates all that goes into building a life together — the messiness, the heartache, and the joy." — Refinery 29
"[Sweeney's] warmth and wit refresh a tale as old as time." — Entertainment Weekly
"From the bestselling author of The Nest comes another charming yet deceptively sharp tale of friendship, family, and all the things that get in the way of both….This is a perfect book for a quick weekend read—warm, funny, yet full of insight." — Elle
"A sheer delight." — New York Observer
"After more than a year of social distancing, who isn't craving some good company? If that's still a few months away for you,Cynthia D'Aprix Sweeney has the next best thing: Her new novel, "Good Company." — Ron Charles, The Washington Post
"[A] smoothly constructed story about love, friendship, and trust between two closely connected couples whose relationships go back decades." — Christian Science Monitor
"Masterfully building character…and dropping revelations through flashbacks, D'Aprix Sweeney's writing is smooth and propelling. Readers of introspective, relational novels will devour this." — Booklist
"Cynthia D'Aprix Sweeney plumbs the depths of marriage, motherhood and friendship with warmth and wit. I devoured it in one gulp!  Treat yourself to some Good Company."    — Maria Semple, author of Today Will Be Different
"With candor and humor, Good Company tackles big issues—the reckoning between artistic ambition and family life, the strange tension between honesty and loyalty, the way time's inevitable passage affects friendships and romance and our sense of self. Once again, Cynthia D'Aprix Sweeney has written a book you'll stay up all night reading." — Rumaan Alam, author of Leave the World Behind
"Cynthia D'Aprix Sweeney's rich love story about friends who become family is generous and heartbreaking and true. I loved The Nest and I love Good Company even more." — Jade Chang, author of The Wangs vs. The World
"What happens when one accidental discovery changes everything you believe about yourself and the people you love? Cynthia D'Aprix Sweeney's unforgettable characters are so real, so human, and such good company (pun intended) as they struggle with profound questions about the lines between loyalty and secrecy, self-interest and self-preservation—and in doing so, ask us to do the same. Good Company is a beautifully nuanced meditation on marriage and friendship—their messiness and limitations, but also their boundless capacity for reinvention." — Lori Gottlieb, author of Maybe You Should Talk to Someone
"This book is SMART. It breathes new life into topics such as love, marriage, parenting, friendship and that old chestnut, betrayal. Set in both an erudite theater-world Manhattan and a golden-hued Hollywood, Cynthia D'Aprix Sweeney hits a bullseye with every single scene. Good Company is brilliant company." — Elin Hilderbrand, author of 28 Summers
Ecco, 9780062876003, 320pp.
Publication Date: April 6, 2021
About the Author
Cynthia D'Aprix Sweeney is the author of the instant New York Times bestselling novels The Nest and Good Company. The Nest was a Barnes & Noble Discover Great New Writer's pick and named one of the best books of 2016 by People, the Washington Post, NPR, Amazon and others. Sweeney's work has been translated into more than 28 languages. She has been a guest on Today, Late Night with Seth Meyers and NPR's All Things Considered. The Nest has been optioned by AMC Studios and is in development as a limited series. Sweeney holds an MFA from the Bennington Writing Seminars and lives in Los Angeles with her family. 
1. Each character in this novel has a different relationship to their career, in terms of how much they choose to prioritize it over the years and how much success they find. Which character do you think has the most rewarding relationship to their work?
2. Flora and Margot's relationship was born out of a time when they both shared similar dreams, but their paths diverged significantly as they grew older. What qualities do you think a friendship needs to have to evolve over many decades in this way? How do you think Flora and Margot managed to stay connected rather than drifting apart?
3. Flora and Julian have a marriage that seems, initially, to be rock solid. How much do you think Julian's infidelity changes that? Does it negate the otherwise positive qualities that their relationship shared, or do you think their marriage is still strong in its own way?
4. Do you think Margot made the right decision to keep Julian's secret? Do you think she truly had Flora's best interests in mind, or was she driven by selfish impulses? What would you have done in her shoes?
5. Ruby has only a partial understanding of what is going on with her parents, and yet she is able to bring the family toward a moment of possible reconciliation at the end. How do you think she sees her parents' relationship? Do you think Flora and Julian owe Ruby an explanation of what's happened in their marriage or should the ups and downs of a relationship remain a private matter? Are children better off knowing the whole truth of their parents' relationship?
6. What do you make of the fact that many of these characters are actors? Do you think their work performing as other people impacts their own character in any way? Are they perhaps more empathetic to others—or more deceitful? When one's artistic practice is also one's career, what are the upsides? The downsides?
7. What perspective do you think David brings to the friend group? How do you think he must feel as the only person who is not an artist, and the only one facing significant medical struggles? What do you make of his and Margot's shared connection to the medical field—him as a practicing physician, her as an acting star playing a beloved TV doctor?
8. Flora and Julian have often struggled to make ends meet, while Margot and David are wealthy. How do you think money affects the relationships between these two couples? Do you think their level of financial success is tied to happiness, or not?
9. What do you make of Julian's decision to keep his old wedding ring, even though it put him at risk to have Flora discover his secret? Does this reflect anything about his views on their marriage?
10. This book is split between New York City and Los Angeles. How do you think these characters' lives change when they move from East coast to West coast? Do you think Flora and Julian's move to LA demonstrates a shift in priorities? Have they given up on old dreams?
11. What do you think Flora will choose to do going forward? What would you do, if you were in her shoes?