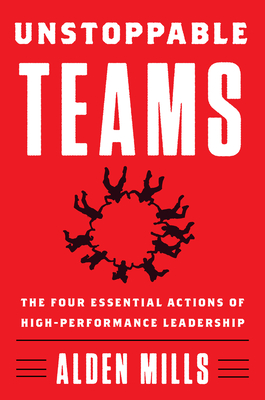 Unstoppable Teams
The Four Essential Actions of High-Performance Leadership
Hardcover

* Individual store prices may vary.
Other Editions of This Title:
Digital Audiobook (3/25/2019)
Compact Disc (3/26/2019)
MP3 CD (3/26/2019)
Compact Disc (3/26/2019)
Description
Three-time Navy SEAL platoon commander and founder of Perfect Fitness reveals how to put together teams that can accomplish any objective—by leveraging an unexpected set of values and priorities.

SEALs and civilians operate in extremely different environments, but what makes both kinds of teams excel comes down to the same thing: service to others, trust, empathy, and a caring environment. Alden Mills has experience working in both the military and the private sector, as a SEAL platoon commander and as a startup founder of Perfect Fitness. He's seen firsthand what it takes to lead an unstoppable team of individuals.
Teams are nothing more than a series of interconnected relationships with a collective, single-minded focus. Success almost never depends on individual talent and valor; instead, Alden Mills shows, it depends, first, on creating a strong foundation for yourself and, second, using that foundation to help others go beyond their individual pursuits and talents to create something bigger and better—an unstoppable team.
Unstoppable Teams show managers at every level, at both large and small organizations, including private, public, and nonprofit, how to inspire, motivate, and lead the people around them. Mills draws on stories from his own experiences to impart these surprising team-building lessons:
Too many people mistake groups of individuals for a team.
No two people are alike, but we all have the same genetic drivers that motivate us—our will to survive, our ego-driven desire for personal gain, and our soul-driven yearning to be a part of something greater than ourselves.
When we override our fears about survival, we can focus on our desire to thrive.
The more you care for your teammates, the more they will dare for the team.
Great ideas are not reserved for a select few—true teams embrace diversity of thought to find winning ideas.
These lessons aren't exclusive to the Navy SEALs; they are used by successful entrepreneurs, nonprofit leaders, coaches, and sport captains—and now you can master them too. Unstoppable Teams is the handbook for how to build care-based teams that will push people to achieve more than they ever thought possible.
Praise For Unstoppable Teams: The Four Essential Actions of High-Performance Leadership…
Unstoppable Teams proves that with the right leadership ordinary people can do the extraordinary.  Drawing from against-the-odds successes in business ventures and military missions, Mills shares the secrets for building a team that can do the seemingly impossible. Read it and take your team from stuck to unstoppable.  
— Liz Wiseman, author of Multipliers and Rookie Smarts  

"Alden Mills's over 25 years of leadership experience in military and business shine through in his practical and memorable book, Unstoppable Teams. If you need a guide for building winning teams the right way, you'll find actionable wisdom here."
— Douglas R. Conant, Founder & CEO of Conant Leadership, retired CEO of Campbell Soup Company, New York Times bestselling author of TouchPoints

"Unstoppable Teams is a valuable reminder of the power of teams.  Mills reminds us that IF WE TAKE CARE of our TEAM MEMBERS, we can deliver strong and powerful results, take appropriate risks and have each other's backs all along the way."
— Arne Sorenson, CEO of Marriott

CEO, entrepreneur, and Navy SEAL Alden Mills knows that leadership success doesn't come from a formula—but from fundamentals that can get trampled by day-in-day-out pressures. Spend just 10 minutes with Alden's book, and you'll understand why it gets my top recommendation: Unstoppable Teams will recharge, refresh, and refuel you. It will remind you to strive toward the highest standard of excellence that's within your grasp. It will also equip you to achieve it—to everyone's benefit.
— Michael C. Bush, CEO, Great Place to Work, and author of A Great Place to Work For All
Harper Business, 9780062876157, 240pp.
Publication Date: March 26, 2019
About the Author
ALDEN MILLS is a three-time Navy SEAL platoon commander, and was the CEO of Perfect Fitness, one of the fastest growing companies in America. He is also a longtime entrepreneur, with over 40 patents, and has over 25 years of experience working on high-performance leadership, sales, and team-building.
Twitter: @aldenmills
Facebook: UnstoppableAldenMills