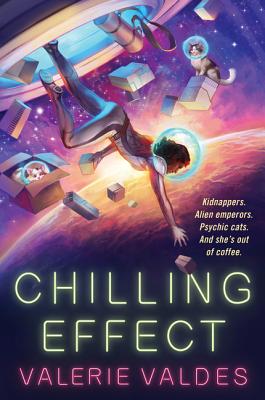 Chilling Effect
Paperback

* Individual store prices may vary.
Other Editions of This Title:
Digital Audiobook (9/16/2019)
MP3 CD (9/17/2019)
Compact Disc (9/17/2019)
Compact Disc (9/17/2019)
Description
"Jam-packed with weird aliens, mysterious artifacts, and lovable characters... a tremendous good time and an impressive debut." -- Kirkus Reviews (starred)
A hilarious, offbeat debut space opera that skewers everything from pop culture to video games and features an irresistible foul-mouthed captain and her motley crew, strange life forms, exciting twists, and a galaxy full of fun and adventure.

Captain Eva Innocente and the crew of La Sirena Negra cruise the galaxy delivering small cargo for even smaller profits. When her sister Mari is kidnapped by The Fridge, a shadowy syndicate that holds people hostage in cryostasis, Eva must undergo a series of unpleasant, dangerous missions to pay the ransom.
But Eva may lose her mind before she can raise the money. The ship's hold is full of psychic cats, an amorous fish-faced emperor wants her dead after she rejects his advances, and her sweet engineer is giving her a pesky case of feelings. The worse things get, the more she lies, raising suspicions and testing her loyalty to her found family.
To free her sister, Eva will risk everything: her crew, her ship, and the life she's built on the ashes of her past misdeeds. But when the dominoes start to fall and she finds the real threat is greater than she imagined, she must decide whether to play it cool or burn it all down.
Praise For Chilling Effect…
"Jam-packed with weird aliens, mysterious artifacts, and lovable characters... Eva and her family are Latinx and often include un-italicized Spanish in their dialogue, a rare find in a genre that usually uses whiteness as the default. A tremendous good time and an impressive debut." — Kirkus Reviews (starred review)
"Featuring memorable Cuban-descended characters, this engaging space opera debut delivers a story that dances between hilarity and seriousness, with all the joy and frustration psychic cats can bring to the mix."
— Library Journal (starred review)
"Valdes' debut novel follows starship captain Eva Innocente and her crew... The mixture of space adventure and interpersonal relationships comes off as a more light hearted take on the video game Mass Effect and should appeal to anyone looking for its particular brand of light, fun space opera. — Booklist
"Valerie Valdes delivers a hilarious and heartwarming story of a lovably screwed-up found family pinballing through a galaxy of spies and villains. My crops are watered, my skin is clear, my shields are at full strength, and my heart is ready for Eva's next adventure."   — Patrick Weekes, author of Feeder
"Imagine if Firefly and Mass Effect got together and had a baby, and that baby were delivered by Guillermo del Toro. This book is that baby. ¡Esto fue un triunfo!" — Curtis C. Chen, author of the Locus Award finalist Waypoint Kangaroo 
"Mass Effect meets The Expanse in this energetic space opera adventure. Eva Innocente is unforgettable starship captain and I love every member of her crew-slash-family. This book has enough twists to keep you up way past bedtime, and I can't wait for the sequel." — Michael R. Underwood, author of the "Stabby" Finalist series Genrenauts
"Eva's fiery spark of devotion and spirit will keep readers captivated until the very last page of this winding, backtracking and space-jumping ride." — BookPage
"Chilling Effect is a funny, fast-moving, richly detailed space opera set in a sprawling universe of aliens and flashy tech, and Eva Innocente and her rag-tag crew make for excellent company while you're hurtling from one planet to the next. While the ending satisfies, it will also leave you very much looking forward to another tour of the galaxy with this band of rebellious misfits." — B&N Sci-fi and Fantasy Blog
Harper Voyager, 9780062877239, 448pp.
Publication Date: September 17, 2019
About the Author
Valerie Valdes's work has been published in Nightmare Magazine, Uncanny Magazine, and the anthologies She Walks in Shadows, and Time Travel Short Stories. She is a graduate of the Viable Paradise workshop and lives in Miami, Florida with her husband and children.