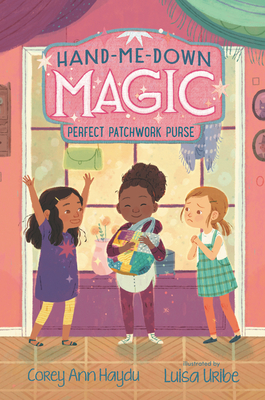 Hand-Me-Down Magic #3
Perfect Patchwork Purse
Hardcover

* Individual store prices may vary.
Description
Family magic saves the day for best-friend-cousins Del and Alma in the third Hand-Me-Down Magic book. With adorable illustrations and short, easy-to-read chapters, this series is perfect for fans of Ivy & Bean and Dory Fantasmagory.
Alma knew it the first time she saw it: The patchwork purse in the window of the Curious Cousins Secondhand Shoppe was magical. Special. Perfect. But when her friend Cassie spots the purse and buys it, what could Alma do but agree that the purse really did look just right on Cassie?
Del decides it's up to her to bring some homespun magic back into Alma's life, and she's got just the plan to do it. After all, she is the EXPERT on magic!
All she needs is some glitter and lots and lots of glue . . . because she knows magic can always come from the most unexpected places, but most importantly, that best-friend-cousins never let each other down.
Corey Ann Haydu's writing is filled with tender moments, wholesome humor, and magical detail—reminiscent of literary icons like Beverly Clearly, Marla Frazee, and Katherine Applegate. This chapter book series is pitch perfect for kids reading at this young level. And Luisa Uribe's stunning black-and-white illustrations capture the warmth and unique personality of each character.
Enjoy the whole series:
Hand-Me-Down Magic #1: Stoop Sale Treasure
Hand-Me-Down Magic #2: Crystal Ball Fortunes
Hand-Me-Down Magic #3: Perfect Patchwork Purse
Hand-Me-Down Magic #4: Mysterious Tea Set
Praise For Hand-Me-Down Magic #3: Perfect Patchwork Purse…
Praise for Hand-Me-Down Magic #1: "Haydu, author of OCD Love Story and other compelling works, offers a pleasing setup in this first volume of a new series. Reading is swift and accessible, broken up by copious cheerful illustrations, and youngsters will long to share in the cousins' idyllic family life while understanding the pitfalls of propinquity."  — Bulletin of the Center for Children's Books
"A nuanced look at the girls' friendship, emotions, and motivations. A transitional chapter book with unusual depth, good pacing, and a loving, supportive Latinx family. Libraries should find space on their shelves for this new series."
— Booklist
"This series debut is a sweet tale about friendship, family, and being the new kid on the block... The line-drawing illustrations throughout give a glimpse of the street where the girls live... Put this book in the hands of kids who enjoy series like Annie Barrows's "Ivy and Bean" or  Megan McDonald's "Judy Moody."" — School Library Journal
Praise for Eventown: "A wonderful and inventive story about being a kid in an imperfect world—beautiful, mysterious, and deeply satisfying." — Rebecca Stead, author of When You Reach Me and Goodbye Stranger
"At once enchanting, heart-rending, and bittersweet." — Kirkus Reviews (starred review)
"An emotionally complex and wonderfully told story." — School Library Journal (starred review)
"[A] thought-provoking novel... [A] memorable and brave heroine."
— Publishers Weekly (starred review)
Praise for The Someday Suitcase:
"Quietly superb prose...Haydu doesn't romanticize illness, but she provides comfort through art, science, magic, love, and a purple suitcase."
— Kirkus Reviews (starred review)
"Poignant and powerful. A heartbreaking story about the healing power of friendship amid human fragility." — ALA Booklist (starred review)
"In this moving, exquisitely written story, Corey Ann Haydu explores the thin line between science and magic within an intense bond of friendship." — Shelf Awareness (starred review)
Praise for Rules for Stealing Stars:
"A well-crafted blend of realism and fantasy."

— School Library Journal (starred review)
"[A] lyrical story of love and loss. The way the sisters fight and love in equal measure, as well as their basic need for one another, rings poignantly true in this touching and heartwarming story, which contains a 'tiny bit of magic, right here in the real world." — ALA Booklist (starred review)
Katherine Tegen Books, 9780062878298, 128pp.
Publication Date: May 4, 2021
About the Author
Corey Ann Haydu is the author of Eventown and other acclaimed novels for children and young adults. She grew up in the Boston area, earned her MFA at the New School, and now lives in Brooklyn with her husband and her toddler daughter, who hasn't yet discovered the delight of tea parties with her abuelita, but is already curious enough to make an excellent detective. Find out more at www.coreyannhaydu.com.
Luisa Uribe is an illustrator and designer of children's media. Her art has been selected for Iberoamérica Ilustra, a catalog showcasing the best work by Spanish-speaking illustrators. She was awarded the Society of Illustrators Dilys Evans Founder's Award for The Vast Wonder of the World. She lives in Bogotá, Colombia, with her partner and cat. You can find more of her wonderful art at www.luisauribe.com.