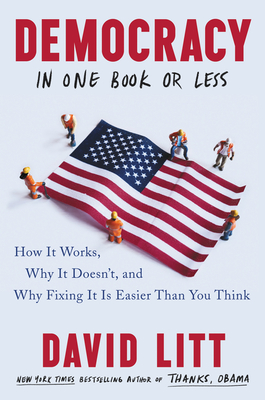 Democracy in One Book or Less
How It Works, Why It Doesn't, and Why Fixing It Is Easier Than You Think
Hardcover

* Individual store prices may vary.
Other Editions of This Title:
Digital Audiobook (6/15/2020)
Paperback (6/8/2021)
MP3 CD (6/16/2020)
Compact Disc (6/16/2020)
Compact Disc (6/16/2020)
Paperback, Large Print (6/16/2020)
Description
Bill Bryson meets Thomas Frank in this deeply insightful, unexpectedly hilarious story of how politicians hijacked American democracy and how we can take it back
The democracy you live in today is different—completely different—from the democracy you were born into. You probably don't realize just how radically your republic has been altered during your lifetime. Yet more than any policy issue, political trend, or even Donald Trump himself, our redesigned system of government is responsible for the peril America faces today.
What explains the gap between what We, the People want and what our elected leaders do? How can we fix our politics before it's too late? And how can we truly understand the state of our democracy without wanting to crawl under a rock? That's what former Obama speechwriter David Litt set out to answer.
Poking into forgotten corners of history, translating political science into plain English, and traveling the country to meet experts and activists, Litt explains how the world's greatest experiment in democracy went awry. 
(He also tries to crash a party at Mitch McConnell's former frat house. It goes poorly.)

The result of Litt's journey is something you might not have thought possible: a page-turner about the political process. You'll meet the Supreme Court justice charged with murder, learn how James Madison's college roommate broke the Senate, encounter a citrus thief who embodies what's wrong with our elections, and join Belle the bill as she tries to become a law (a quest far more harrowing than the one in Schoolhouse Rock!).
Yet despite his clear-eyed assessment of the dangers we face, Litt remains audaciously optimistic. He offers a to-do list of bold yet achievable changes—a blueprint for restoring the balance of power in America before it's too late.
Praise For Democracy in One Book or Less: How It Works, Why It Doesn't, and Why Fixing It Is Easier Than You Think…
"Wry, quickly readable, yet informed and edgy . . . whimsy and pop culture, enlisted toward the end of knowledge." — The Atlantic
"Brings Dave Barry-style humor to an illuminating book on what is wrong with American democracy — and how to put it right. . . . Litt's playful stories and fun facts explode common wisdom. . . . In the book's strongest contribution, Litt shows how radically our democracy has been altered in recent decades [, making] the case that nearly all of these negative trends are occurring by design." — Washington Post
"Strikingly timely. . . . [Litt] offers ways to fix governmental ills that stymie all Americans and does so with a breezy and accessible wit." — The Guardian
"Remarkably prescient and applicable. It's rare to feel good about the way things are going, but Litt's book will get you there." — Elle, "23 Books That Will Put You in a Good Mood, Guaranteed" 
"Litt's book laces his signature humor into his exploration of American Democracy and how it has transformed over the years." — Time, "45 New Books You Need to Read This Summer"
"Casts a welcome, cleansing beam of light on a subject that has become increasingly murky and frustratingly confusing . . . Litt has a breezy, often conversational tone, but that in no way diminishes the force of his argument. Politics has changed, and not in a good way. But there are ways American democracy can be fixed, and it is to Litt's credit that he offers practical albeit challenging solutions to the problems confronting our system of governance." — Booklist (starred review)
"[A] snappy and well-informed dissection of the current state of American democracy. . . Both optimistic and clear-eyed, this quip-filled call to action will resonate strongly with young progressives." — Publishers Weekly
"A pleasure to read, even in its darkest moments, and refreshingly optimistic about the future of the republic." — Kirkus Reviews
"Hilarious and incisive. If you want to understand what happened to America and how to change it, Democracy in One Book or Less will make you laugh and think, all at the same time." — David Axelrod, former senior advisor to Barack Obama and author of Believer: My Forty Years in Politics
"You think you know about politics and the motivations and machinations of Washington—and then you read this book. A wildly entertaining and informative journey that peels back the curtain on how the Beltway functions, David Litt's latest is a must-read for anyone who can't look away from the 'what' of the news and wants to understand the 'why.'" — Amie Parnes, co-author of Shattered: Inside Hillary Clinton's Doomed Campaign
"If you want to understand how our government really works without having a panic attack or a migraine, read this book. The way David tells stories about politics is funny, informative, and, most important, hopeful. David Litt dares to remain inspired, and that is what the conversation around politics needs most." — Ilana Glazer, co-creator and co-star of Broad City
"I'm so relieved to have this book at this moment in our political climate, a guide to our democracy when we so desperately need one." — Abbi Jacobson, co-creator and co-star of Broad City and author of I Might Regret This
"David Litt's book is equal parts how-to, historical, and hilarious as he takes us through the trials and travails of how the electorate and democracy in general works—and sometimes doesn't—yet still lovingly shows us that it's worth it all the same. A warm, pithy, and inspiring read." — Keegan-Michael Key
"I always look forward to David Litt's fiercely intelligent and funny take on the current state of things. If ever there was a time we needed a hilarious and thought-provoking look at how our democracy got to this point—and how we can save it—it's now!" — Billy Eichner
"Democracy in One Book or Less is by turns funny and illuminating. Litt combines his trademark humor and witty writing with an urgent call to fix American democracy. It's a tragicomedy that makes you a better citizen while you laugh and shake your head in disbelief at our broken system." — Brian Klaas, assistant professor of global politics at University College London and columnist for the Washington Post
Ecco, 9780062879363, 400pp.
Publication Date: June 16, 2020
About the Author
David Litt is the New York Times best-selling author of Thanks, Obama: My Hopey Changey White House Years. From 2011-2016, David wrote speeches for President Obama, and was described as "the comic muse for the president" for his work on the White House Correspondents' Dinner. Since leaving the White House, he served as the head writer and producer for Funny Or Die's office in Washington, with a focus on improving youth turnout in the 2018 election, and developed a sitcom based on his life in D.C.  He frequently appears on CNN and MSNBC to discuss current events. 
or
Not Currently Available for Direct Purchase