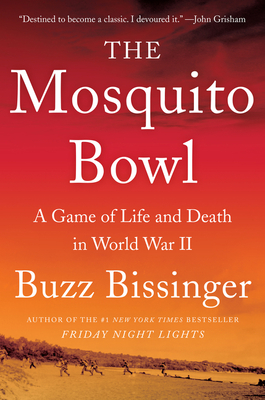 The Mosquito Bowl
A Game of Life and Death in World War II
Hardcover

* Individual store prices may vary.
Other Editions of This Title:
Digital Audiobook (9/12/2022)
Paperback, Large Print (9/13/2022)
Compact Disc (9/13/2022)
MP3 CD (9/13/2022)
Description
Instant New York Times Bestseller
"Buzz Bissinger's Friday Night Lights is an American classic. With The Mosquito Bowl, he is back with a true story even more colorful and profound. This book too is destined to become a classic. I devoured it." — John Grisham
An extraordinary, untold story of the Second World War in the vein of Unbroken and The Boys in the Boat, from the author of Friday Night Lights and Three Nights in August.
When the Japanese attacked Pearl Harbor, college football was at the height of its popularity.  As the nation geared up for total war, one branch of the service dominated the aspirations of college football stars: the United States Marine Corps. Which is why, on Christmas Eve of 1944, when the 4th and 29th Marine regiments found themselves in the middle of the Pacific Ocean training for what would be the bloodiest battle of the war – the invasion of Okinawa—their ranks included one of the greatest pools of football talent ever assembled: Former All Americans, captains from Wisconsin and Brown and Notre Dame, and nearly twenty men who were either drafted or would ultimately play in the NFL.   
When the trash-talking between the 4th and 29th over who had the better football team reached a fever pitch, it was decided: The two regiments would play each other in a football game as close to the real thing as you could get in the dirt and coral of Guadalcanal.  The bruising and bloody game that followed became known as "The Mosquito Bowl." 
Within a matter of months, 15 of the 65 players in "The Mosquito Bowl" would be killed at Okinawa, by far the largest number of American athletes ever to die in a single battle. The Mosquito Bowl is the story of these brave and beautiful young men, those who survived and those who did not.  It is the story of the families and the landscape that shaped them. It is a story of a far more innocent time in both college athletics and the life of the country, and of the loss of that innocence.  
Writing with the style and rigor that won him a Pulitzer Prize and have made several of his books modern classics, Buzz Bissinger takes us from the playing fields of America's campuses where boys played at being Marines, to the final time they were allowed to still be boys on that field of dirt and coral, to the darkest and deadliest days that followed at Okinawa. 
Praise For The Mosquito Bowl: A Game of Life and Death in World War II…
"Buzz Bissinger's Friday Night Lights is an American classic. With The Mosquito Bowl, he is back with a true story even more colorful and profound. This book too is destined to become a classic. I devoured it." — John Grisham
"Stephen Crane famously discovered 'the rage of conflict' while watching a college football game. For Buzz Bissinger, football is no metaphor; it is the way into one of the bloodiest battles of World War II. Deeply researched, told with extraordinary empathy and verve, The Mosquito Bowl will break your heart." — Nathaniel Philbrick, National Book Award winning author of In the Heart of the Sea and Travels with George
"Here may be the most uniquely fascinating story ever written about World War II. Like the best of Buzz Bissinger, it is about far more than a football game, or even the war. He's a gifted narrator and prodigious researcher, and in this book his skills are all on display: indelible characters, a bizarre and remarkably distinct setting, action, drama... a great story told with insight and humor and deep feeling. Do not pass this book by. It is magnificent." — Mark Bowden, New York Times bestselling author of Black Hawk Down and Hue 1968
"Take your pick: This is either the story of the most improbable game of football ever played, an anthem to immigrant America, or a brilliant tribute to an exemplary brotherhood that would be decimated at Okinawa. In every case it's an indelible account of promising young men themselves hurled into history. Buzz Bissinger has stitched their story together as no one else could, powerfully and seamlessly, offering up a tender-tough tale in his signature high-octane prose." —  Stacy Schiff, Pulitzer Prize winning author of The Witches: Salem, 1692
"Harrowing, profound, and illuminating, The Mosquito Bowl humanizes war and elevates athletic competition in one fell swoop. Bissinger is the master of showing us life in a single grain of sand, and he has done so brilliantly here. As familiar as the subject of World War II may seem, this book makes you see it in a fresh and exquisite way, with all its pain and triumph rendered in close detail." — Susan Orlean, New York Times bestselling author of On Animals and The Library Book
"The Mosquito Bowl is savage, piercing and haunting. Buzz Bissinger has written an utterly heartbreaking saga that fuses the macho glory of college football with the brutality and futility of combat. It is a measure of Bissinger's singular talent that his searing account is tragic, yet also inspiring and unforgettable." — David Zucchino, Pulitzer Prize winning author of Wilmington's Lie
"[Bissinger] succeeds brilliantly, interweaving rich back stories of a few superior college football players whose sports careers and lives were upended and often ended by war . . . . it changed the way I thought about World War II." — New York Times Book Review
"The Mosquito Bowl adroitly resurrects a long-forgotten episode to explore American values across the generations." — Pittsburgh Post-Gazette
"Bissinger effortlessly combines sports and military history in this gritty account of a football game played by U.S. Marines on Guadalcanal in December 1944 . . . . The book excels in its sweeping yet fine-grained portraits of how these Marines got to Guadalcanal and in the harrowing descriptions of Pacific Theater combat, including the bloody fight for Sugar Loaf Hill on Okinawa. This is a penetrating tale of courage and sacrifice." — Publishers Weekly
"College football and World War II: not an obvious combination, but Bissinger handles it brilliantly." — Kirkus Reviews (starred review)
"Fans of Bissinger's previous books will find a rich character-driven narrative about two of the dirtiest and deadliest battlefields of World War II . . . . Bissinger has found a way to merge sports with World War II to give readers a heartbreaking narrative of what many young men went through in the last days of World War II. Highly recommended." — Library Journal (starred review)
"This well-researched and impassioned book not only chronicles a little-known moment in sports history but also offers a poignant snapshot of the tragedy of war." — Booklist
"In exploring the hearts and souls of those who risked everything for their country, Bissinger's book defines some of the qualities that make America great—then, now and forever. And such greatness characterizes exceptional men and women around the world. He also showcases the horrors of war and the blunders that cost lives on the battlefield." — Associated Press
Harper, 9780062879929, 480pp.
Publication Date: September 13, 2022
About the Author
Buzz Bissinger was born in 1954. He is a Pulitzer Prize-winning journalist whose books include the New York Times bestsellers Three Nights in August and Friday Night Lights. He has served as a contributing editor for Vanity Fair and as a sports columnist for the Daily Beast, and has written for the New York Times, The Washington Post, the New Republic, Time, and many other publications. He lives both in Southwestern Washington State and Philadelphia. He is married to Lisa Smith with three children.