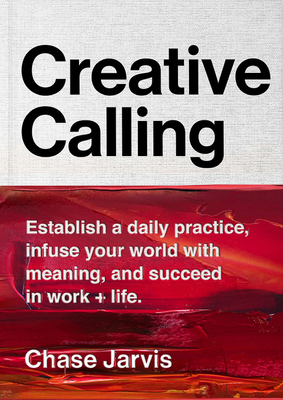 Creative Calling
Establish a Daily Practice, Infuse Your World with Meaning, and Succeed in Work + Life
Hardcover

* Individual store prices may vary.
Other Editions of This Title:
Digital Audiobook (9/23/2019)
MP3 CD (9/24/2019)
Compact Disc (9/24/2019)
Compact Disc (9/24/2019)
Description
Life isn't about "finding" fulfillment and success—it's about creating it. Why then has creativity been given a back seat in our culture?  No longer.
** A Wall Street Journal, Los Angeles Times and Publishers Weekly Bestseller **
Creativity is a force inside every person that, when unleashed, transforms our lives and delivers vitality to everything we do. Establishing a creative practice is therefore our most valuable and urgent task - as important to our well-being as exercise or nutrition.  
The good news? Renowned artist, author, and CreativeLive founder, Chase Jarvis, reminds us that creativity isn't a skill—it's a habit available to everyone:  beginners and lifelong creators, entrepreneurs to executives, astronauts to zookeepers, and everyone in between. Through small, daily actions we can supercharge our innate creativity and rediscover our personal power in life.
Whether your ambition is a creative career, completing a creative project, or simply cultivating a creative mindset, Creative Calling will unlock your potential via Jarvis's memorable "IDEA" system: 
Imagine your big dream, whatever you want to create—or become—in this world.
Design a daily practice that supports that dream—and a life of expression and transformation.
Execute on your ambitious plans and make your vision real.
Amplify your impact through a supportive community you'll learn to grow and nurture.
Praise For Creative Calling: Establish a Daily Practice, Infuse Your World with Meaning, and Succeed in Work + Life…
There is a wild, untamed connection between our inherent creativity and our yearning for a meaningful, purpose-driven life. Chase's experiences and his commitment to creating make him the perfect guide as we set out on our own adventures to learn how creativity has the power to change everything. — Brené Brown, Ph.D., Author of the New York Times #1 Bestseller, Dare to Lead
I have always believed that you will enjoy life and be more successful if you focus on creating amazing experiences; businesses and relationships. Chase's book Creative Calling is an engaging guide to doing just that, from a man who has followed his passions and created a company in CreativeLive to inspire others. — Sir Richard Branson, Virgin Group Founder
Creative Calling is a trail guide for anyone stepping onto the path of creativity, whether for personal fulfillment or career aspirations. You won't find a better resource to unlock your true potential and scale the heights of the creative economy. — Jimmy Chin, Oscar-winning Director of Free Solo
Relentlessly generous and endlessly creative, Chase is challenging us to see the shifts in our culture and media as the opportunity of a lifetime. If you care about making things better, this book is here to help. — Seth Godin, Best-selling Author & Entrepreneur
Chase Jarvis is my favorite person to go to for advice. I'm sure he's tired of me calling him. He was one of the first people to recognize the power of the Internet for artists, and he still has the best insight for anyone looking to follow a creative path. He's taught me so much. This book reads like a long, intimate conversation with Chase. And there's nothing more valuable in the world. — Brandon Stanton, creator of Humans of New York and New York Times bestselling author
Everyone has a dream. In Creative Calling, Chase gives us the closest thing there is to a roadmap for pursuing that dream—and succeeding in the process. It's a must read for any creator or entrepreneur. — Daymond John, star of ABC'S "Shark Tank," founder/CEO of FUBU, and CEO of the Shark Group
This book isn't about your creativity calling, it's about your creativity screaming from inside you—fighting to be heard and to be ready to change the world. — James Victore, artist, activist and author of Feck Perfuction  
Chase Jarvis is a remarkable creative spirit. His new book, Creative Calling, is proof positive that creativity is both an art and a practice. With great candor and deft insight, Chase debunks the myths surrounding what is means to be a creative person and proves that anyone and everyone can be creative. Creative Calling will whole-heartedly change the way you think about how and why humans create, and it will provide you with the inspiration to make a bigger life than you ever thought possible. — Debbie Millman, artist and chair of the School of Visual Arts
Good design helps and delights others. Chase Jarvis shows you how to do it. — Stefan Sagmeister, designer and founder of Sagmeister & Walsh
Harper Business, 9780062879967, 304pp.
Publication Date: September 24, 2019
About the Author
Chase Jarvis is a well known photographer and entrepreneur. As a photographic master, he is regularly cited as one of the most influential photographers of the past decade, having won numerous awards from Prix de la Photographie de Paris, The Addys, The Lions, Digiday, The Advertising Photographers of America, and The International Photography Awards among many others.  He was a contributor to the Pulitzer-Prize winning New York Times story Snowfall and earned an Emmy nomination for Portrait of a City, his documentary of the legendary Seattle music scene and has created hundreds of campaigns and commercials for the likes of Nike, Apple, Samsung, Google, and Red Bull. Forbes called Chase "The Photographer Everyone Wants to Work With" and his social following of millions across the globe prompted Inc to nominate him as a "social media maven."
As an entrepreneur, Chase has earned worldwide recognition as the Founder and CEO of two influential companies. His iPhone app Best Camera earned "App of the Year" accolades in 2009 from Wired, the New York Times, and Macworld. As the first app that allowed users to share images direct to social networks, Best Camera is widely credited with kicking off the multi-billion dollar, global photo-sharing craze. Chase's second (and current) company CreativeLive is the world's largest live-streaming education company featuring the top experts in photography, design, music and entrepreneurship. With millions of students worldwide and over 3 billion minutes of education consumed on the platform, CreativeLive has raised more than $50 million from Greylock Partners, Social Capital, REV Venture Partners, Jared Leto, Google Ventures, Richard Branson, Creative Artists Agency and GSV Acceleration.
Chase is the creator of 2 best-selling photography books: the world's first book of iPhone photography The Best Camera Is The One That's With You, and Seattle 100: Portrait of a City, a 3 year project photographing cultural leaders in Seattle. Since 2010 he's hosted the YouTube series and podcast The Chase Jarvis LIVE Show with guests like Richard Branson, Mark Cuban, Arianna Huffington, Jared Leto, Brené Brown and Macklemore. He is also a widely sought after interviewer and presenter, having been a keynote speaker on 5 continents and a guest at the White House, the United Nations, the Library of Congress, 10 Downing Street, Buckingham Palace, and the DIFC in Dubai.
He lives with his wife, Kate, splits time between Seattle and San Francisco, and serves as a volunteer director for several non-profit boards.