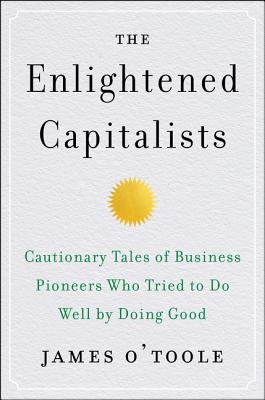 The Enlightened Capitalists
Cautionary Tales of Business Pioneers Who Tried to Do Well by Doing Good
Hardcover

* Individual store prices may vary.
Other Editions of This Title:
Compact Disc (2/26/2019)
Compact Disc (2/26/2019)
MP3 CD (2/26/2019)
Description
An expert on ethical leadership analyzes the complicated history of business people who tried to marry the pursuit of profits with virtuous organizational practices—from British industrialist Robert Owen to American retailer John Cash Penney and jeans maker Levi Strauss to such modern-day entrepreneurs Anita Roddick and Tom Chappell.

Today's business leaders are increasingly pressured by citizens, consumers, and government officials to address urgent social and environmental issues. Although some corporate executives remain deaf to such calls, over the last two centuries, a handful of business leaders in America and Britain have attempted to create business organizations that were both profitable and socially responsible.
In The Enlightened Capitalists, James O'Toole tells the largely forgotten stories of men and women who adopted forward-thinking business practices designed to serve the needs of their employees, customers, communities, and the natural environment. They wanted to prove that executives didn't have to make trade-offs between profit and virtue.
Combining a wealth of research and vivid storytelling, O'Toole brings life to historical figures like William Lever, the inventor of bar soap who created the most profitable company in Britain and used his money to greatly improve the lives of his workers and their families. Eventually, he lost control of the company to creditors who promptly terminated the enlightened practices he had initiated—the fate of many idealistic capitalists.
As a new generation attempts to address social problems through enlightened organizational leadership, O'Toole explores a major question being posed today in Britain and America: Are virtuous corporate practices compatible with shareholder capitalism?
Praise For The Enlightened Capitalists: Cautionary Tales of Business Pioneers Who Tried to Do Well by Doing Good…
Brainy and provocative.
— Financial Advisor

"A meticulous and captivating study… This comprehensive and thoughtful study of the often troubled relationship between business and benevolence will provide readers unexpected food for thought."
— Publishers Weekly

"The book serves as an informative road map for leaders who dare to break the mold. A tapestry of remarkable characters, high drama, and entertaining story arcs for leaders of businesses large and small."
— Kirkus Reviews

"As the issue is top of mind for Wall Street and Silicon Valley today, O'Toole's book will be a valuable collection of case studies on what works and what doesn't."
— Business Insider

"James O'Toole's clear-eyed assessment of the history of 'enlightened capitalism' is a must-read for any business leader serious about shaping its future--and thus our own."
— Jay Coen Gilbert, co-founder, B Lab

"[An] admiring but unflinching survey… Mr. O'Toole has made a strong case that enlightened stewardship is in the interest of stockholders. In setting out to write a brief for social responsibility, he has delivered some managerial wisdom. Humanity in the corner office need not be altruistic; it may simply be good business."
— Wall Street Journal

"[An] enormous but accessible book… Fascinating."
— Financial Times
Harper Business, 9780062880246, 592pp.
Publication Date: February 26, 2019
About the Author
James O'Toole is the author of seventeen books, including Work in America and Vanguard Management. Professor Emeritus at the University of Southern California's Marshall School of Business, and Founding Director of the Neely Center for Ethical Leadership. While at USC, he held the University Associates' Chair of Management, served as Executive Director of the Leadership Institute, and editor of New Management magazine.