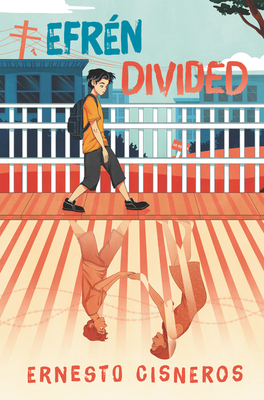 Efrén Divided (Hardcover)
HarperCollins, 9780062881687, 272pp.
Publication Date: March 31, 2020
Other Editions of This Title:
MP3 CD (3/31/2020)
Compact Disc (3/31/2020)
* Individual store prices may vary.
Description
Efrén Divided is a not-to-be-missed debut middle grade novel for readers who love Front Desk or Merci Suárez Changes Gears—or for anyone working toward a more loving world—about family, friendship, and tearing down the walls being built between us.
Efrén Nava's Amá is his Superwoman—or Soperwoman, named after the delicious Mexican sopes his mother often prepares. Both Amá and Apá work hard all day to provide for the family, making sure Efrén and his younger siblings Max and Mía feel safe and loved.
But Efrén worries about his parents; although he's American-born, his parents are undocumented. His worst nightmare comes true one day when Amá doesn't return from work and is deported across the border to Tijuana, México.
Now more than ever, Efrén must channel his inner Soperboy to help take care of and try to reunite his family.
About the Author
Ernesto Cisneros was born and raised in Santa Ana, California, where he still teaches. Efrén Divided is his first book. He holds an English degree from the University of California, Irvine; a teaching credential from California State University, Long Beach; as well as a master of fine arts in creative writing from National University. As an author, he believes in providing today's youth with an honest depiction of characters with whom they can identify. The real world is filled with amazing people with diverse backgrounds and perspectives. His work strives to ref lect that. You can visit him online at www.ernestocisneros.com.
Praise For Efrén Divided…
"Debut author Cisneros paints a vivid and palpable #ownvoices picture of the lost childhoods as children and parents are separated due to immigration issues. But even as Efrén's world seems to be crashing around him, Cisneros celebrates the kindness of the Mexican American community and its richness of food, culture, and resilient spirit.Honest and tender: a must-read."
— Kirkus Reviews (starred review)

"Authentically told, and interwoven with hope, strength, and beauty, Efrén Divided is true to life and all too timely. A must-read for anyone with a heart. This book is a gift to the world."
— Sarah Scheerger, author of Operation Frog Effect

"This book broke my heart as much as it lifted it!"
— Aida Salazar, critically acclaimed author of The Moon Within & Land of the Cranes

"A beautifully told and important book that offers readers a heart-wrenching and authentic glimpse into today's immigration policies. Cisneros handles the timely subject matter with heart, depth and authenticity, leaving readers like me hopeful and determined to make this world a better place for all children."
— Angela Cervantes, award-winning author of Gaby, Lost and Found and Lety Out Loud

"In Efrén Divided, Cisneros tells the story of children grown up too quickly and families unfairly separated. Efrén's heartbreaking situation fills the reader with justified rage and empowering hope. This book is a call to not take the world as it is, but to fight for the world as it should be."
— Adrianna Cuevas

"A moving portrayal of the shame, fear, and uncertainty of a family ripped apart by deportation. Efrén Divided eloquently defines how color doesn't matter."
— Aimée Medina Ca, author of River of Love

"A golden door into crucial conversations we need to have in our classrooms about equity and human rights."
— NoNieqa Ramos, Author of The Disturbed Girl's Dictionary and The Truth Is

"Efrén Divided can be counted among those books that will inspire young people to action, activism and change in their communities."
—  e.E. Charlton-Trujillo, Author, Filmmaker, NCO Co-Founder