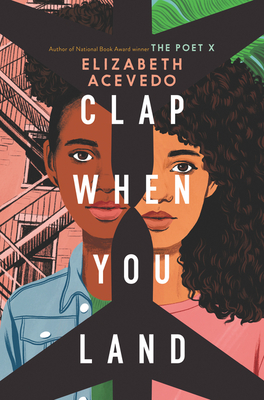 Clap When You Land
Hardcover

* Individual store prices may vary.
Other Editions of This Title:
Digital Audiobook (5/4/2020)
Paperback (7/5/2022)
Paperback, Large Print (9/9/2020)
Compact Disc (5/5/2020)
Compact Disc (5/5/2020)
MP3 CD (5/5/2020)
Description
In a novel-in-verse that brims with grief and love, National Book Award-winning and New York Times bestselling author Elizabeth Acevedo writes about the devastation of loss, the difficulty of forgiveness, and the bittersweet bonds that shape our lives.
Camino Rios lives for the summers when her father visits her in the Dominican Republic. But this time, on the day when his plane is supposed to land, Camino arrives at the airport to see crowds of crying people…
In New York City, Yahaira Rios is called to the principal's office, where her mother is waiting to tell her that her father, her hero, has died in a plane crash.
Separated by distance—and Papi's secrets—the two girls are forced to face a new reality in which their father is dead and their lives are forever altered.
And then, when it seems like they've lost everything of their father, they learn of each other. 
Great for summer reading or anytime! Clap When You Land is a Today show pick for "25 children's books your kids and teens won't be able to put down this summer!"
Plus don't miss Elizabeth Acevedo's The Poet X and With the Fire on High!

Praise For Clap When You Land…
"Tackles family secrets, toxic masculinity, and socio-economic differences with incisive clarity and candor... Every line is laced with betrayal and longing as the teens struggle with loving someone despite his imperfections. A standing ovation." — Kirkus Reviews (starred review)
"Returning to verse, Acevedo subtly, skillfully uses language and rhythm to give voice to the sisters' grief, anger, and uncertainty; Camino's introspective openness; and Yahaira's tendency toward order and leadership. Raw and emotional, Acevedo's exploration of loss packs an effective double punch, unraveling the aftermath of losing a parent alongside the realities of familial inheritance." — Publishers Weekly (starred review)
"Acevedo's free verse poems for each girl share an easy cadence and thoughtfulness, yet each girl's perspective is clear: Camino is strong but fearful of the dangers that threaten her life and hopes; Yahaira's anger is palpable, but so is her tenderness and love for her girlfriend Dre.... Memorable for its treatment of grief, depiction of family ties, and lyrical strength, expect a well-deserved high demand." — Booklist
"The book is blunt about the financial disparity between the girls and its implications, but it's also tender as the two families, or what's left of them, come together in the Dominican Republic to bury the girls' father and, despite hurt and betrayal, find connections. " — Bulletin of the Center for Children's Books
"Lush imagery and masterful characterization give readers a look at the lives of two 16-year-old girls whose worlds couldn't be further apart, but who long for connection in the face of life-altering tragedy... Crisp verse depicts heartbreak and bravery, while expert pacing culminates in a lyrical achievement in storytelling that is highly recommended." — School Library Journal (starred review)
"Acevedo's poetry at one moment envelops readers through vibrant description, and the next pierces them with all-too-effective phrases... Her quick, penetrating verse is lean and decisive, her blank spaces expertly planned moments of held breath. Finishing the book is not unlike touching ground again after a flight." — Shelf Awareness (starred review)
"In two distinct voices, Acevedo explores the rich inner lives of the sudden half-sisters as they grapple with their complicated feelings about their father and the secrets he kept." — Horn Book (starred review)
Quill Tree Books, 9780062882769, 432pp.
Publication Date: May 5, 2020
About the Author
Elizabeth Acevedo is the author of The Poet X—which won the National Book Award for Young People's Literature, the Michael L. Printz Award, the Pura Belpré Award, the Boston Globe–Horn Book Award, and the Walter Award—as well as With the Fire on High and Clap When You Land. She is a National Poetry Slam champion and holds an MFA in creative writing from the University of Maryland. Acevedo lives with her partner in Washington, DC. You can find out more about her at www.acevedowrites.com.
SISTERHOOD
1. The author writes the first part of the book switching between the sisters' points of view in each chapter. In the last section of the book, however, their perspectives are combined, and we often have to figure out who is speaking by context clues. Why do you think the author chose to structure the book in this way? How does your understanding of the sisters change when you start seeing them through each other's perspective?
2. Camino and Yahaira both have complicated feelings about suddenly having a sibling. What are some examples of their conflicting feelings in the text? How do these feelings change over time?
3. Both Camino and Yahaira have close, trusting relationships with other female friends, family, and/or girlfriends. What are some moments in the book where women show up, protect, and care for one another? How do Camino and Yahaira define sisterhood? How do these views change throughout the book? What is sisterhood to you?
GRIEF & LOSS
4. What are some of the ways that Camino and Yahaira describe the way they feel after losing their father? What are the similarities and differences in how the sisters grieve for their father while trying to understand him? How does their grief change over time and throughout the book?
5. The plane crash in this book does not impact only Camino and Yahaira. How does the island react when Camino's papi passes? How is Yahaira's neighborhood affected by the crash? How are Dominican people everywhere affected?
6. "My father was the one who always threw the get-togethers, & even in death, he brings us all home" (pg. 134). How does their father's death bring everyone "home"? How can death bring people together, both literally and figuratively? How can death and grieving change relationships between the people who are left behind? How is this shown in the book?
MISOGYNY & DISCRIMINATION
7. What does Yahaira mean when she says "in the real world I am not treated as a lady or a queen, as a defender or opponent but as a girl so many want to strike off the board" (pg. 94)? How are Yahaira and Camino treated as disposable by the men in this novel? How are they controlled by men? How does the way you see yourself differ from who the world believes you to be? What do you do when those two things don't match up?
8. What makes Yahaira feel like her body is not her body? (pg. 176) How does this experience change Yahaira's feelings about winning her chess tournament? How do Tia's assumptions about El Cero's attention (pg. 155) affect Camino? What silences both sisters when they want to talk with the adults in their lives about what's happening to them?