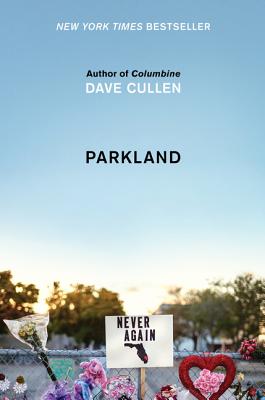 Parkland
Birth of a Movement
Hardcover

* Individual store prices may vary.
Other Editions of This Title:
Digital Audiobook (2/11/2019)
Paperback (2/11/2020)
Compact Disc (2/12/2019)
Paperback, Large Print (2/12/2019)
MP3 CD (2/12/2019)
Compact Disc (2/12/2019)
Description
A NEW YORK TIMES BESTSELLER
On the first anniversary of the events at Parkland, the acclaimed, New York Times bestselling author of Columbine offers an intimate, deeply moving account of the extraordinary teenage survivors who became activists and pushed back against the NRA and feckless Congressional leaders—inspiring millions of Americans to join their grassroots #neveragain movement.
Nineteen years ago, Dave Cullen was among the first to arrive at Columbine High, even before most of the SWAT teams went in. While writing his acclaimed account of the tragedy, he suffered two bouts of secondary PTSD. He covered all the later tragedies from a distance, working with a cadre of experts cultivated from academia and the FBI, but swore he would never return to the scene of a ghastly crime.
But in March 2018, Cullen went to Marjory Stoneman Douglas High School because something radically different was happening. In nearly twenty years witnessing the mass shootings epidemic escalate, he was stunned and awed by the courage, anger, and conviction of the high school's students. Refusing to allow adults and the media to shape their story, these remarkable adolescents took control, using their grief as a catalyst for change, transforming tragedy into a movement of astonishing hope that has galvanized a nation.
Cullen unfolds the story of Parkland through the voices of key participants whose diverse personalities and outlooks comprise every facet of the movement. Instead of taking us into the mind of the killer, he takes us into the hearts of the Douglas students as they cope with the common concerns of high school students everywhere—awaiting college acceptance letters, studying for mid-term exams, competing against their athletic rivals, putting together the yearbook, staging the musical Spring Awakening, enjoying prom and graduation—while moving forward from a horrific event that has altered them forever.
Deeply researched and beautifully told, Parkland is an in-depth examination of this pivotal moment in American culture—and an up-close portrait that reveals what these extraordinary young people are like. As it celebrates the passion of these astonishing students who are making history, this spellbinding book is an inspiring call to action for lasting change.
Praise For Parkland: Birth of a Movement…
"Parkland is exceptional. I really look forward to it being unleashed to the world, because the Parkland students really did something. They are a political force to be reckoned with in our country." — Elise Jordan, NBC political analyst
"[Parkland is] written with the clarity and depth and time… that the students who died and the students who live deserve, and that the nation grappling with it all needs. I was moved and informed and, most of all, heartbroken by it — even though it's written with authentic hope." — Chicago Tribune
"Part character study, part media analysis, part political critique, Parkland ends up being many things. Thanks to Dave Cullen's gift for clear, involving storytelling, it ends up being, above all, a compelling "year-in-the-life" tale of a group of ordinary, yet also extraordinary, teens." — Pittsburgh Post-Gazette
"In the hands of a less-skilled writer, a project like Parkland might risk becoming the type of uplifting but empty text that typically arrives with aspirations of cashing in on a cultural moment. Instead, Cullen utilizes the moment to amplify the Parkland students' calls for actions while situating his views within a structure of quality reporting that emphasizes facts above emotions." — San Francisco Weekly
"Parkland is a moving petition to America that it not look away from the catastrophes at Columbine, Newtown, Sandy Hook, Virginia Tech, and, yes, Parkland. It succeeds as an in-depth report about the "generational campaign" in the aftermath of the Parkland tragedy, a bi-partisan movement advocating serious gun reform." — Atlanta Journal-Constitution
"Parkland is one of the most uplifting books you will read all year. . . . [it] is a balm. . . . genius." — Washington Post
"[Parkland] provides nuanced, sensitive portraits of the Parkland kids who have become media stars. . . . These are extraordinary young people, and Cullen does them and us a great service by showing their ordinary lives." — San Francisco Chronicle
"Parkland is the first book about the shooting that's not marketed toward teens and young adults. It also may be the most optimistic of the bunch. . . . an inspiring read." — The Atlantic
Parkland is an unexpectedly lively chronicle with a powerful message. — Newsday
"If any nonfiction writer is equipped to tell this story, it's Dave Cullen." — Book Forum
"In both Columbine and this up-to-the minute portrait of the Parkland tragedy, Cullen has produced masterpieces that are simultaneously heartbreaking and hopeful about a saner future." — Kirkus Reviews (starred review)
"[A] page-turner. . . . Both realistic and optimistic, this insightful and compassionate chronicle is a fitting testament to a new chapter in American responses to mass shootings." — Publishers Weekly (starred review)
"Cullen brings his eloquence, expertise, combination of deep research and concision, and unbiased perspective to yet another mass school shooting, revealing its deepest layers and resonance. . . . [a] moving, defining, and important account of an essential and vital youth movement." — Booklist (starred review)
Harper, 9780062882943, 400pp.
Publication Date: February 12, 2019
About the Author
Dave Cullen is the author of New York Times Bestseller Columbine. Cullen has also written for New York Times, BuzzFeed, Vanity Fair, Politico Magazine, Times of London, New Republic, Newsweek, Guardian, Washington Post, Daily Beast, Slate, Salon, The Millions, Lapham's Quarterly, and NPR's On The Media.