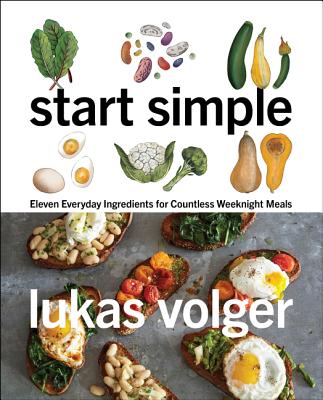 Start Simple
Eleven Everyday Ingredients for Countless Weeknight Meals
Hardcover

* Individual store prices may vary.
Description
From veteran food writer, recipe developer, and creator of the James Beard Award-winning Jarry magazine comes an innovative approach to vegetarian cooking.

What have I got to eat? It's a question we ask every time we open up the refrigerator or pantry door. It might be eggs, some cheese, and half a loaf of bread, or a box of wilting greens, garlic, and some sweet potatoes. Though these ingredients may not seem like much to make a delicious meal, recipe developer and author Lukas Volger knows it's all you need. In Start Simple he offers a radically new, uncomplicated, and creative approach to cooking that allows you to use what you already have on hand to make great meals you didn't think were possible.
Magic can happen with just a few ingredients: sweet potatoes, tortillas, eggs, cabbage, hearty greens, beans, winter squash, mushrooms, tofu, summer squash, and cauliflower. Volger advises readers to stock up on these eleven building blocks instead of shopping for a single recipe. A protein (tofu, beans, eggs) is a foundation. A crunchy garnish (cabbage, greens) is a finishing touch. Once these structural components of a meal are established, home chefs can throw in their own variations and favorite flavors—mixing, matching, and adding ingredients to customize their dishes.
While Start Simple is a vegetarian cookbook—none of the recipes include meat—Volger's approach transcends categories. His methods aren't about subscribing to a specific dietary regimen; they are about simply recognizing and embracing the way people cook and eat today. Creating weekly meal plans based on intricate recipes sounds good, but it can be difficult to execute. Having a well-stocked pantry paired with a choose-you-own adventure guide to creating simple yet inventive meals is more practical for your average home cook.
Harper Wave, 9780062883599, 272pp.
Publication Date: February 18, 2020
About the Author
Lukas Volger is the author of three previous vegetarian cookbooks, including Bowl and Veggie Burgers Every Which Way. He's also the founder and editorial director of Jarry, a James Beard Award-winning biannual food magazine that explores where food and queer culture intersect, and previously founded Made by Lukas, a Brooklyn-based line of premium veggie burgers. His food writing has appeared in Vogue, The Washington Post, The Boston Globe, Time, The Splendid Table, Food52, and other publications.