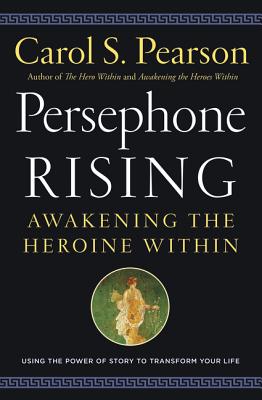 Persephone Rising
Awakening the Heroine Within
Paperback

* Individual store prices may vary.
Other Editions of This Title:
Compact Disc (10/13/2015)
MP3 CD (10/13/2015)
Compact Disc (10/13/2015)
MP3 CD (10/13/2015)
Hardcover (10/13/2015)
Description
Now with an updated preface from the author celebrating this groundbreaking and increasingly relevant book.
Nautilus Award Winner
This revelatory manifesto speaks to the heroine in every woman and man, offering potent strategies drawn from ancient Greek wisdom that can help us find happiness even in today's unfinished social revolution. Four archetypal plotlines—two feminine, two masculine—chart this path toward greater life satisfaction.
In this empowering work, Carol S. Pearson, the bestselling author of The Hero Within and Awakening the Heroes Within, reveals how the Demeter and Persephone story uncannily mirrors cultural and political dramas being played out today before our very eyes, and then shows how these conflicts could be resolved. In the myth, the earth mother wins a power struggle with a patriarchal god, thereby ending a famine (think climate change) that threatens human survival. As this is occurring, a youthful goddess gains her freedom, asserting gender partnership and equality, and as a result gives birth to joy and celebration.
The archetypal figures and narratives that galvanize attention in the public world also activate them within us as individuals. The challenge, then, is to live these stories wisely, shifting their expression within us for our own good and that of our society. The example of the four major mythic characters illustrates how readers can move from feeling powerless to purposeful, disrespected to esteemed, trapped to free, and anxious to joyful.
Drawing on her profound understanding of myth's enduring power to catalyze such transformations, Pearson guides readers of Persephone Rising on a journey of self-discovery, teaching us how to apply lessons from Demeter and Persephone, as well as Zeus and Dionysus, in our own lives—examples that reveal unexpected choices and opportunities available to us all.
Praise For Persephone Rising: Awakening the Heroine Within…
"For many of us women the story of Demeter and Persephone is the most challenging and illuminating of all myths. Each of us retells it in her own way, a way that reflects what it means to her."
— Christine Downing, author of The Long Journey Home: Re-visioning the Myth of Demeter and Persephone for Our Time

"Persephone Rising leads readers down the processional path of the ancients into a modern initiation where the power to change reveals we can all awaken the heroine within."
— Rewire Me

Carol Pearson's gentle reframing of the tale that served as the basis of the Eleusian Mysteries, brings these gods and goddesses to life... Pearson writes with an eye toward empowering women, not by disparaging men, but by pointing us in the direction of our lost history.
— Retailing Insight

"Persephone Rising spoke to my bone marrow-its truths resonating with clarity and power. A beautiful retelling and updating of these ancient archetypes-so relevant today. "
— Christiane Northrup, M.D., OB/GYN, physician, and author of the New York Times bestsellers: Goddesses Never Age: The Secret Prescription for Radiance, Vitality, and Wellbeing, Women's Bodies, Women's Wisdom, and The Wisdom of Menopause

"Through these classical archetypes of antiquity, Pearson guides us moderns in examining not only our fundamental, underlying beliefs but also those of our greater society."
— Spirituality and Health
HarperOne, 9780062884060, 400pp.
Publication Date: August 28, 2018
About the Author
Carol S. Pearson, Ph.D., is a world-renowned expert on depth psychology and transformational leadership and is the author of such classic works as The Hero Within, Awakening the Heroes Within, and The Hero and the Outlaw. She served most recently as president of Pacifica Graduate Institute and speaks and consults with many groups, universities, and businesses. She lives with her husband in the Washington, DC area.