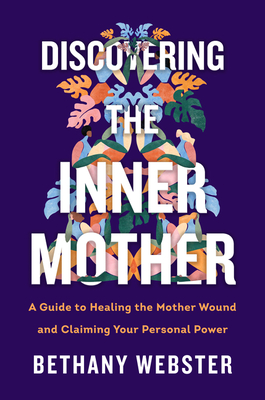 Discovering the Inner Mother
A Guide to Healing the Mother Wound and Claiming Your Personal Power
Hardcover

* Individual store prices may vary.
Other Editions of This Title:
Digital Audiobook (1/4/2021)
Description
Sure to become a classic on female empowerment, a groundbreaking exploration of the personal, cultural, and global implications of intergenerational trauma created by patriarchy, how it is passed down from mothers to daughters, and how we can break this destructive cycle.
Why do women keep themselves small and quiet? Why do they hold back professionally and personally? What fuels the uncertainty and lack of confidence so many women often feel? In this paradigm-shifting book, leading feminist thinker Bethany Webster identifies the source of women's trauma. She calls it the Mother Wound—the systemic disenfranchisement of women by the patriarchy—and reveals how this cycle is perpetuated by wounded mothers who unconsciously pass on damaging beliefs and behaviors to their daughters.
In her workshops, online courses, and talks, Webster has helped countless women re-examine their lives and their relationships with their mothers, giving them the vocabulary to voice their pain, and encouraging them to share their experiences. In this manifesto and self-help guide, she offers practical tools for identifying the manifestations of the Mother Wound in our daily life and strategies we can use to heal ourselves and prevent our daughters from enduring the same pain. In addition, she offers step-by-step advice on how to reconnect with our inner child, grieve the mother we didn't have, stop people-pleasing, and, ultimately, transform our heartache and anger into healing and self-love.
Revealing how women are affected by the Mother Wound, even if they don't personally identify as survivors, Discovering the Inner Mother revolutionizes how we view mother-daughter relationships and gives us the inspiration and guidance we need to improve our lives and ultimately create a more equitable society for all.
Praise For Discovering the Inner Mother: A Guide to Healing the Mother Wound and Claiming Your Personal Power…
"Bethany Webster is a true cheerleader for women embarking on the long, harrowing journey of birthing their authentic self. A helpful guide for recovering Good Girls laboring to do the heroic work of healing the Mother Wound." — Jasmin Lee Cori, MS, LPC, author of The Emotionally Absent Mother
"With soulfulness and grace, Bethany Webster encourages women to break the intergenerational ties that bind daughters to patriarchal mothers who could not and did not mother them positively, and who may feel betrayed or become enraged as their daughter dares to become her own self." — Phyllis Chesler, author of Women and Madness and A Politically Incorrect Feminist
"Webster has created a comprehensive mapping of the toxic mother-daughter dynamic, its shaping of the daughter's 'script,' and how the daughter may rescue her journey and outgrow the limitations of her childhood experience by accessing her own 'Inner Mother.' This book is most insightful and urgently needed." — James Hollis, Ph.D., Jungian analyst, and author of Living Between Worlds: Finding Personal Resilience in Changing Times
"This book is essential for mothers who struggle to understand their own pain and for daughters who need to finally break free of the projections of their own wounded mothers. Bethany's work has helped my own inner child to feel more deeply understood." — Lisa A. Romano, codependency recovery life coach
"This has to be one of the most impactful, sincere, and enlightening books I have ever read." — Leslie Arreola-Hillenbrand, founder, Latinx Parenting
"Disentangling ourselves from the traumas of patriarchy can paradoxically involve separating from mothers who bequeathed to us toxic resentments, frustrations and limitations, and dysfunctional survival mechanisms. Bethany Webster explores with nuance and sensitivity how we can free ourselves to become who we really are." — Perdita Finn, co-author (with Clark Strand) of The Way of the Rose
"Discovering the Inner Mother is a powerful contribution to women's leadership at a crucial historic moment." — Ophira Edut, CEO and founder, Astrostyle, and author of Body Outlaws
"Discovering the Inner Mother is smart, thoughtful and serves not only as a map on how to unpack and disrupt cycles of dysfunction, but it gives daughters a way to reframe the disappointments we've watched our mothers haul around on their backs for years and in turn, the gift of true compassion for us all. I loved Bethany Webster's book." — Chely Wright, songwriter, musician, and author of Like Me
"Webster candidly shares her own transformative journey and offers questions for reflection and exercises to allow readers to better come to terms with their past… Those with estranged or difficult relationships with their mothers will find affirmation. " — Library Journal
William Morrow, 9780062884442, 304pp.
Publication Date: January 5, 2021
About the Author
Bethany Webster is a writer, international speaker, and transformational coach. She started blogging in 2013 about the Mother Wound and quickly experienced worldwide demand for her work. Blending research on intergenerational trauma, feminist theory, and psychology with her own personal story, Webster's work is the result of decades of research and her own journey of healing. Webster speaks, consults, and mentors around the world sharing her growing body of work, which is raising the standard of women's leadership and personal development. She lives in western Massachusetts.