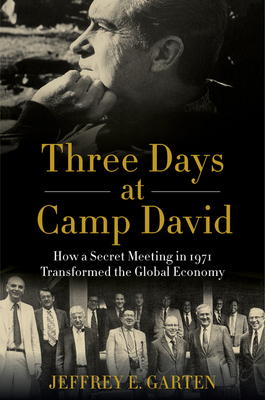 Three Days at Camp David
How a Secret Meeting in 1971 Transformed the Global Economy
Hardcover

* Individual store prices may vary.
Other Editions of This Title:
Digital Audiobook (7/5/2021)
Paperback (7/5/2022)
Compact Disc (7/6/2021)
Compact Disc (7/6/2021)
MP3 CD (7/6/2021)
Description
The former dean of the Yale School of Management and Undersecretary of Commerce in the Clinton administration chronicles the 1971 August meeting at Camp David, where President Nixon unilaterally ended the last vestiges of the gold standard—breaking the link between gold and the dollar—transforming the entire global monetary system.

Over the course of three days—from August 13 to 15, 1971—at a secret meeting at Camp David, President Richard Nixon and his brain trust changed the course of history. Before that weekend, all national currencies were valued to the U.S. dollar, which was convertible to gold at a fixed rate. That system, established by the Bretton Woods Agreement at the end of World War II, was the foundation of the international monetary system that helped fuel the greatest expansion of middle-class prosperity the world has ever seen.  
 In making his decision, Nixon shocked world leaders, bankers, investors, traders and everyone involved in global finance. Jeffrey E. Garten argues that many of the roots of America's dramatic retrenchment in world affairs began with that momentous event that was an admission that America could no longer afford to uphold the global monetary system. It opened the way for massive market instability and speculation that has plagued the world economy ever since, but at the same time it made possible the gigantic expansion of trade and investment across borders which created our modern era of once unimaginable progress.
Based on extensive historical research and interviews with several participants at Camp David, and informed by Garten's own insights from positions in four presidential administrations and on Wall Street, Three Days at Camp David chronicles this critical turning point, analyzes its impact on the American economy and world markets, and explores its ramifications now and for the future. 
Praise For Three Days at Camp David: How a Secret Meeting in 1971 Transformed the Global Economy…
"This is a terrific book, a distant mirror on the present." — Tom Friedman, three-time Pulitzer Prize winning journalist
"There are at least three reasons to read Three Days at Camp David. It is a fascinating character-driven story. It provides critical historical perspective on America's role in the world, including the constant tension between nationalism and global engagement. And it sheds light on President Biden's challenge to restore America's alliances  just as Nixon and Kissinger did in Garten's account of the early 1970s." — Walter Isaacson, author of Kissinger, Steve Jobs, and Leonardo Da Vinci
"Jeffrey Garten's Three Days at Camp David is a riveting account of one of the most consequential—if often overlooked—moments in financial history. Garten gives us Richard Nixon before the disastrous fall, making the pathos of the events all the more poignant. It's required reading for anyone eager to understand the world's current economic challenges."  — William D. Cohan, author of The Last Tycoons: The Secret History of Lazard Freres and House of Cards: A Tale of Hubris and Wretched Excess on Wall Street
"Garten tells a tale of gold and guarantees, secrecy and surprise, and conflict and cooperation. His fast-paced history brings the characters alive, explains complexity with clarity, and reveals America's competing impulses of leadership and retrenchment –a tension alive today." — Robert B. Zoellick, former president of the World Bank, former US Trade Representative, and author of America in the World: A History of U.S. Diplomacy and Foreign Policy
"As a senior economic staff member working for National Security Advisor Henry Kissinger at the time, I was involved in many of the pivotal events in this book. Jeffrey Garten has told the story of how the U.S. severed the link between the dollar and gold in all its economic and foreign policy dimensions, and in all its human drama. Not only has he made a contribution to understanding this critical series of events in American history, but he has also pointed to the profound implications for America and the global economy in the years ahead." — Robert D. Hormats, former senior White House and State Department official in five presidential administrations, and former vice-chairman of Goldman Sachs (international)
"A fascinating play-by-play account of one of the most important events in the history of the modern world economy, with powerful implications for current policy." — C. Fred Bergsten, founding director of the Peterson Institute for International Economics, and former Assistant Secretary of the Treasury
"A gripping tale of a critical period in global finance with striking relevance to our present moment, when the global system is in transition and so many pressures exist for America to look only inward."  — Merit E. Janow, Dean, School of International and Public Affairs, Columbia University
"Jeffrey Garten makes a strong case that the end of the dollar's convertibility into gold has deep, long run implications for the United States and the global economy. He provides valuable food for thought for our own uncertain era." — Robert E. Rubin, Former U.S. Treasury Secretary
"If you ever wanted a ringside seat to see how a world-changing decision is made in Washington, read Three Days at Camp David. It reads like a novel, yet it is a work of history, politics, and economic policy." — Susan C. Schwab, Professor Emerita, University of Maryland, Former U.S. Trade Representative
"An enlightening study of an era when previously unthinkable economic measures suddenly went mainstream. . . . President Richard Nixon's high-wire economic policy of monetary anarchy, tariffs, and government wage-and-price controls is dissected in this incisive history. . . . Garten vividly sketches the personalities behind the policy. . . . [His] lucid, easy-to-grasp exposition focuses on international turmoil in exchange rates and trade." — Publishers Weekly
"Highly charged account of the Nixon administration's abandonment of the gold standard. . . . Garten delivers incisive portraits of key players. . . . Fiscal and monetary policy wonks will admire Garten's skillful narrative and thorough research." — Kirkus Reviews
"Important. . . . the challenges faced by the Nixon administration—from changing views about America's place in the world, through the pressures of globalisation, to the difficulties in balancing economic and foreign policy—are exactly those facing President Joe Biden today. . . . Garten is uniquely well positioned to tell this tale." — Rana Foroohar, Financial Times
"This is a terrific, suspenseful read. It is part of a sophisticated yet understandable explanation of what went on at a crucial moment in U.S. economic history. But it also reads like a Hollywood script." — David Smick, Editor of The International Economy magazine
"A great read about an historical event, and it's just as relevant fifty years on." — Scott Horsley, chief economic correspondent, NPR
"The book does a fantastic job of drawing attention to a pivotal moment in history concerning the shifting balance of political power and the changing nature of money." — Gillian Tett, chair of the editorial board, and U.S. editor at large, Financial Times
"A fascinating . . . case study."  — Justin Fox, New York Times
"It is as readable as a novel, yet says a lot about the world we now inhabit." — John Authers, Bloomberg Opinion
"Terrific new book."  — Charles Lane, Washington Post
"It would be trite to say that Garten's book belongs on every international economist's bookshelf. It doesn't. It belongs on their bedside tables as light, but thoroughly enjoyable, reading and a useful reminder that, whatever economic forces might be at play, it is people, personalities, and politics that make history." — Atish Rex Ghosh, IMF historian, Finance and Development Magazine
"A fascinating account . . . . I . . . strongly recommend it to all enthusiasts of economic history and political economy." — Alan Murray, CEO, Fortune Media
"[Three Days at Camp David] offers a clear presentation of the often arcane and obscure monetary issues involved, vivid portraits of the government officials who took part in the deliberations leading up to the Nixon announcement, and a useful and in some ways surprising assessment of the August 15 initiatives from the perspective of fifty years." — Michael Mandelbaum, American Purpose
"[A] gripping account." — Niall Ferguson, Bloomberg Opinion
"A richly detailed, character-driven account." — Barry Eichengreen, Foreign Affairs
"Jeffrey E. Garten captures [Nixon's] decision-making in high dramatic style, turning what could have been a dry primer on international economics into a brisk adventure." — Air Mail
"In this outstanding book, Garten explains in detail what happened and draws lessons for today." — Martin Wolf, Financial Times
Harper, 9780062887672, 448pp.
Publication Date: July 6, 2021
About the Author
Jeffrey E. Garten teaches courses on the global economy at the Yale School of Management, where he was formerly the dean. He has held senior positions in the Nixon, Ford, Carter, and Clinton administrations, and was a managing director of Lehman Brothers and the Blackstone Group on Wall Street. His articles have appeared in the New York Times, the Wall Street Journal, the Financial Times, Foreign Affairs, Foreign Policy, BusinessWeek, and the Harvard Business Review, and he is the author of four previous books on global economics and politics.