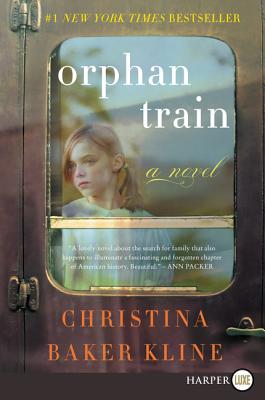 Orphan Train
A Novel
Paperback

* Individual store prices may vary.
Other Editions of This Title:
Paperback (1/10/2017)
Mass Market (6/30/2020)
Hardcover (10/14/2014)
Description
From Christina Baker Kline comes a novel about two women: one about to age out of the foster care system, the other 90 years old and carrying both a tremendous secret and a story of a life formed by a part of American history almost entirely forgotten: the Orphan Trains

Molly Ayer has one last chance, and she knows it. Close to being kicked out of her foster home -- just months from turning 18 and "aging out" of the system -- Molly should be grateful that her boyfriend found her a community service project: helping an old lady clean out her home. Molly can't help but think that the 50 hours will be tedious, but at least they'll keep her out of juvie, and right now that's all she cares about.
Ninety-one-year-old Vivian Daly has lived a quiet life on the coast of Maine for decades. But in her attic, hidden in trunks, are keys to a turbulent past. Molly is about to discover -- as she and Vivian unpack her possessions, and memories -- that Vivian's story is a piece of America's tumultuous history now largely forgotten: the tale of a young Irish immigrant, orphaned in New York City and put on a train to the Midwest with hundreds of other orphaned children whose destiny would be determined by luck and chance. As Molly digs deeper, she finds surprising parallels in her own experience as a Penobscot Indian and Vivian's story -- and Molly realizes that she has the power to help Vivian find answers to mysteries that have haunted her for her entire life.
Rich in detail and epic in scope, Orphan Train is a powerful novel of upheaval and resilience, of second chances, of unexpected friendships, and of the secrets we carry with us that keep us from finding out who we are.
Praise For Orphan Train: A Novel…
"A compelling story about loss, adaptability, and courage . . . With compassion and delicacy Kline presents a little-known chapter of American history and draws comparisons with the modern-day foster care system." — Library Journal
"In ORPHAN TRAIN, Christina Baker Kline seamlessly knits together the past and present of two women, one young and one old. Kline reminds us that we never really lose anyone or anything or--perhaps most importantly--ourselves." — Ann Hood, author of The Knitting Circle
"I loved this book: its absorbing back-and-forth story, its vivid history, its eminently loveable characters. ORPHAN TRAIN wrecked my heart and made me glad to be literate." — Monica Wood, author of When We Were the Kennedys
"One of the most powerful novels I've ever read...I am compelling all of you, even begging you, to make this novel your next read. You'll be talking about it for years to come!" — Naples Daily News (FL)
"A gem." — Huffington Post
"Absorbing...a heartfelt page-turner about two women finding a sense of home...Kline lets us live the characters' experiences vividly through their skin...The growth from instinct to conscious understanding to partnership between the two is the foundation for a moving tale." — Publishers Weekly
"Kline draws a dramatic, emotional story from a neglected corner of American history." — Kirkus Reviews
"I was so moved by this book. I loved Molly and Vivian, two brave, difficult, true-hearted women who disrupt one another's lives in beautiful ways, and loved journeying with them, through heartbreak and stretches of history I'd never known existed, out of loneliness toward family and home." — Marisa de los Santos, New York Times-bestselling author of Belong to Me and Falling Together
"A lovely novel about the search for family that also happens to illuminate a fascinating and forgotten chapter of American history. Beautiful." — Ann Packer, New York Times-bestselling author of The Dive from Clausen's Pier and Swim Back to Me
"Christina Baker Kline writes exquisitely about two unlikely friends . . . each struggling to transcend a past of isolation and hardship. ORPHAN TRAIN will hold you in its grip as their fascinating tales unfold." — Cathy Marie Buchanan, New York Times-bestselling author of The Painted Girls
"Christina Baker Kline's latest wonder, ORPHAN TRAIN, makes for compulsive reading...Meticulously researched and yet full of the breath of life, Kline's novel takes us on an historical journey where survival depends upon one's own steely backbone, and the miracle of a large and generous heart." — Helen Schulman, New York Times-bestselling author of This Beautiful Life
"A poignant and memorable story of two steadfast, courageous women...A revelation of the universal yearing for belonging, for family, for acceptance and, ultimately, the journeys we must all make to find them." — Kathleen Kent, New York Times-bestselling author of The Heretic's Daughter and The Traitor's Wife
"Reminiscent of Elizabeth Strout's Amy and Isabel, this Orphan Train carries us along until the stories of these two women become one." — Mary Morris, author of, most recently, Revenge
"This superbly composed novel tells two parallel stories of suffering and perseverance, capturing the heart and mind equally and remaining mesmerizing through the intensely heart-wrenching conclusion." — Romantic Times, Top Pick
"The intertwined stories in this novel will surely please those looking for a compelling new read." — Cleveland Plain Dealer
"One of the most intriguing, tender novels of 2013...This is a warm, satisfying, and inspirational story." — The New Maine Times Book Review
Harper Large Print, 9780062887870, 432pp.
Publication Date: January 8, 2019
About the Author
Christina Baker Kline is the author of six novels, including the #1 New York Times bestseller Orphan Train as well as A Piece of the World. She lives outside New York City and spends as much time as possible on the coast of Maine. Learn more about Christina at www.christinabakerkline.com.
or
Not Currently Available for Direct Purchase