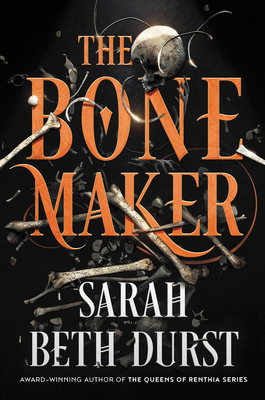 The Bone Maker
A Novel
Paperback

* Individual store prices may vary.
Other Editions of This Title:
Digital Audiobook (3/8/2021)
Description
"Durst consistently defies expectations."—Publishers Weekly (starred review)

From award-winning author Sarah Beth Durst, a standalone epic fantasy set in a brand-new world of towering mountains and sparkling cities, in which a band of aging warriors have a second chance to defeat dark magic and avenge a haunting loss.
Twenty-five years ago, five heroes risked their lives to defeat the bone maker Eklor—a corrupt magician who created an inhuman army using animal bones. But victory came at a tragic price. Only four of the heroes survived. 
Since then, Kreya, the group's leader, has exiled herself to a remote tower and devoted herself to one purpose: resurrecting her dead husband. But such a task requires both a cache of human bones and a sacrifice—for each day he lives, she will live one less.
She'd rather live one year with her husband than a hundred without him, but using human bones for magic is illegal in Vos. The dead are burned—as are any bone workers who violate the law. Yet Kreya knows where she can find the bones she needs: the battlefield where her husband and countless others lost their lives.
But defying the laws of the land exposes a terrible possibility. Maybe the dead don't rest in peace after all.  
Five warriors—one broken, one gone soft, one pursuing a simple life, one stuck in the past, and one who should be dead. Their story should have been finished. But evil doesn't stop just because someone once said, "the end."
Praise For The Bone Maker: A Novel…
"The Bone Maker is an early contender for my favorite fantasy novel of the year. In a shelf-filled with multi-volume fantasies it is not only refreshing to see and enjoy a single-volume Epic Fantasy novel, but truly something special for the book to be this amazing. I can probably count on one hand other single volume Epics that have enthralled me as much and that have been as high quality as this novel. Highly, highly recommended." — SFFWorld
"Exquisite worldbuilding and inventive, macabre magic system... Durst's fans will be delighted." — Publishers Weekly
"Durst displays a mastery of emotional resonance throughout the book, bringing each character's scars to the surface even in moments of levity...There's power in these bones." — BookPage
"This was a fast paced and action packed standalone fantasy novel that I thoroughly enjoyed...I loved all of the characters as they had big personalities and had their own distinct voices...Overall, I'm pretty chuffed with this standalone." — Adeel Reads
"Sarah Beth Durst is an amazing author. She is, hands-down, my favorite current author—and The Bone Maker shows me why once again...you'll find yourself whisked away to a world worth visiting, filled with heroes worth admiring in all their imperfect glory." — Geek Girl Riot
Harper Voyager, 9780062888631, 496pp.
Publication Date: March 9, 2021
About the Author
Sarah Beth Durst is the award-winning author of over twenty fantasy books for adults, teens, and kids, including The Queens of Renthia series, Drink Slay Love, and The Stone Girl's Story. She won an ALA Alex Award and a Mythopoeic Fantasy Award, and has been a finalist for SFWA's Andre Norton Award three times. She is a graduate of Princeton University, where she spent four years studying English, writing about dragons, and wondering what the campus gargoyles would say if they could talk. Sarah lives in Stony Brook, New York, with her husband, her children, and her ill-mannered cat. For more information, visit her at sarahbethdurst.com.