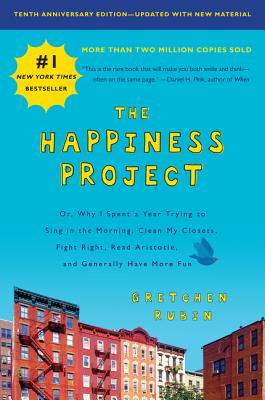 The Happiness Project, Tenth Anniversary Edition
Or, Why I Spent a Year Trying to Sing in the Morning, Clean My Closets, Fight Right, Read Aristotle, and Generally Have More Fun
Paperback

* Individual store prices may vary.
Other Editions of This Title:
Paperback, Large Print (4/9/2019)
Hardcover (3/5/2019)
Description
#1 New York Times Bestseller
"An enlightening, laugh-aloud read. . . . Filled with open, honest glimpses into [Rubin's] real life, woven together with constant doses of humor." —Christian Science Monitor

Gretchen Rubin's year-long experiment to discover how to create true happiness. Drawing on cutting-edge science, classical philosophy, and real-world examples, Rubin delivers an engaging, eminently relatable chronicle of transformation. This special 10th Anniversary edition features a Conversation with Gretchen Rubin, Happiness Project Stories, a guide to creating your own happiness project, a list of dozens of free resources, and more.
Gretchen Rubin had an epiphany one rainy afternoon in the unlikeliest of places: a city bus. "The days are long, but the years are short," she realized. "Time is passing, and I'm not focusing enough on the things that really matter." In that moment, she decided to dedicate a year to her happiness project.
In this lively and compelling account—now updated with new material by the author—Rubin chronicles her adventures during the twelve months she spent test-driving the wisdom of the ages, current scientific research, and lessons from popular culture about how to be happier. Among other things, she found that novelty and challenge are powerful sources of happiness; that money can help buy happiness, when spent wisely; that outer order contributes to inner calm; and that the very smallest of changes can make the biggest difference.
This updated edition includes:
·      An extensive new interview with the author
·      Stories of other people's life-changing happiness projects
·     A resource guide to the dozens of free resources created for readers
·     The Happiness Project Manifesto
·      An excerpt from Gretchen Rubin's bestselling book The Four Tendencies: The Indispensable Personality Profiles that Reveal How to Make Your Life Better (and Other People's Lives Better, Too)
Praise For The Happiness Project, Tenth Anniversary Edition: Or, Why I Spent a Year Trying to Sing in the Morning, Clean My Closets, Fight Right, Read Aristotle, and Generally Have More Fun…
"Aided by her formidable intelligence and willingness to try anything, she spent a year road-testing every theory about happiness she could get her hands on, using her own life as the road." — Time
"Happiness is contagious. And so is The Happiness Project. Once you've read Gretchen Rubin's tale of a year searching for satisfaction, you'll want to start your own happiness project and get your friends and family to join you. This is the rare book that will make you both smile and think—often on the same page." — Daniel H. Pink, author of A Whole New Mind
"Rubin had learned that there was a close correlation between habits and happiness, so she figured out how we form them, use them, and change them. Once I came to understand habits as harnessing our own laziness—making a habit frees you from decision-making, which you can use to your advantage—my relationship to them changed permanently."  — New Yorker
"Lays out life's essential goals… serves as a kind of detailed instruction manual on how to achieve them." — New York Times Book Review
"If anyone can help us stop procrastinating, start exercising or get organized, it's Gretchen Rubin. The happiness guru takes a sledgehammer to old-fashioned notions about change." — Parade
"Gretchen Rubin combines deep research and observations from her own life to explain how habits emerge and—more important—how they can change. It's indispensable for anyone hoping to overhaul how they (almost unthinkingly) behave." — Charles Duhigg, The Power of Habit
"Gretchen Rubin is a writer after my own heart—seriously brilliant, very warm, and funny. I think she's amazing." — Anne Lamott, Bird by Bird and Help, Thanks, Wow
"Gretchen Rubin's superpower is curiosity… Weaving together research, unforgettable examples, and her brilliant insight, Better Than Before is a force for real change."  — Brené Brown, Dare to Lead and Daring Greatly
"Loaded with practical solutions and impeccable research. Rubin is also a fine writer, and her enthusiasm for improving lives is contagious."  — Harlan Coben
"With her characteristic mix of delightful charm, thoughtful research, and insightful advice… Gretchen Rubin shows how to add fun, joy, and harmony to your home life." — Susan Cain, Quiet: The Power of Introverts in a World That Can't Stop Talking
Harper Paperbacks, 9780062888747, 368pp.
Publication Date: October 30, 2018
About the Author
I'm the author of the New York Times bestsellers "The Happiness Project," "Happier at Home" and "Better Than Before." I write about my experiences as I test-drive the wisdom of the ages, current scientific studies, and lessons from popular culture about happiness, habits, and human nature. My next book will hit the shelves in summer 2017: "The Four Tendencies: The Surprising Truth about the Four Hidden Personality Types That Drive Everything We Do."
Find out your Tendency—are you an Upholder, Questioner, Obliger, or Rebel?—when you take the free quiz at GretchenRubin.com.
Subscribe to my award-winning weekly podcast "Happier with Gretchen Rubin" (more than 1 million downloads each month) and hear my sister and I discuss strategies and tips for how to make your daily life happier. I also created an app to help people harness the power of the Four Tendencies. Learn more at BetterApp.us or search the app store for "Better Gretchen Rubin."
My previous books include a bestselling biography of Winston Churchill, "Forty Ways to Look at Winston Churchill," and one of John Kennedy, "Forty Ways to Look at JFK." My first book, "Power Money Fame S..: A User's Guide," is social criticism in the guise of a user's manual. I wrote "Profane Waste" in collaboration with artist Dana Hoey. I've also written three dreadful novels that are safely locked away in a drawer.

Before turning to writing, I had a career in law. A graduate of Yale and Yale Law School, I clerked for Justice Sandra Day O'Connor and was editor-in-chief of the Yale Law Journal. I live in New York City with my husband and two daughters.